By
Kerry Lee
- Published on February 26, 2017.
San Francisco's hills are one of the city's defining characteristics; there are enough to go around that even a barista or schoolteacher can afford a breathtaking view. Dwelling on a hill may not be expensive, but it does come with a cost — parking, driving, and just getting around in general can be challenging.
Three of the city's five steepest hills are in Bernal Heights, according to Data Pointed:

Bradford Street above Tompkins Avenue – 41% grade
Broderick Street between Broadway and Vallejo Street – 38%
Romolo Place between Vallejo Street and Fresno Street – 38%
Prentiss Street between Chapman Street and Powhattan Avenue – 37%
Nevada Street above Chapman Street – 35%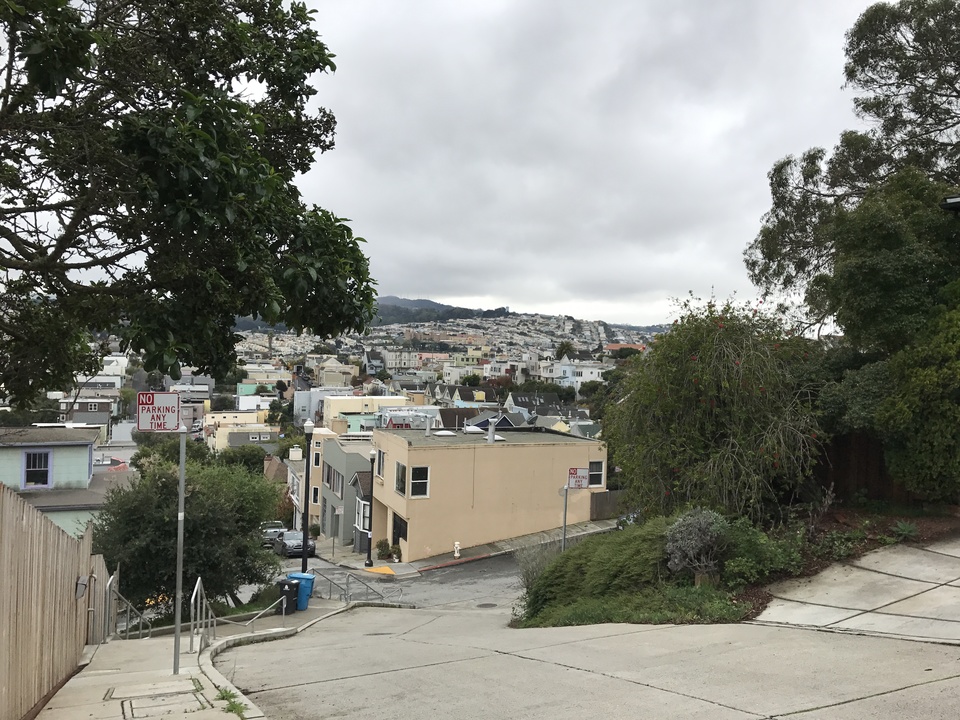 Lindsey Kahrau, a lifelong Bernal Heights resident, said she couldn't imagine living anywhere else. "I love it," she said. "I like that I'm close enough to a main street like Mission where I can easily catch a bus to get downtown for work."
Although collisions aren't as common as some might think, drivers can become disoriented on steep terrain, said Kahrau. "Buses have accidentally come up my street and then have to figure out how to turn around and get out of there." Since many hilly streets are too narrow for two cars to pass, "one car always has to pull over," she said.
Eric Hasserjian of Telegraph Hill said some drivers just don't know how to navigate hills. "People don't realize when you are stopped on a hill, you always roll back a bit if you don't get on the gas soon enough," he noted.  "I have definitely seen people roll right into the car behind them."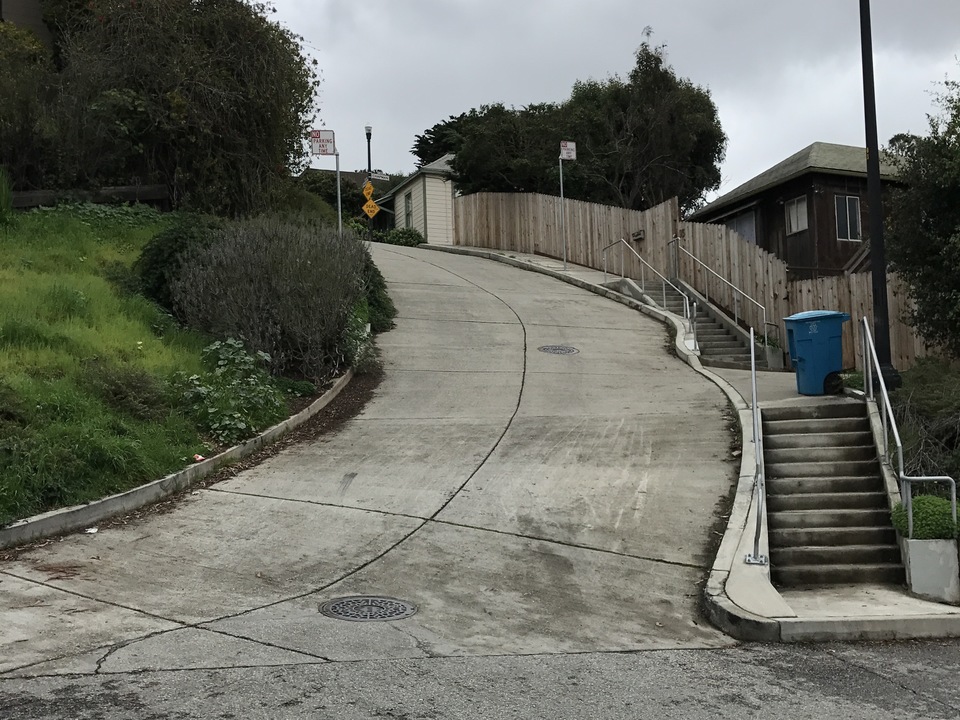 Scott Hamilton, a Nob Hill resident, said he wonders if the people pushing strollers up and down his hilly street have brakes. "The mail carrier has to be careful not to let go of his cart," he observed. "They always seem to wedge it against the building when they have to let go of it."
When parking on a hill, it's not just a good idea to curb one's wheels — it's the law. Drivers who park on a hill with a "perceptible" grade (3 percent or more) without doing so face a $62 fine.
Kahrau said parking is a problem in her neighborhood and prefers to take public transportation. "Cars often need to circle the block several times to find a space," she said, "especially if it's later at night when everyone is home."

It isn't all bad living atop a big hill in San Francisco. "I like the views. I have a gorgeous view of Twin Peaks and Sutro Tower. I can always count on getting a little workout when walking back up the hill after work," Kahrau said.
As for Hasserjian, he said this is what San Francisco is all about. "It might not be the easiest time walking around, but it's the views of the bay and the city that makes living on a steep hill worth it."