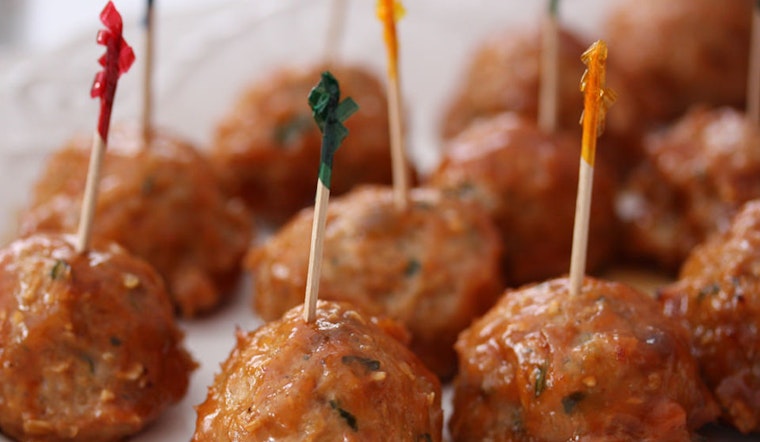 Published on March 14, 2017
Attention, FiDi lunch crowd: a dedicated meatball eatery will soon make its way to the Financial District.
Called "The Meatball Bar," the location at 126 Sutter St. will serve a diverse selection of meatballs, featuring flavors inspired by a wide range of cuisines, globe-trotting from Italy to Thailand to Peru and beyond.
Owners Angelo Sannino and Gianni Chiloiro believe they are the first to test the concept; Sannino notes that New York's famed Meatball Shop focuses more on Italian fare.
At the FiDi's upcoming location, there will be a traditional Italian meatball with marinara sauce to be found, but you'll also be able to order salmon balls with spicy remoulade, Thai chicken balls with peanut sauce, lamb meatballs with rosemary mint pesto, teriyaki turkey balls with pineapple BBQ sauce, and more.
"Everyone loves meatballs," said Sannino in a phone interview. "We thought, 'Why not. Let's try to create a restaurant around them.'"
The location, set to open in April or May, replaces the recently shuttered Jewish deli Shorty Goldstein's.
This is the owners' third restaurant to open in three years, following their two locations of Doppio Zero, which serves traditional Italian fare, pizzas, and cocktails in Cupertino and Mountain View.
Sannino said three restaurants in three years is still "moving slowly" for him.
"I like to take my time and do things at the right time," he said.