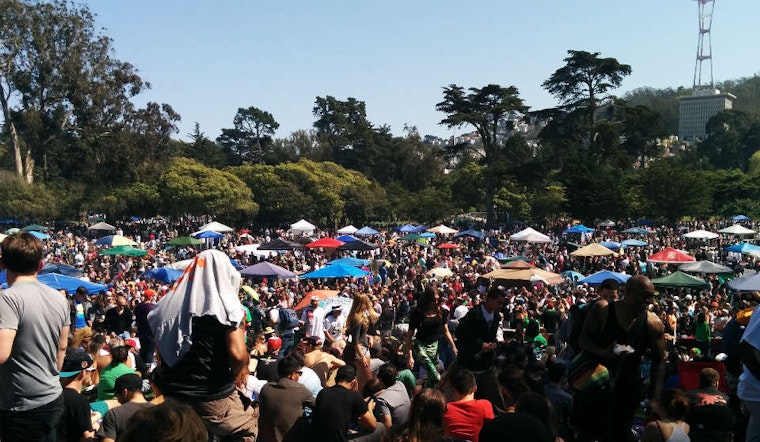 Published on March 30, 2017
This week, the San Francisco Recreation and Park Department granted a permit to allow the first-ever private sponsorship of 4/20 Day, the long-unofficial holiday that attracts thousands of marijuana enthusiasts to Golden Gate Park each April.
An application for the permit, filed by Alex Aquino, owner of Haight Street apparel business Black Scale, had been in the works for weeks, but with less than a month to go, the matter remained undecided as of earlier this week.
But on Wednesday, CBS5 reported that Aquino and Black Scale were granted official permission to organize medical services and food trucks for the event—and to foot the bill for city services.
The new, private sponsorship may clarify what's long been a gray area in city policy: how to officially plan an event that isn't, strictly speaking, legal.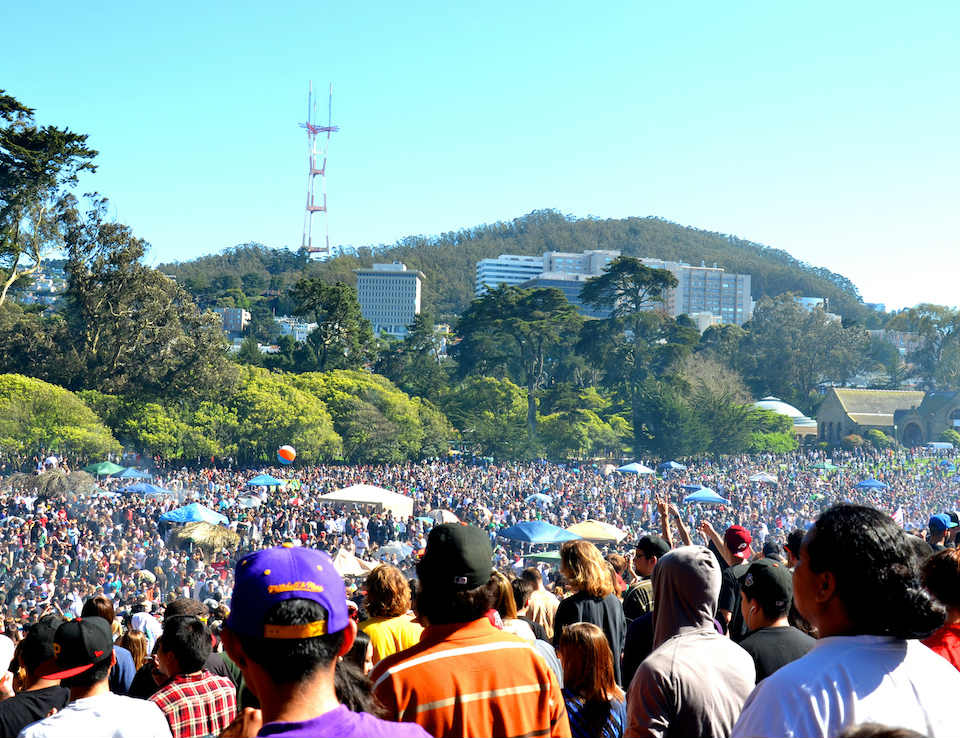 The cost of official permitting will come in the form of regulations on glass containers, coolers, tents, folding chairs, portable music, booze, and the sale of marijuana—all of which will be banned at the event.
But sponsorship will also mitigate the increasingly substantial drain that 4/20 Day has placed on city resources for sanitation, crime, and traffic management. Despite never receiving official status, the event has only grown over the years, attracting tens of thousands of people to the Upper Haight and Golden Gate Park's Hippie Hill. Last year, the cleanup cost for Rec and Park alone ran $50,000.
Efforts to move towards formal city recognition of 4/20 Day began as recently as three years ago, when District 5 Supervisor London Breed pushed city organizations to beef up staffing and security, provide toilet facilities, and redirect traffic.
With a permitted sponsorship, the city will now be able to enforce safety regulations, and attendees will have access to reliable medical services.
Rec & Park wasn't immediately available to comment on specifications for the day, including whether the area around Sharon Meadow would be blockaded, and who will be enforcing regulations. We'll keep you posted as we learn more.