This past Wednesday, Captain Denise Flaherty of Taraval Station held her second community meeting in two weeks to address increased incidents of crime in her district, with a particular focus on burglaries.
The meeting, held at Aptos Middle School, was attended by Assistant Police Chief Toney Chaplin and Supervisors Katy Tang and Norman Yee.
"Two homes within 300 feet of my house were burglarized within the last two weeks," said one resident from the Crestlake area, "so anxiety level is up."
A recent analysis showed that burglaries in the Taraval District increased 21 percent between 2015 and 2016. Flaherty said District 4 burglaries increased by 16 percent during that period, while District 7 showed a 38 percent increase (the numbers for District 7 also include portions of the Park and Ingleside Districts).
In a comparison of January and February of the last two years, Flaherty said that 2017 saw a drop in commercial and residential burglaries, but there was a sharp increase in "hot prowls:" burglaries from occupied homes.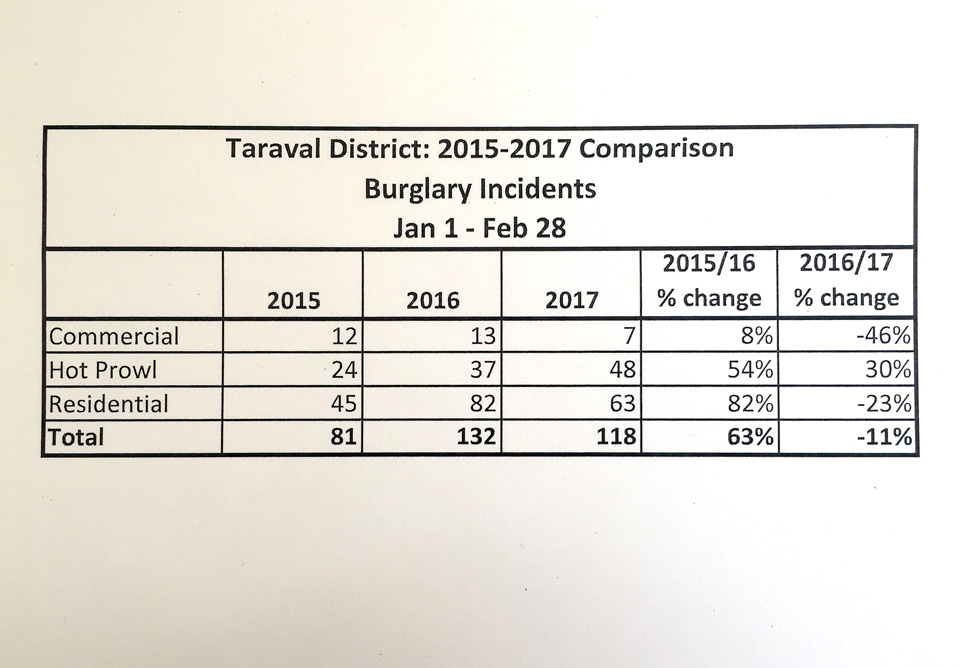 Two suspects—Joseph Depaoli and Evan Underwood—were apprehended following a series of how prowl burglaries over President's Day weekend in the Outer Sunset. Their mugshots, along with four others, were displayed on stage.
"Since those two were taken into custody," Flaherty said, "we are no longer seeing that crime trend in that area."
Two of the other mugshots were of suspects arrested on March 1 for a hot prowl on the 600 block of Sloat Avenue, and another was a burglary suspect arrested after police witnessed him breaking into a tradesman door at a home in the Sunset. The sixth mugshot was a known commercial burglar, Darrell Carter, who is suspected in the burglaries of the 76 Union Station on Lincoln Boulevard and McCarthy's Bar in West Portal.
The arrests, Flaherty said, are "all examples of the relentless work" of officers of the Taraval and other districts. She added that many of the tips that helped in the investigations came from the community.
"We always say we can't do it by ourselves," she said. "The only way we're going to really come up with strategic solutions is if we do it in partnership."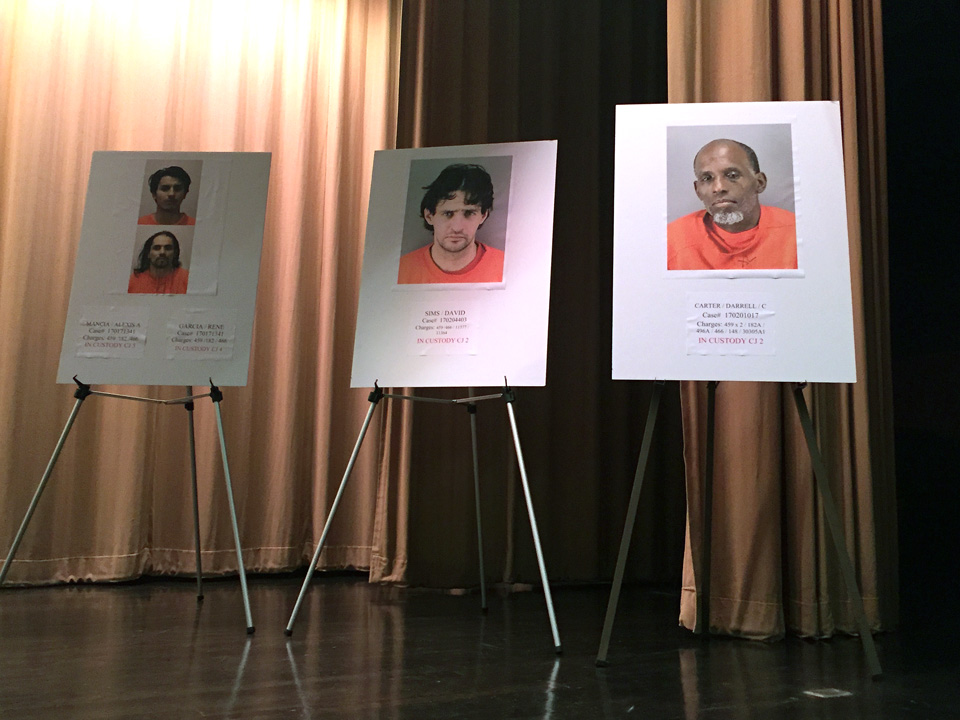 One focus of the panel was on residential security cameras, which both Chaplin and Assistant District Attorney Archie Wong referred to as one of the best tools for combating residential crime and assisting the police in investigations.
Wong urged people to register their cameras on the District Attorney's website, noting that the information is not shared with the public. Residents also are able to register cameras with police stations.
Flaherty also asked the community to report any incident or suspicious behavior to the police.
"You have to call us," she said. "There is absolutely nothing too big or too small when it comes to helping you. That's what we are for."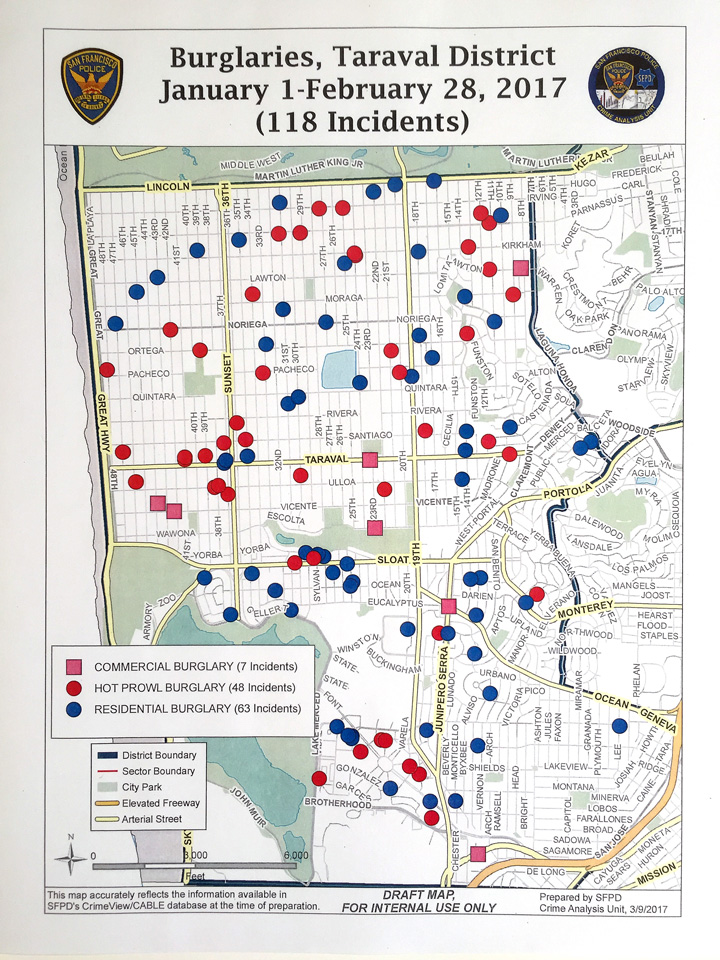 However, not everyone thinks that enough is being done to curb crimes in the neighborhood.

Elizabeth, a resident of Westwood Park, shared her frustration with Wednesday's panel.
"There is a disconnect between what you're saying and the people that are answering the phones in Ingleside," she said.
A resident from Balboa Terrace agreed. "The system doesn't work like you think it does, and as a consequence these communities are suffering."
Flaherty responded that "we are here to serve you and protect you as a community, and if we fail to do that, or make you feel like we're not doing that, then we really have to start answering the hard questions on how we can do better."
Chaplin assured attendees that the police were taking the crime and its effect on residents seriously. He noted that there are current investigations, which couldn't be commented on, that may solve some of the issues.
"Trust me when I say this," Chaplin said, "we have a large portion of our resources allocated specifically to these residential burglaries."
An upcoming District 4 community meeting with Supervisor Tang is scheduled for Thursday, April 13th at 6pm. Her office is working to have Police Chief William Scott attend. Supervisor Yee also plans to have a meeting in April with the Police Chief and Captains from the Taraval, Park and Ingleside Stations in attendance. Location for both meetings have yet to be decided.