When 65-year-old Lian Xiu Wu was killed last Wednesday in a drive-by shooting at Plymouth and Broad in Ocean View, it was the third in six months for the troubled corner.
On Tuesday night, at a packed town hall held at the Minnie and Lovie Ward Recreation Center (650 Capital Ave.), city officials promised to address the ongoing violence, part of what they say is a gang war between Ocean View and Sunnydale.
Residents can expect to see these changes:
a police officer stationed on the corner of Broad and Plymouth
increased police presence at entry points to the neighborhood
more officers stationed at Taraval Police Station
the installation of security cameras on Lacy's Barber Shop by the Office of Economic and Workforce Development within the next eight weeks
periodic meetings to address violence in the area
Despite the changes coming to the area, the release of a suspect in Wu's shooting was a point of contention. 20 minutes after the incident, police had arrested Jonathan Santos, a 24-year-old Vallejo man.
But on Monday, Santos was released without charges.

"While it's true this person was released," District Attorney George Gascon told the crowd on Tuesday night, "don't interpret that as letting go or letting our guard down."
"We are working very aggressively," he added, "but we want to make sure that we file a case that we can prosecute." To help build cases, he encouraged residents to register personal security cameras with his office.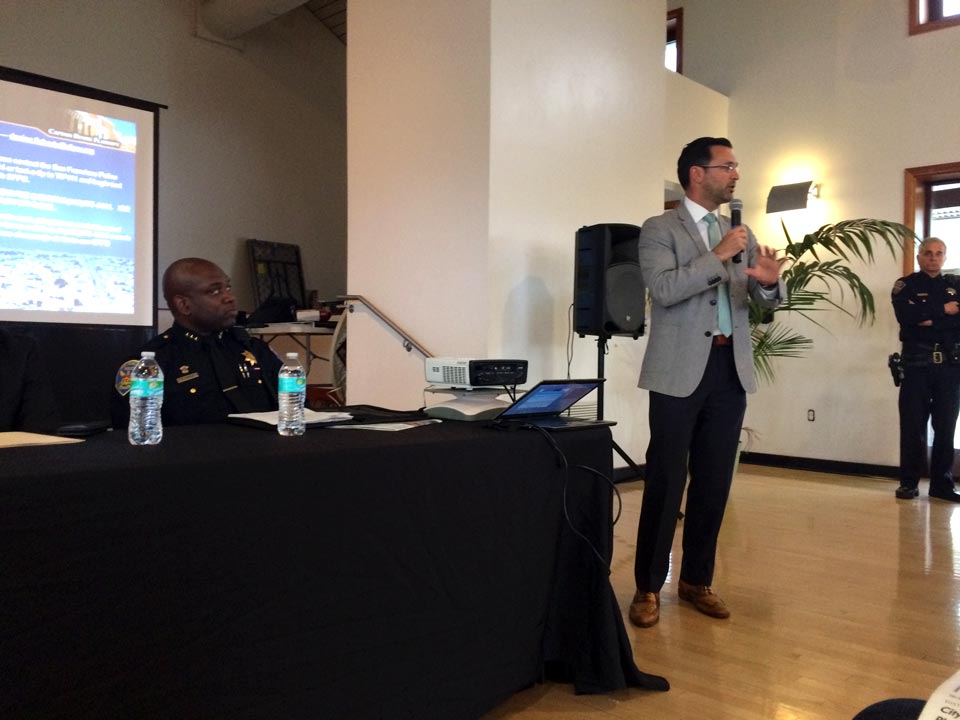 Though the gang conflict between Ocean View and Sunnydale has been a problem for years, residents of the neighborhood have long felt ignored by the city.
"The increase in violence [in the past six months] has really frightened us," said Denny Truong, Wu's nephew. "It really hits home because my parents walk up and down the street every day."
At a similar meeting hosted by then-Supervisor John Avalos following several shootings in October, residents called for the re-installment of a police substation in a storefront space near Broad and Plymouth. 

However, Captain Denise Flaherty of Taraval District and Deputy Police Chief Toney Chaplin both dismissed the substation as a short-term solution on Tuesday night.
"We can talk about cameras and we can talk about substations," Flaherty said. "It's got to be a citywide effort. There has to be a vested interest in this neighborhood, not just by the police department, but also by the city."
In trying to find solutions to the violence plaguing Ocean View, the lack of trust between the community and police was a concern for many.
Back in January, Sean Moore, who has schizophrenia, was shot and arrested by police officers while experiencing a psychiatric breakdown.
His mother, Cleo Moore, voiced concerns about heavy-handed policing in the neighborhood. "How can we support you if something like this happens [to my son]?" she asked.
Referring to Moore's case, Police Chief Bill Scott said that every SFPD officer would undergo new training courses, including how police could properly respond to people undergoing a mental crisis. By the end of 2017, officers will have gone through 40 hours on crisis intervention and 20 hours on failed tactics to understand what didn't work. 
"Trust is an issue we continually have to work on," he acknowledged. "We want people to feel comfortable calling the police. We want people to feel like we're there to help."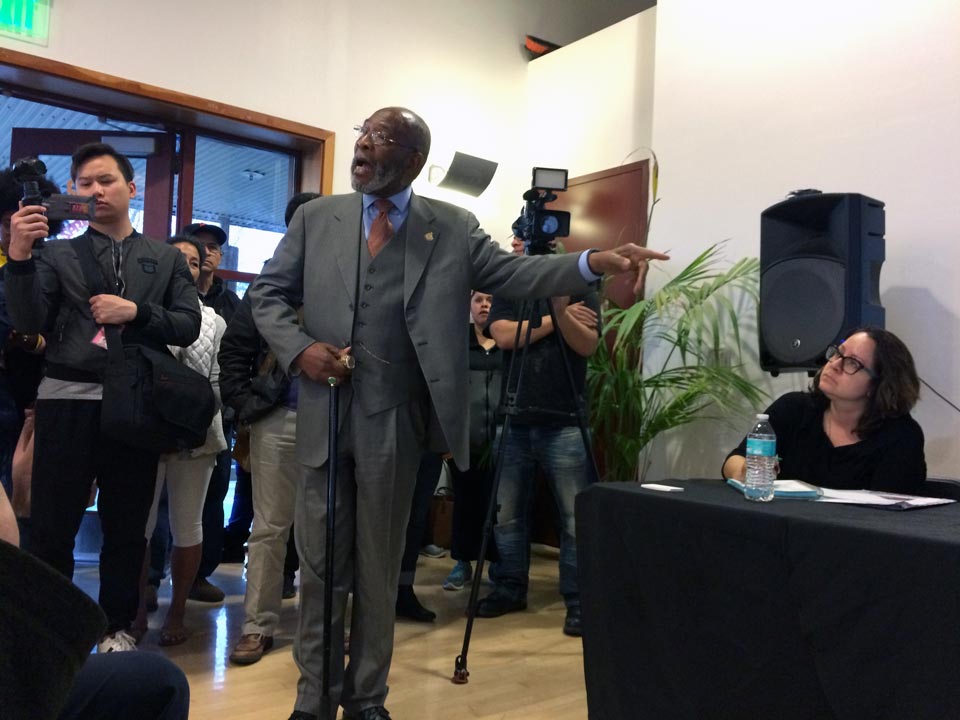 Community members also raised the need for improved communication between neighbors of different races in the rapidly-changing area.

According to census data, the black population in the Ocean View, Merced Heights, and Ingleside neighborhoods dropped from 61 percent to 14 percent between 1980 and 2010. During the same period, the Asian population grew from 11 percent to 54 percent.
"If you look around, this is your new community," said resident Kennard Wilson, pointing around the room. "If we do not come out of our houses, if we do not become a community, this is going to happen over and over and over again."