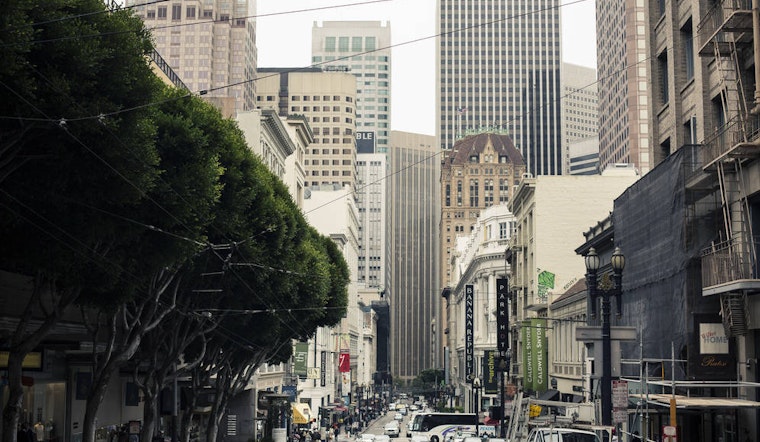 Published on April 21, 2017
The morning commute has been complicated by an apparent power outage in downtown San Francisco, which a number of people are reporting has taken out traffic lights and pedestrian signals throughout Union Square and the Financial District.
PG&E's outage tracker currently makes no mention of the outage, but it's being reported by numerous people on Twitter:
Large power outage in SF. Shops, hotels, traffic lights, metro affected.

— Peter Brack (@peterbrack) April 21, 2017
A lot of traffic lights are out on Market and Montgomery BART station down. It's comforting to see traffic operate more or less ok

— Elliot Koss (@elliotkoss) April 21, 2017
Power looks to be out in a decent portion of downtown SF. No traffic lights working for blocks on end

— Marcus Pratt (@mawkus) April 21, 2017
Power is out in #94109. No traffic lights on Bush from at least Hyde to at least Mason, either. @PGE4Me

— Dottie L. Guy (@ohdottie) April 21, 2017
The power outages are affecting Muni and BART, too, with Montgomery station shutting down at 9:15am due to the outage. (BART says the issue was caused "by a technical problem with PG&E.")
Trains on both the Muni and BART lines appear to be skipping Montgomery, asking passengers to exit at Embarcadero or Powell stations instead. All the cable car lines are also down. 
@SFBART Montgomery station down b/c of power outage - traffic lights and pedestrian signals also out for many city blocks. pic.twitter.com/NC0GxpgmYu

— M Kobler (@mtkobes) April 21, 2017
ATTN: Due to a power loss, #subwaysvc will have to skip the Montgomery station. Pls exit at Powell or Emb.

— SFMTA (@sfmta_muni) April 21, 2017
ATTN: Due to power outage all Cable Car Lines are down, shuttles are providing service.

— SFMTA (@sfmta_muni) April 21, 2017
We'll have more on this breaking story as it unfolds. 
Update, 9:45am: PG&E is aware of the outage, but it's still unclear how many are affected or when it will be resolved. 
We are aware of an outage impacting #SF. Crews are responding.

— PG&E (@PGE4Me) April 21, 2017
The outage appears to have extended as far west as the Presidio and the Richmond District: 
Due to power outages, the Warming Hut on #CrissyField and the Presidio Visitor Center are currently closed. #GGNRA #SF

— Parks Conservancy (@parks4all) April 21, 2017
Update, 10:31am: According to a voicemail from PG&E, the outage is currently affecting a whopping 87,613 customers. The agency hopes to resume power by 12:15pm. 
Here's a map of the areas affected (the interactive version is here):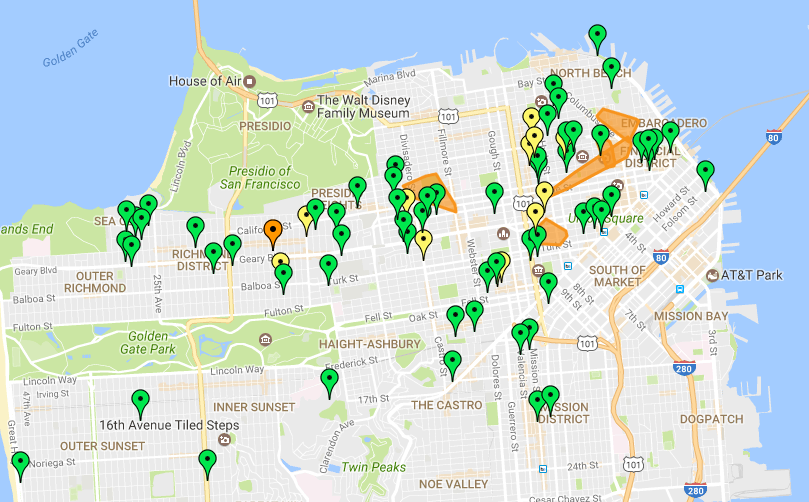 The outage appears to have been caused by a fire at an electrical substation at Larkin and Eddy streets:
#SFFD says insulation fire at #PG&E substation may be related to #poweroutage. Can't use water, may damage equipment pic.twitter.com/HanN97IBbC

— Juan Carlos Guerrero (@JuanCarlosABC7) April 21, 2017
Update, 11:26am: The fire at the electrical substation is now out.

Latest from @PGE4Me-- fire at Tenderloin substation *was cause of outages (95K customers). It's OUT. No timeline yet on restoring power pic.twitter.com/qBgATrTvPE

— Sam Brock (@SamNBCBayArea) April 21, 2017
Update, 12:09pm: Montgomery Station is back open after BART set up generators to supply power.
*beep beep!*

We are back open at Montgomery station! Normal service has resumed through DTSF. Thank you for your patience.

— SFBART (@SFBART) April 21, 2017
.@sfbay Told by #SFMuni station agent that #SFBART generator is providing light for the station and platforms inside Montgomery. pic.twitter.com/M9rIfppKEf

— Jerold Chinn 🚃🚈🚍 (@Jerold_Chinn) April 21, 2017
PG&E has also restored power to 10,000 customers in the city, leaving approximately 85,000 still without power.
#SF Outage: 10k customers restored. Crews working safely & quickly as possible to restore more. Thank you for your patience.

— PG&E (@PGE4Me) April 21, 2017