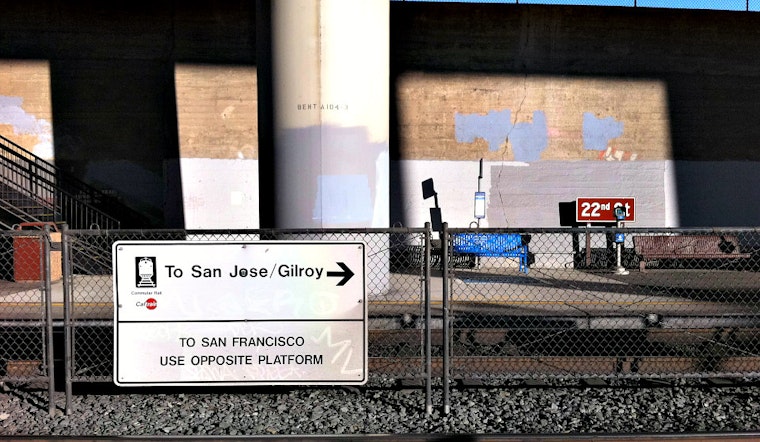 Published on April 09, 2017
Earlier this week, Socketsite suggested that the 22nd Street Caltrain station could be removed or relocated, based on a new study.
But Planning Department spokesperson Gina Simi says that suggestion, which appeared in a number of other local publications, is "simply inaccurate."
What is happening is that a study on railyard alternatives and the I-280 boulevard is currently being conducted. As part of the study, the Citizens Working Group (CWG)—comprised of 21 members without decision-making power—was asked to weigh in on priorities and concerns about the forthcoming Transbay Transit Center, redeveloping the Caltrain depot at 4th & King streets, and tearing down I-280's northern terminus in San Francisco.
Early last month, as part of the ongoing community engagement process, CWG members were asked what amenities they would want to see improved if the 22nd Street station was replaced. 75 percent of the 20 respondents said that it was very or somewhat important to relocate the 22nd Street Caltrain station altogether.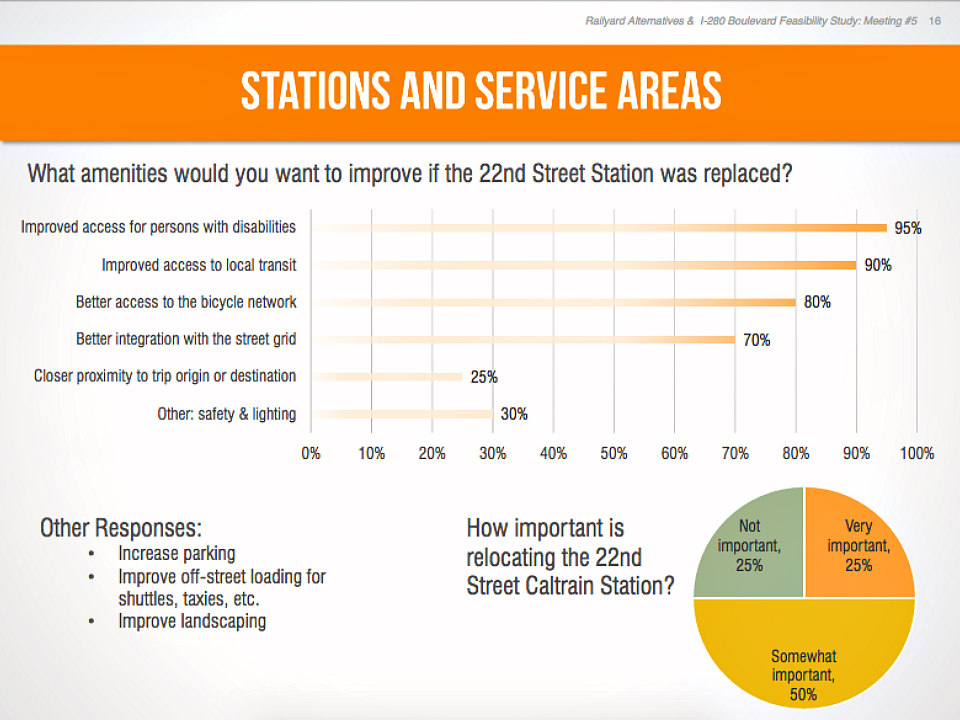 CWG members said that the elimination of the 22nd Street station "would likely result in significant cost savings," noting that there was a "reasonable argument" for a new station on 3rd Street, either at 16th Street or Mission Rock.
However, the real issue at stake was not the removal of the 22nd street stop. Instead, improving ADA access and connecting the 22nd Street station to San Francisco's street grid and other transportation, which were supported by 90 percent of respondents, are bigger priorities for Planning.
The station is notoriously isolated, as it lies underneath an overpass for the 280 freeway. Currently, commuters can only get to the platform by stairwell, and no wheelchair access is available.

"Addressing accessibility challenges in a rebuild was strongly favored by the CWG," said Simi, "though there are issues that could be addressed by rebuilding the station in its current location."
She stressed that while Planning is taking accessibility issues seriously, it is not proposing elimination of the 22nd Street Caltrain station.
"Addressing the accessibility issues around the 22nd Street Caltrain Station [is] a clear priority," Simi said.
But "suggesting that 'the odds of the existing Caltrain Station at 22nd Street surviving appear to be on the decline,'" she said, quoting Socketsite, "is simply not accurate."