In San Francisco, people care deeply about trees; we plant them in sidewalks, adopt them into our homes, and raise funds to plant more in our parks. And anyone who wants to cut one down will have a major fight on their hands.
It's ironic that a city suffering from dendrophilia had to import its trees from elsewhere — until the late-1800s, San Francisco's hills were covered with grass and shrubs, with the occasional scrub oak. Generations later, however, these imports are as closely identified with the city as cable cars and sourdough.
The trees of San Francisco are well-studied, but one question was harder to answer than we expected: where's the biggest one in the city?

A Big Tree In A Small City
At the base of San Francisco's tallest building, the Transamerica Pyramid, is a grove of coast redwoods, the world's tallest tree species. In prime conditions, the species tops out above 375 feet. The Transamerica redwood stand, however, will never reach those heights.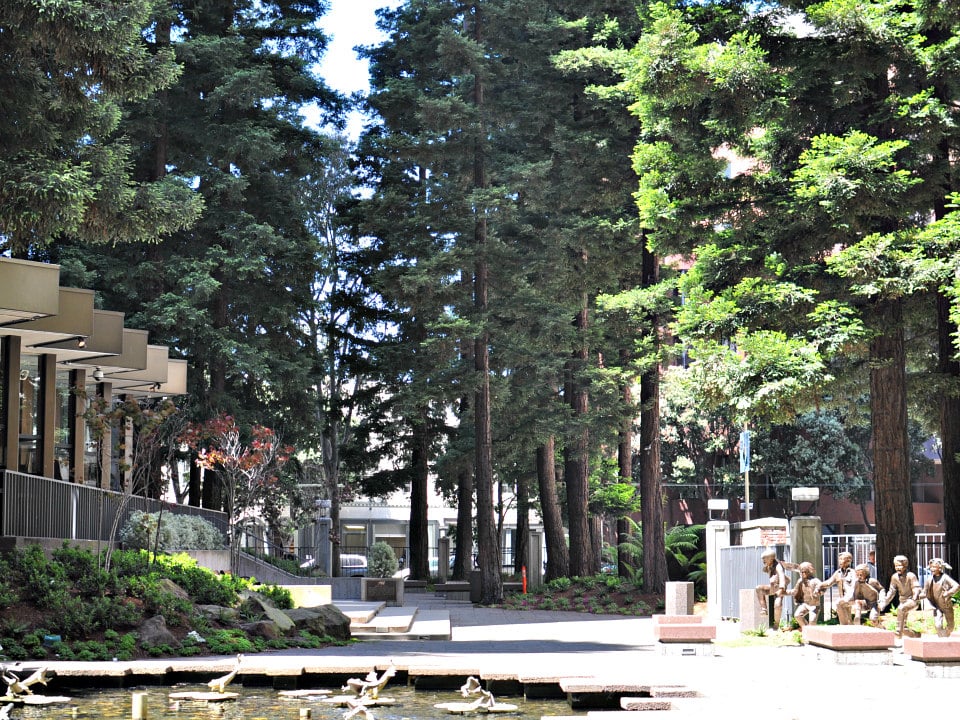 "Coast redwoods can live a couple thousand years," said Mike Sullivan, author of The Trees of San Francisco, "but we've only been planting in San Francisco for about 150 years. The trees haven't had a chance to get to their full potential and they probably will never."
Much of San Francisco used to be sand dunes, and sandy soil combined with strong maritime winds in a dense urban environment make the city inhospitable for cultivating tall trees.
"Trees don't have the soil and space in San Francisco to achieve their genetic potential," said Doug Wildman, program director at Friends of the Urban Forest. "In an urban setting, tree height is reduced."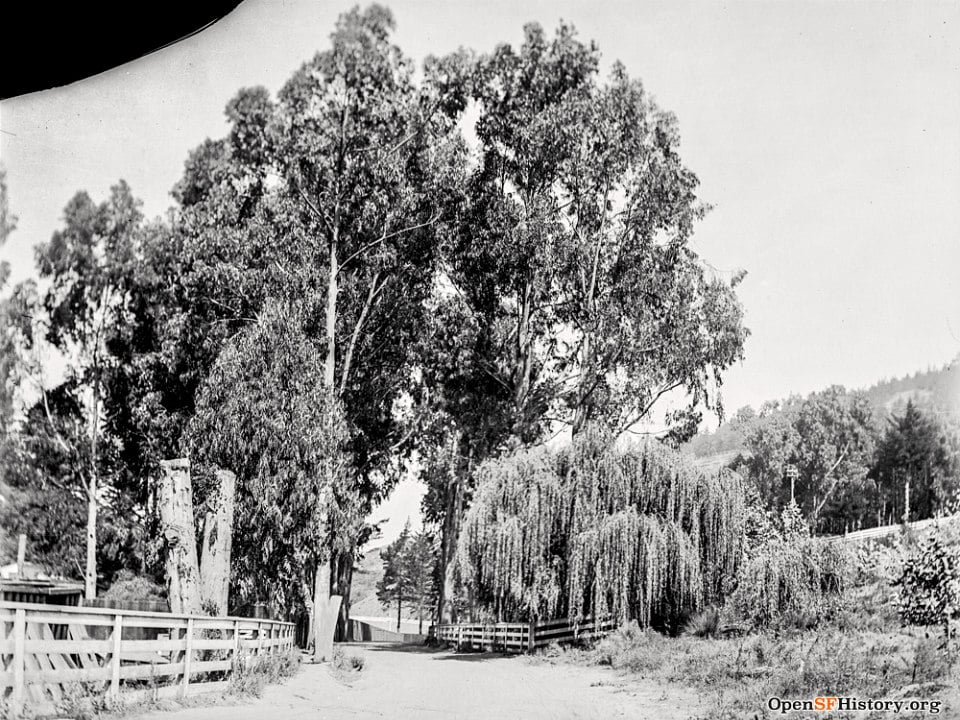 But by how much?
Earlier this month, the Planning Department released its first ever street tree census. According to the report, there are 124,795 trees representing more than 500 species in San Francisco. "Tree height isn't a data point collected," Wildman explained. "So we can only make projections."
Wildman said trees are generally shorter in the city. "It's like planting a tree in a container," Wildman said. "It will live its life until it's fully rooted and then it will peter off and die."
Given environmental constraints, street trees can still grow to rather imposing heights, and many—including River Birch, Evergreen Ash, Southern Magnolia, Red Ironbark and Scarlet Oak—reach heights of 80 feet.
Wildman said any tree, regardless of species and height, can be a liability in an urban landscape. "If it's near cars, houses, and wires," he said, "it can be a potential hazard."
That has many in San Francisco worried.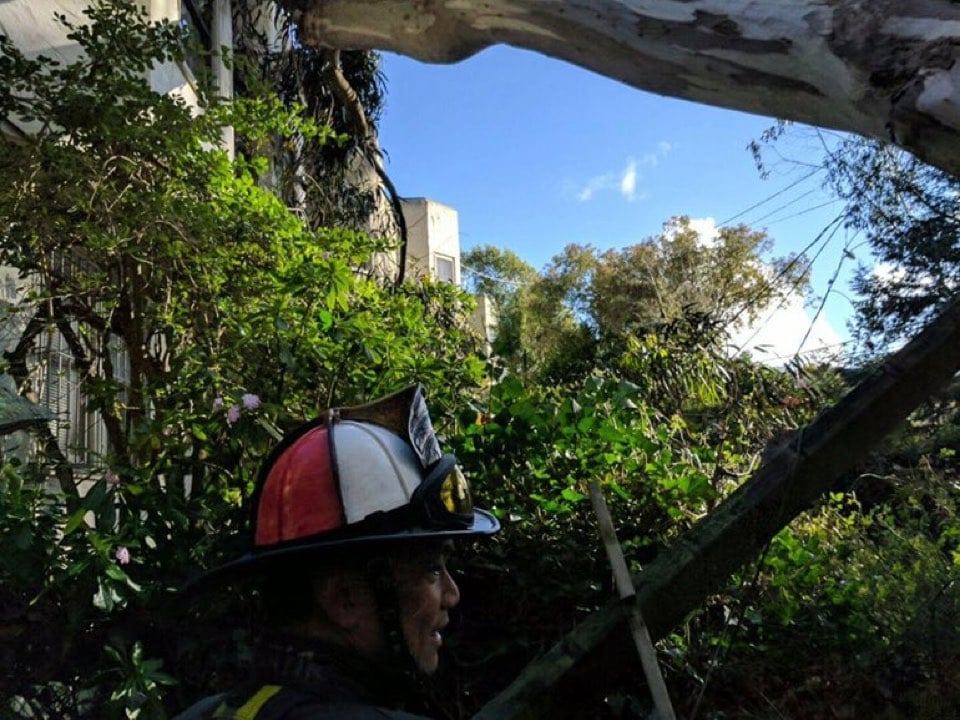 Even with routine maintenance, a tree that looks healthy today can lose a limb or fall down tomorrow.
Last August, a Canary Island pine that was considered to be in good condition dropped a 100-pound branch on a woman in Washington Square Park, leaving her with paralyzing injuries. A 100-foot tall eucalyptus brought down power lines in West Portal earlier this year.
"Trees are living organisms," Wildman said, "and not fully understood. We still have a lot of learning to do about different species' growth habits and how to maintain them."
Fortunately, the tallest tree in San Francisco isn't planted on a city street or in someone's backyard. For that, you'd have to venture into one of the city's parks, where the words "short" and "tall" are relative.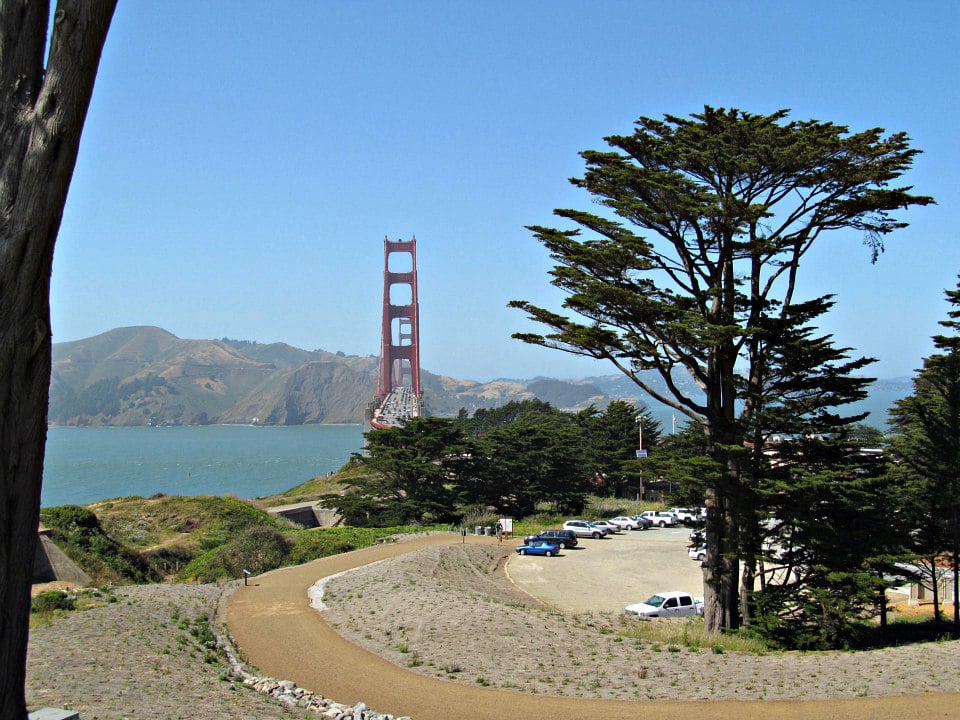 Where Is San Francisco's Tallest Tree?
Locating the city's tallest tree was no walk in the woods.
Look no further than the response we got from SF Rec and Park when we asked about the matter. "We have 131,000 trees in San Francisco," wrote a spokesperson. "We do not keep track of their ever-changing heights."
Challenge accepted.
We circulated our question to some of San Francisco's biggest tree experts, and here's what they had to say.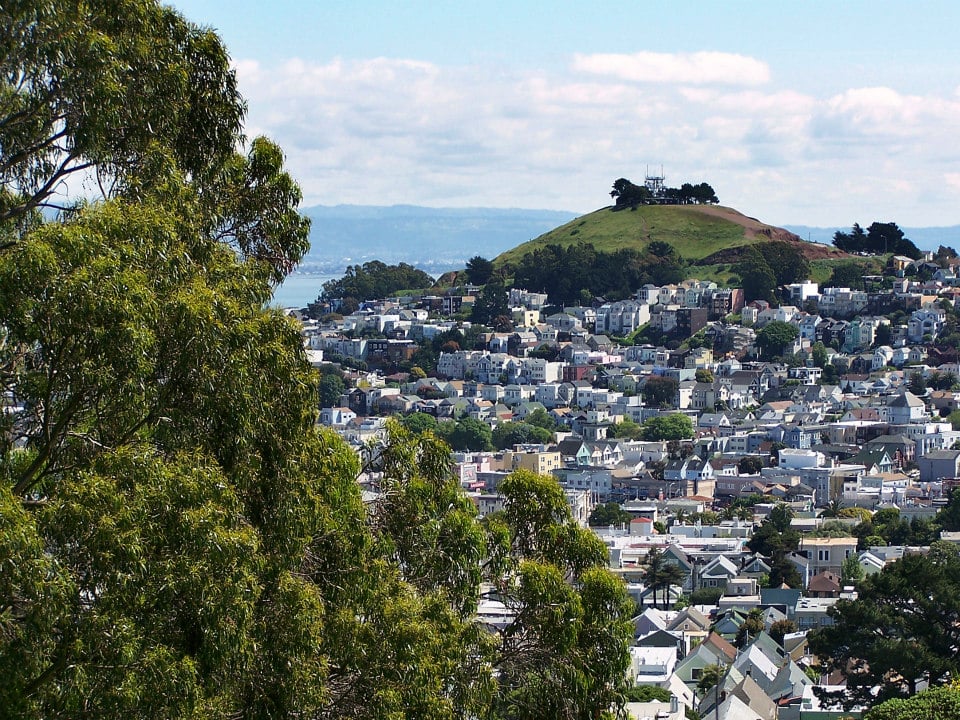 Carla Short, superintendent of Public Works' bureau of urban forestry, speculated that the city's tallest tree was in a park, "although there are some very large Norfolk Island pines that you can see from I-280 South," she said.
Chris Buck, an urban forester also with Public Works, agreed that there are some tall trees in the city's parks. "I was just at the Glen Park playground off of Elk Street," wrote Buck in an email, "and I noticed several tall blue gum eucalyptus trees from a distance where I said, 'now that's a tall eucalyptus.'"
"It is either one of the eucalyptus at the south end of the former Pop Hicks Field or a Monterey pine on the Bay Area Ridge Trail," said Peter Ehrlich, a forester for the Presidio Trust.
"I'd hazard a bet that the tallest are in the city's oldest parks," Wildman said. "Probably a blue gum in the Presidio or Golden Gate Park."
San Francisco's Nameless Giant

As far as we can tell, San Francisco's tallest tree is a towering 218-foot Tasmanian blue gum tucked away in Stern Grove. It was last measured in February of 2015 and, at the time, had a girth of 24 feet.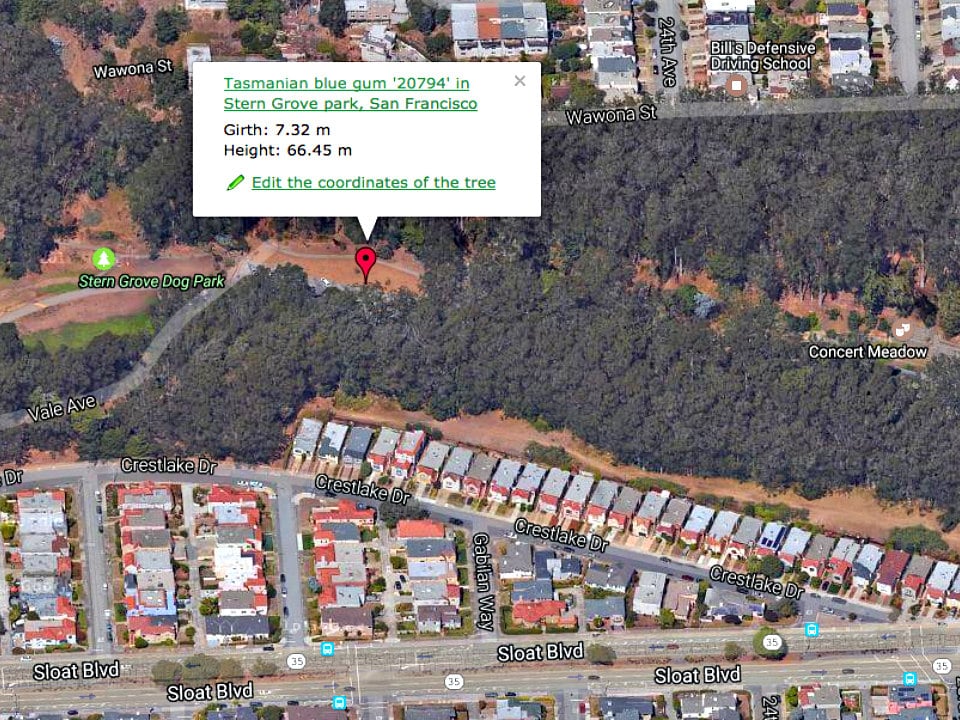 To put that into perspective, take a look at these graphics: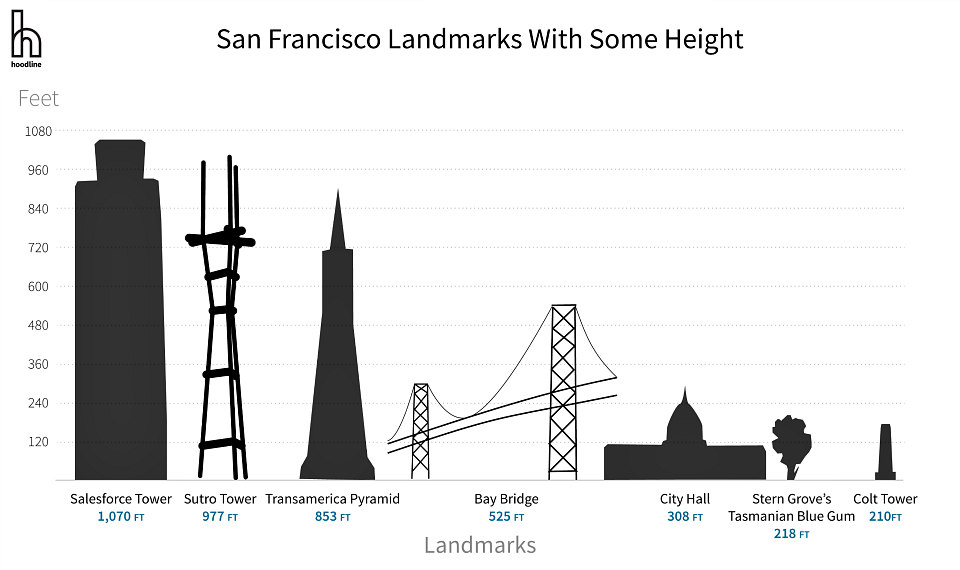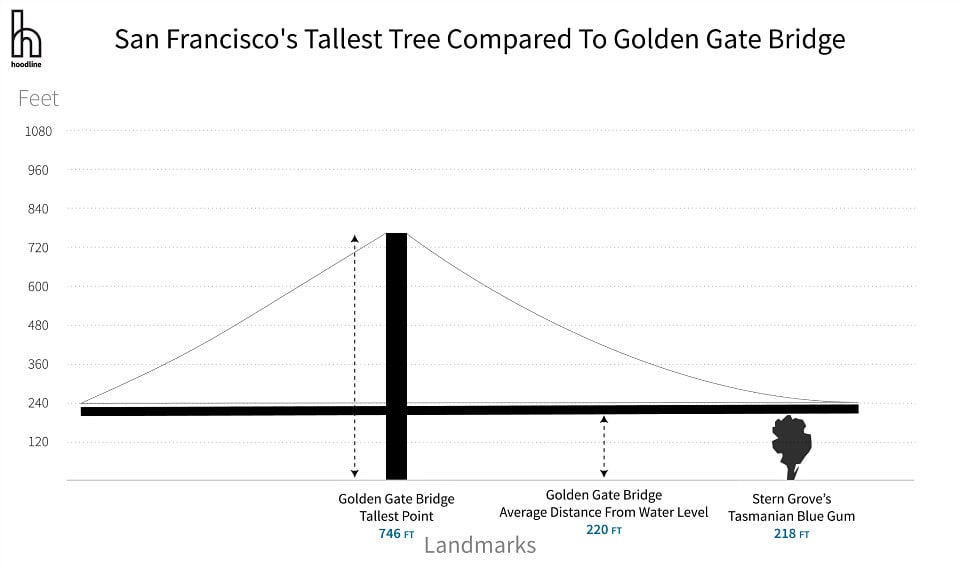 Unlike General Sherman of Sequoia National Park and Hyperion of Redwood National Park (the world's largest and tallest trees at 275 feet and 379 feet, respectively), San Francisco's tallest tree is unnamed (although it has its own website).
According to Sullivan's book, blue gums are native to a small sliver of Tasmania and southeastern Australia. Today, the species is one of the most common trees in the city and one of the most widespread "invasive" trees in the state.
Sullivan writes:
"Introduced to California in 1856, the fast-growing tree was planted extensively by pioneers hoping to make a fast buck from timber plantations (a mistake, as it turned out, because the wood of the blue gum is not well suited for sawn timber)."
Under ideal conditions, blue gums can easily reach heights of 150 to 200 feet, and in its native island ecosystem of Tasmania, blue gums can soar to 300 feet.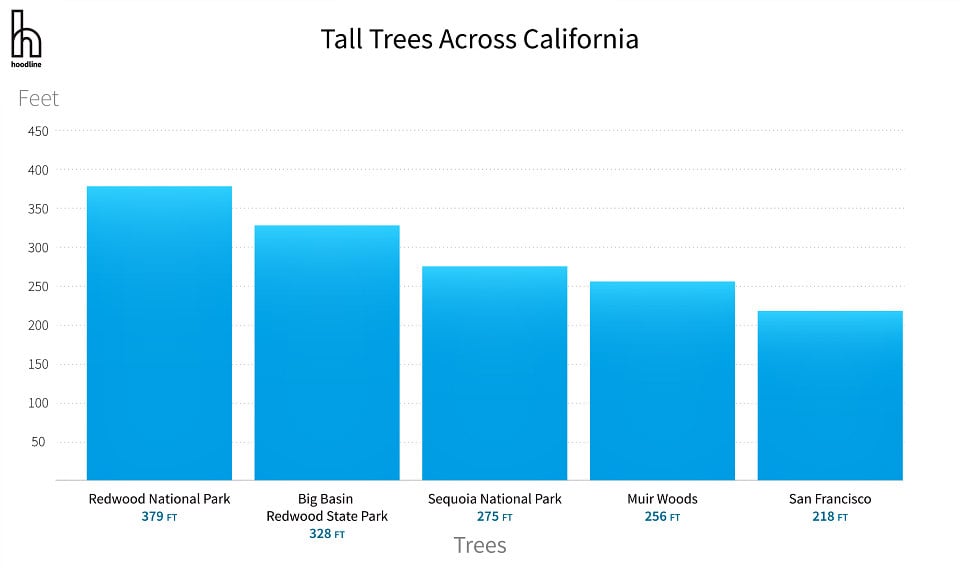 Ehrlich said blue gums can grow up to six feet a year when young. "They like wet conditions," he said, "and they're very efficient trees at picking up water."
Blue gums' leaves are perfect for San Francisco's foggy conditions. "The leathery leaves retain moisture," writes Sullivan, "and their vertical sickle shape causes the condensing fog to drip onto the ground, delivering moisture to the tree's roots."
Given the park's location in the fogbelt, it's not surprising that our unnamed arboreal behemoth calls Stern Grove home.
"For city trees," Ehrlich said, "blue gums definitely are skyscrapers."