A door that fell off a moving light-rail vehicle in a tunnel between Muni's Church and Castro Metro stations on Tuesday night was an "isolated incident" caused by a faulty mechanism, an SFMTA spokesperson told Hoodline.
Door flew off the muni train in the tunnel between Castro and church just now #muni #sfmuni #sf @sfmta_muni @SFGate @SFist @Hoodline pic.twitter.com/f0WSW5uQD8

— James Chang (@jameschangtweet) May 3, 2017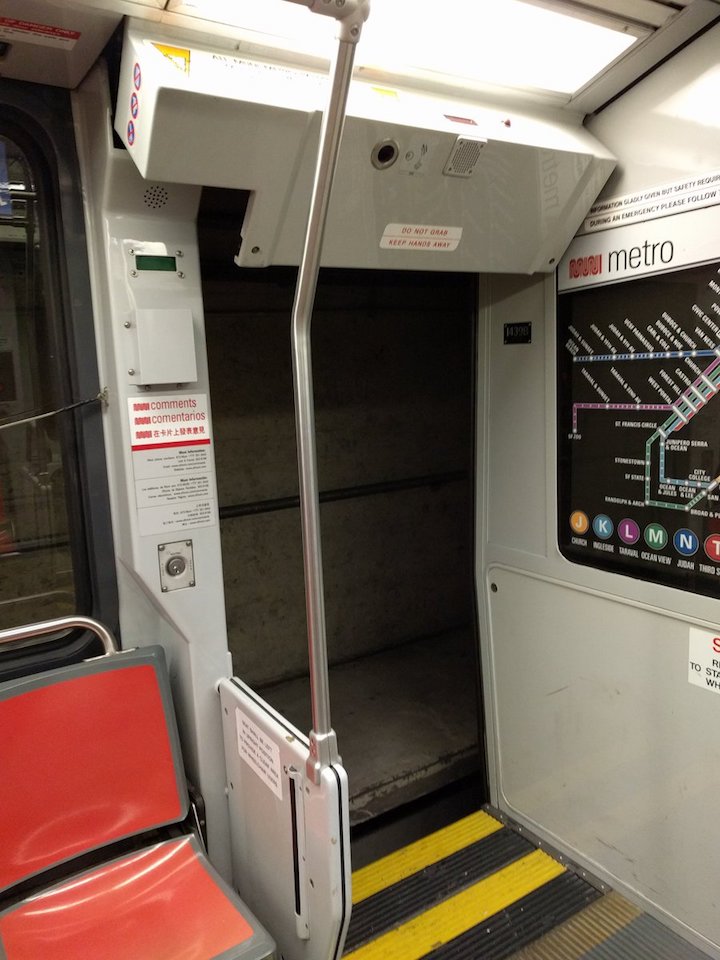 Just after 7:30 Tuesday evening, T-line passenger James Chang tweeted to Hoodline that the door failed while the vehicle was inbound to Church station. In a follow-up message, he said "the door just flew off the train as we were speeding through the tunnel," adding that the "train was mostly empty."
According to Paul Rose, a spokesperson for the transit agency, "the mechanism that holds the door in place became fatigued and came loose on Ocean Avenue," and began to shake after the LRV entered the subway at West Portal.
After the train passed Castro station, "the door flapped even more and hit a signal pole," which caused it to fly off the vehicle. "No one was near the door and no one was injured," said Rose via email. At the time of the incident, the LRV was operating in automated mode.
Chang said the train operator didn't make an announcement and "impatient passengers walked to Church station in tunnel." According to the Examiner, the train was traveling at approximately 35 miles per hour when the protruding door struck the pole.
On the Breda LRV -2/-3 trains currently in service, a guide channel mounted on the door connects to a roller that holds the door securely in place. As the door opens and closes, the roller moves through a channel that's closed at both ends.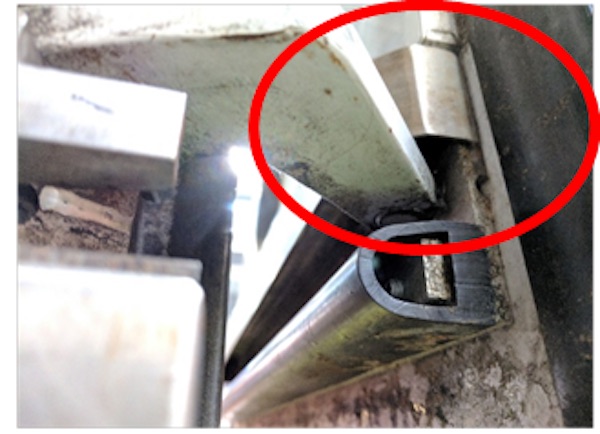 But photos Rose shared with Hoodline show that the cap at one end of the channel was damaged, leaving one end open. As a result, the motion of the train shook the roller free, which permitted "the door to flap away from the LRV," a Muni technician wrote.
"Based on recent memory, this has never occurred with these trains and certainly not within the last 10 years," said Rose, who added that the agency will begin inspecting the roller mechanism "as part of our routine maintenance."
Muni operates about 150 Breda LRVs, which entered service in 1996. The agency is replacing these cars this year with a new model manufactured by Siemens that have a different door-closing mechanism.