Local artist Amos Gregory was initially glad when Grocery Outlet opened up five blocks from his Mission District house. However, after an incident that took place in the store's parking lot this past Sunday, Gregory likely won't be returning anytime soon.
Gregory alleges that he was racially profiled and physically threatened by a store security guard carrying a police-style riot baton and an undetermined weapon. The Mission resident caught the encounter on video.
As written in a Facebook post, Gregory had finished his purchases to prepare a Mother's Day feast when he paused with his shopping cart in the parking lot to smoke a cigarette. Before he grabbed his bags to head home, he was approached by a security guard who asked him if he was waiting for an Uber.
When he said "no," he was accused of loitering and disorderly conduct.
In the video footage, the security guard can be heard requesting his colleagues over a walkie talkie to call SFPD and respond to what he perceived as a "combative" "paying customer" who's "refusing to leave private property."
"Glad you showed your ignorance," said the guard, whom Gregory addresses as Dylan. "Hope you have a good lawyer."
"Just because you're a guard doesn't mean you can harass me," Gregory said to the guard. Later on, he noted, "I never had any problems coming here until this guy started harassing me." 
The guard can also be heard making remarks about Black Lives Matters. "That's all you guys ever do—protest," he said.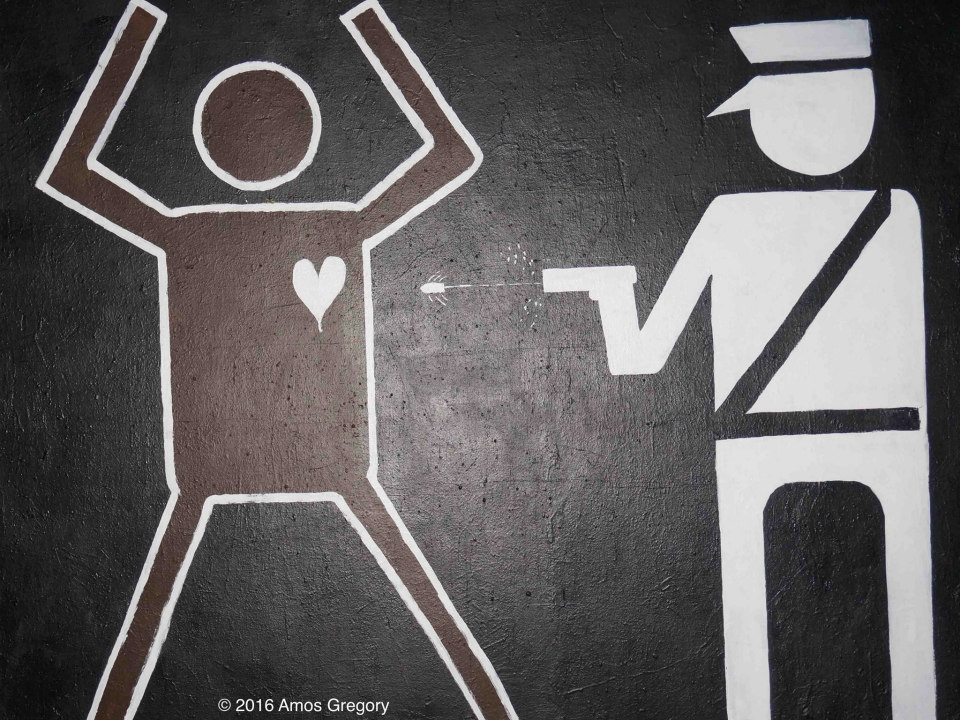 After Gregory turned off his camera and turned to leave, the guard allegedly rushed him, closing the distance to about four feet.
He then told Gregory, "I'm going to taser you."
Gregory reportedly left the Grocery Outlet parking lot and went to the police station to file a report.
"To be honest with you," Gregory wrote on his Facebook page, "getting lower-cost groceries is wonderful, but not when you and people who look like you (black people) cannot go in there safely without getting shot, tased or harassed by some racist security personnel. This is the worst addition to the Mission neighborhood in a long time."
In 2016, Gregory painted a mural depicting an unarmed person being shot by a police officer. "I painted it and never thought that it [could happen]," Gregory told us. "[It] almost came close to happening the other day."
Eric Liittschwager, who owns both the Mission and Visitacion Valley's Grocery Outlets, said that he's seen Gregory's video. He's asked the Kingdom Group, a San Francisco-based company that contracts security guards, to bar the guard captured in Gregory's video from ever returning to his store.
"I was appalled," Liittschwager told us. "This isn't who we are."
Hoodline also reached out to the Kingdom Group for comment on the incident, and they let us know that the security guard has been fired.
"He no longer works here," a representative for Kingdom Group told us. "We don't tolerate that kind of behavior here."