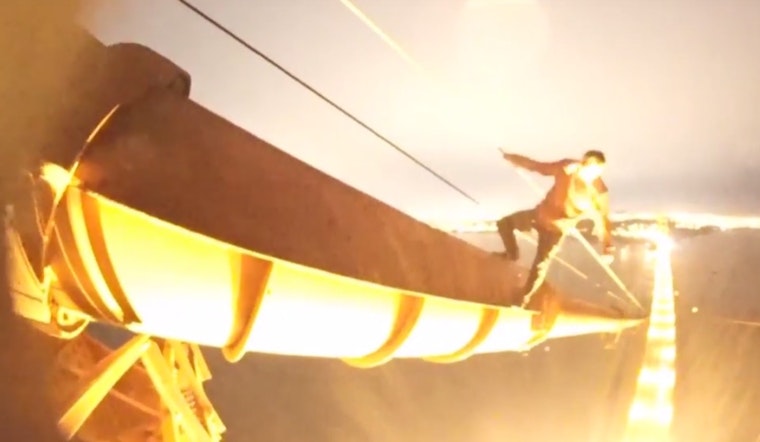 Published on May 16, 2017
A YouTube video showing two Wisconsin teens free-climbing to the top of the Golden Gate Bridge has prompted a security review by the Golden Gate Bridge, Highway and Transportation District.
The 6-minute, 10-second video posted on May 7 shows the teens, identified as Peter Teatime and Tommy Rector, who both say on their Facebook pages that they're from Milwaukee, climbing the north tower from the west sidewalk of the span, district spokeswoman Priya Clemens said.
The teens do backflips and somersaults and hang from their fingertips during their nocturnal escapade. They did not use harnesses or other fall protection, district officials said.

District officials do not know when the teens performed their stunt. The video begins at dusk and ends in darkness.
Climbing on the bridge is a misdemeanor punishable by up to a year in jail. The California Highway Patrol is leading the investigation that also includes the U.S. Department of Homeland Security.
The bridge district did not know about the climb when it happened, and changes are underway in the "security infrastructure" and monitoring of the cameras and patrolling on the bridge, Clemens said.
"Their path of travel didn't trigger an alarm," Clemens said.
She said the district is doing an independent assessment of security, led by the Northern California Regional Intelligence Center.
—James Lanaras