Whether you love it or hate it, you need to do your laundry.
If you're not lucky enough to have an in-unit washer and dryer or a laundry hook-up in your building, then you're most likely resigned to grab your quarters, pack up your dirty clothes and make the trek to your local laundromat.
However, if it seems like you have to walk farther than before, it's because laundromats across San Francisco are shuttering. According to our analysis, this has been a trend for the last 50 years.
We paid a visit to the San Francisco Public Library, where every edition of the Yellow Pages ever published in the city is kept, and we counted the number of businesses listed as laundries and self-service laundromats in San Francisco.
Note on the data: by definition, there's not much separating laundries from laundromats—laundromats are self-service and coin-operated and laundries are not. For the sake of this analysis, we lumped the two categories into one and use the words interchangeably.
The Data

Take a look at the results.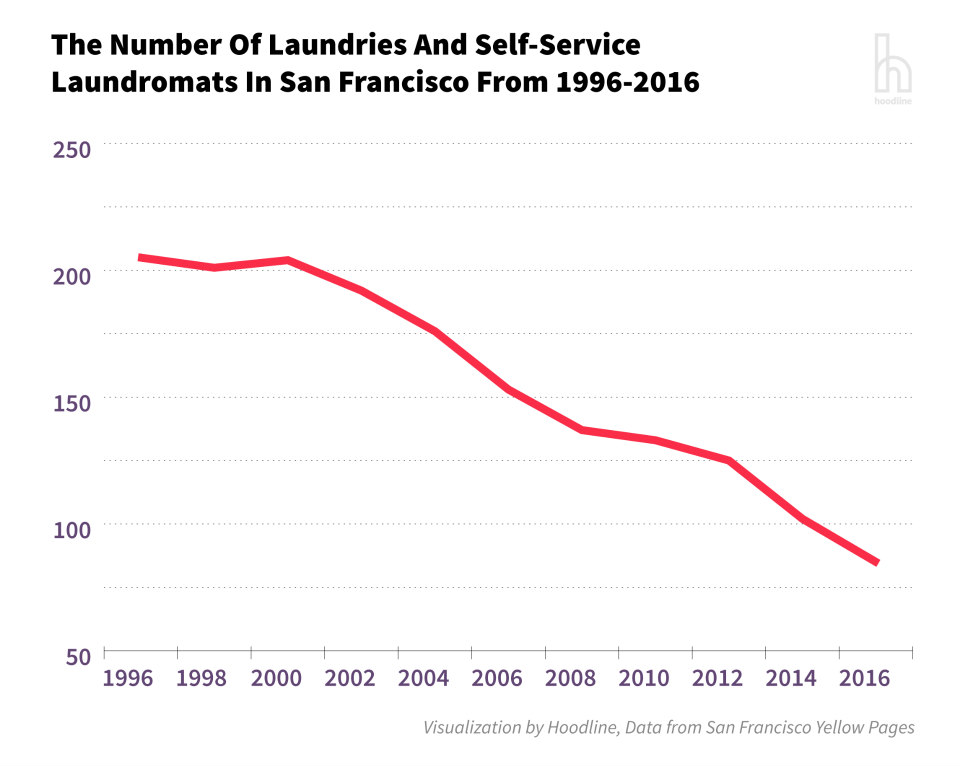 According to the Yellow Pages, in 1996, there were 205 laundromats in San Francisco. In 2016, that number dipped to 85—a 59 percent decrease.
In 1986, there were 223 laundries in the city, meaning that in the past 30 years, there's been 62 percent decrease in the number of laundromats in San Francisco.
Here's the geographic change over time during that 30-year span.
Whereas some laundromats have managed to open since 1986, it's clear that, by and large, San Francisco is losing businesses where people can wash and dry their clothes.

That's not all. When we looked even farther back in time, to the late '60s and '70s, the downward trend is even more dramatic.
Between 1966 and 2016, there's a 82 percent decline in the number of laundromats in San Francisco, although that number should be taken with a grain of salt.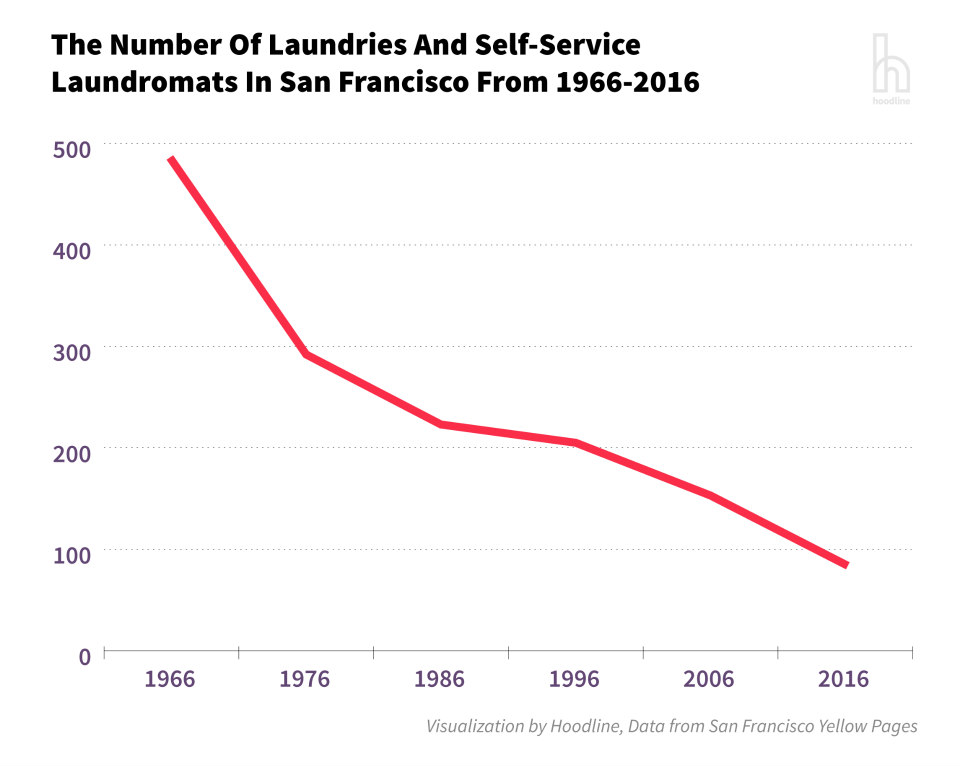 We curated the Yellow Pages' data going back to 1986 to only reflect businesses within the City and County of San Francisco, but we didn't do the same for 1976 and 1966 (we were more interested in the big picture). The result is that a few laundromats from South San Francisco, Daly City and Brisbane, as well as a sprinkling of Oakland laundries, were occasionally listed by YP and counted in the older data.
The Yellow Pages, Really?

It's important to point out that the Yellow Pages doesn't necessarily represent an exhaustive list of every laundromat in San Francisco, as business owners have to claim a business in order to have it be listed in the directory.
Back in the day, the Yellow Pages were the lone resource—besides word-of-mouth—for businesses to connect with local audiences. However, with the rise of the internet, especially in the early 2000s the five-pound paperback took a hit.
To make sure that we were accurately tracking the number of laundromats in San Francisco over time, we needed to check to see that our findings weren't just a representation of the Yellow Pages' growing internet competition.
We compared the old-school Yellow Pages to Yelp category data. In 2016, there were 85 laundromats listed in the Yellow Pages, and as of January 1, 2017, Yelp had 91 laundromats spread across the city.
Therefore, it's safe to say there's been a significant decline in the number of laundromats in San Francisco over the past few decades.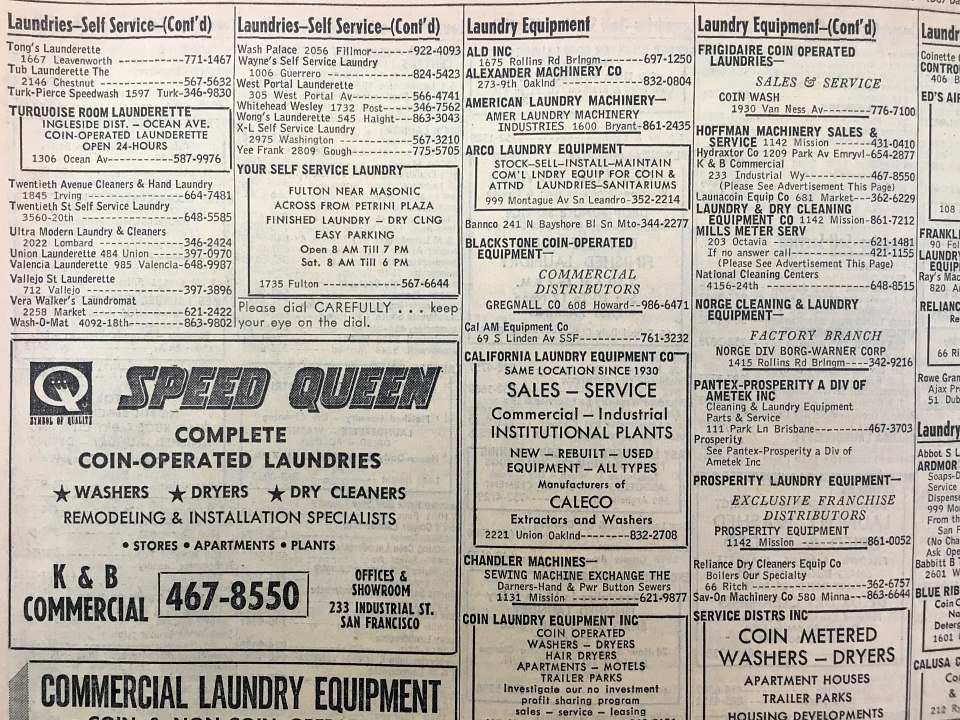 What's Going On?

It might be easy to somehow blame on-demand, door-to-door tech companies like Rinse and Mulberrys that are disrupting the laundry industry for San Francisco's faltering laundromat population, but those companies are relative newcomers to the city and often rely on established brick and mortar businesses to operate. So they might actually be helping remaining laundromats.  

We can't say whether the decline in laundromats in San Francisco is because of lower demand, higher rents, or something else, but one present day theme exists: current and former laundromats are quite visibly being converted into restaurants.
Because laundry facilities are equipped with the requisite ventilation, gas, electricity and plumbing utilities that restaurants require to open shop, turning them into eateries is relatively straightforward.
That's the case with Kantine, a Scandinavian bistro that's planning to move into the current Little Hollywood Launderette on Market Street, much to the chagrin of some local residents.
There's also BarnZu, a Korean restaurant opening in a former laundromat in the Tenderloin, and an unnamed coffee shop that's set to open in Cole Valley's former Doug's Suds Laundromat.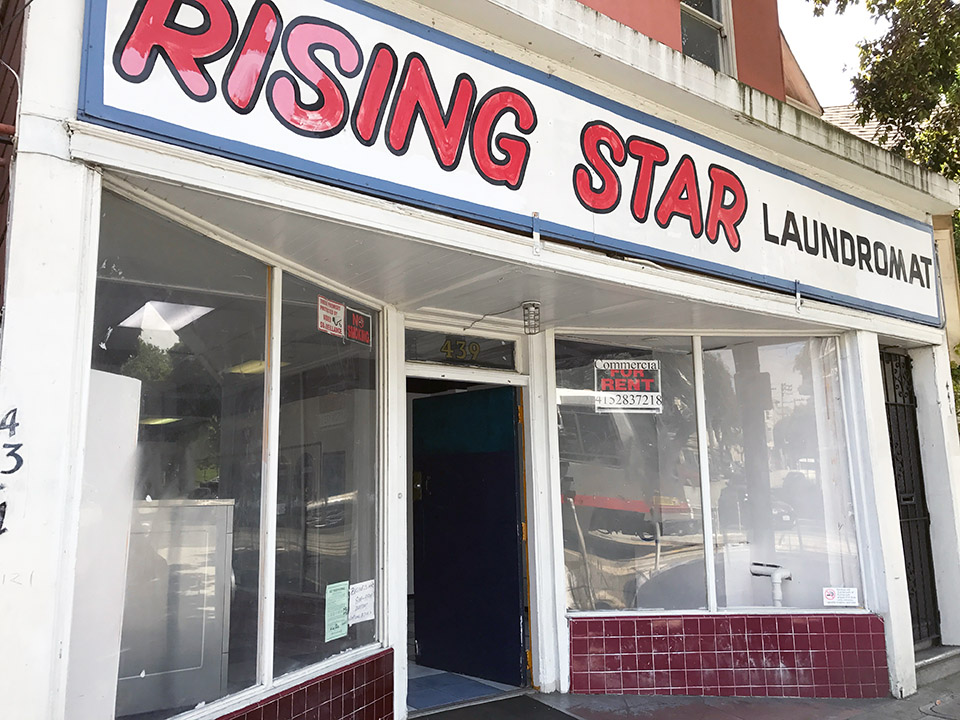 As for demand, we don't have any way of knowing how many private washers and dryers have been installed in houses, apartments and condominiums over time in San Francisco to compare to the shrinking number of laundromats in the city. We know there are more people than ever living in San Francisco, but that's not helpful.
What we do know is units in new developments like The Duboce in the Castro and Trumark Urban's Knox in the Dogpatch come equipped with in-unit washer and dryers.
That doesn't help residents who live in older, often rent controlled buildings that cannot support the necessary hook-ups for washers and dryers, whether because of decrepit plumbing or inadequate ventilation.
It's those San Franciscans—the ones who can't wash their clothes in their homes—who rely on affordable neighborhood laundromats.
Sure, places like the Mission's forthcoming Laundré, a combined coffee shop and laundromat, might counter the overall downward trend in laundromats in the city, but those new establishments will most likely operate at a price point above what many low- to middle-income San Franciscans are able to afford. And there don't seem to be that many of them planning to open.
Avid Hoodline readers may remember one of our stories back in 2012, when yet another laundromat closed. Now, as was the case then, we're left to ask the question:
Where do we have left to go to do our laundry?