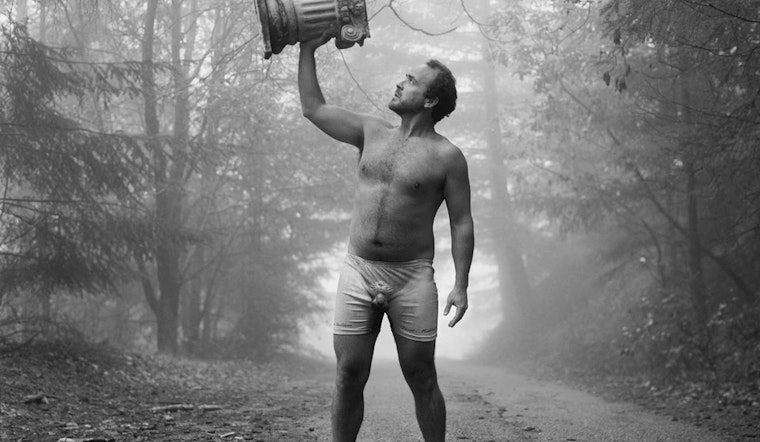 Published on June 16, 2017
This weekend,  "David, In Brief,"  debuts at this weekend's Frameline 41 San Francisco International Film Festival. The 16-minute film dissects the biblical tale of David and Goliath, all while delving into the personal stories of gay and transgender men who were brave enough to don a pair of boxer briefs with the marble privates of Michelangelo's David statue—and tell all.

The short film is the brainchild of Jeffrey Braverman, a San Francisco-based photographer and filmmaker. More than a decade ago, Braverman's friend purchased the briefs from a street vendor after visiting the world famous statue in Florence, Italy.
After seeing past the drawers' silliness factor and convincing peers in the LGBTQ community to try them on, the filmmaker found that his subjects were surprisingly open about their own David and Goliath moments. 
"I expected that most would know of the story," Braverman said in a press release, "but I didn't expect the type of in-depth dialogue that came to life: stories that once told, could positively impact others in gay and straight communities around the world."
The documentary includes conversations with two Bay Area residents: Reb Irwin Keller​, a drag performer turned rabbi; and Skyler Cooper​, a transgender war veteran turned activist.
The film also represents the struggles Braverman has overcome himself.
"For years, I hid from my own Goliath: personal struggles with sexual identity and questioning who I was as an individual," he said, pointing out that although he was raised in the Bay Area, that didn't make it easier to come out in his 40s. "I wanted to hear how others, with larger-than-life obstacles, faced their Goliaths."
For another perspective on "David, In Brief," we turned to Shane Downing, the writer and producer who collaborated with Braverman on the film. (Full disclosure: he is a staff writer at Hoodline.)
Hoodline: Jeffrey Braverman admitted to the Bay Area Reporter that, originally he thought the briefs were too "comical." Did you have similar feelings when you first laid eyes on the skivvies?
Downing: I was a bit skeptical when I first heard about the skivvies, but Jeff had already done a bunch of photo shoots, and things were already moving in that direction when I came onboard.
Once I saw some of the photos, I was sold. I was more interested in hearing the models who'd actually worn the David briefs talk about their struggles than dwelling on how the film was going to be rooted in a pair of silkscreened boxer shorts.
By the way, Jeff's been trying to get me to wear them for a while now, to no avail.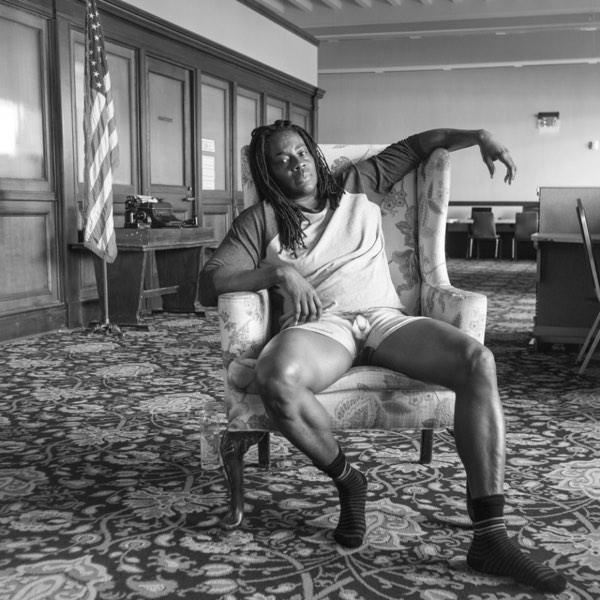 It seems like working on a project like this would present plenty of opportunities to reflect on your own David-and-Goliath moments. Was that the case for you?
When it came to identifying my own personal David-and-Goliath moment, I didn't have an aha moment. Coming out and immediately shipping off to Cameroon for a stint in the Peace Corps came with its challenges, but those are struggles I'd already overcome.
One interesting thing that working on "David, In Brief" made me think about is what got left behind in my transition from a religious upbringing to an atheist adult. In a way, working on a film based on something that took place in the Torah challenged me to reacquaint myself with an ancient story that—trimmed of its religious significance—is just a story that people can identify with.

What do you personally hope viewers will walk away with?
One thing I hope viewers walk away with is this notion to take a second look. Like the photo series this film is based on, if you just glance at some of Jeff's pictures, the models look completely nude. That's how he shot them.
But if you look again, it's clear that they're wearing underwear. The same can be said about obstacles in life. It's easy to perceive them as insurmountable or inconvenient, but sometimes, if you take another look, it's clear that those obstacles are actually opportunities.

For those who can't make these two Frameline screenings, are future screenings in the works?
The film will also be showing at the Innovative Film Festival, in Tampa, Florida, later this month. We're hoping that it gets the chance to run in some other local film festivals and maybe some other LGBTQ festivals, but nothing has been announced yet. Once the dust settles, it'd be great to give it a home online, so David enthusiasts around the world can watch.
"David, In Brief" will be screened at 9pm on Sunday, June 18th, and at 9:15pm on Thursday, June 22nd, at the Victoria Theater (2961 16th St) in the Mission. Fans of the concept can also stop by Braverman's pop-up exhibition from 6-9pm Friday, June 23rd, at Art Saves Lives Studio and Gallery at 518A Castro St. to view the photos that inspired the film.