Frustrated by long waits for pizza delivery, software developer Evan Kuo created an app to automate ordering from a nearby pizza shop.
Even then, he found himself waiting longer than he liked for a meal that often "wasn't particularly good," he told Hoodline.
Kuo set out to create a faster, smoother delivery experience and a better pie. A Mission resident, he selected his neighborhood as a proving ground for Pythagoras Pizza, first launched in 2015. 
With delivery limited to an area within a 2-mile radius of a shared commissary on Cesar Chavez St., Kuo and his team promise two things: delivery within 15 minutes of when the order is placed, and an un-soggy pizza he said he spent 8 months perfecting.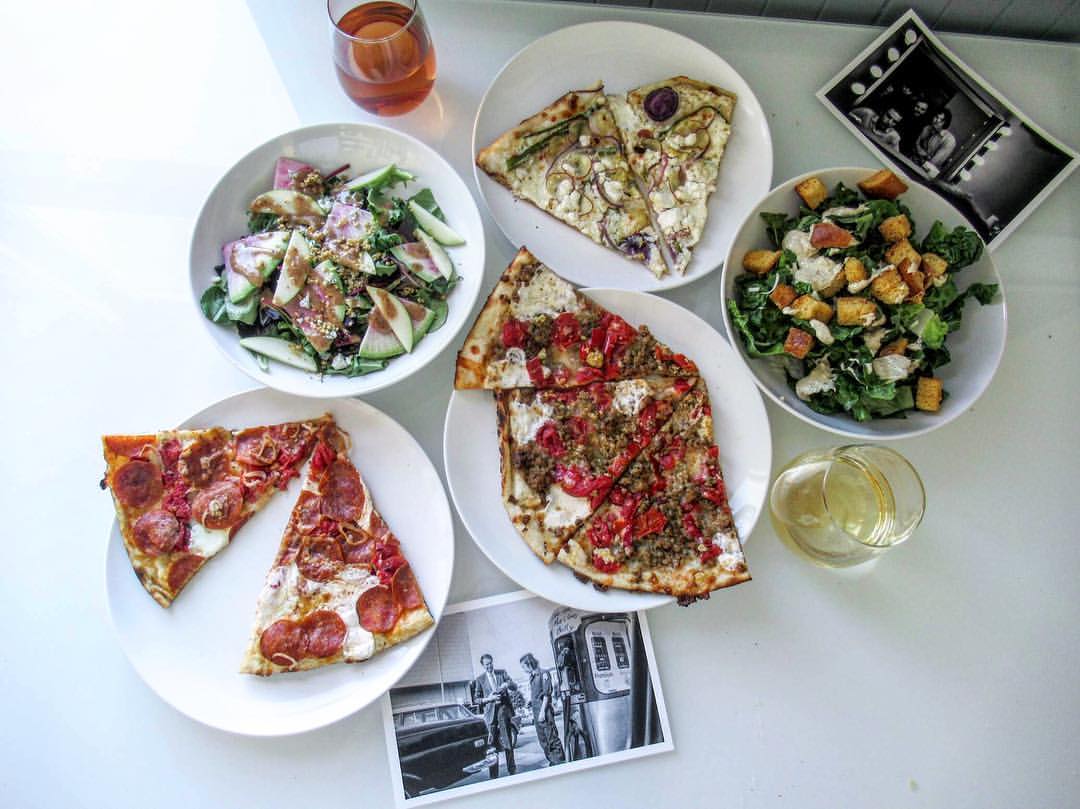 To develop his ideal pie, Kuo ate an entire pizza from a different pizzeria every day for three months. Eventually, he realized that crust quality and texture are key elements for designing a killer slice. As a goal, he decided to create a sourdough crust that's as good as a great piece of bread.
"We always ask ourselves: if we were just to take this piece of crust and serve it with olive oil and vinegar, would it be presentable as high-quality bread after being steamed in a box?" said Kuo.
Pythagoras offers just three varieties: pepperoni, combination, and vegetarian.
Combination and vegetarian pizzas change regularly, as Pythagoras sources locally-grown, seasonal ingredients from vendors like Bi-Rite Market and Greenleaf whenever possible. The menu also includes Caesar and mixed green salads, as well as "Fro-Dough," frozen cookie dough with pretzels, chocolate chips, and graham cracker bits.
Despite pressure to expand and stiff competition from food delivery services, Kuo said he's more concerned with building a sustainable business with a quality product that offers his employees a living wage.
Each pie is $23, plus sales tax and a $3.30 delivery fee, but the company says its price is just a couple of dollars more than a similar product from Domino's.
Many of the largest food-delivery services "have made people expect that you can spend only $10 to get food delivered," said Kuo. "They are misinforming customers in terms of what they should be paying."
To ensure on-time deliveries, Pythagoras worked with bike messengers who could avoid rush-hour traffic snarls. Deliveries made it to customers on time, but on one occasion, pizzas were smushed and inedible, as the messengers had been sticking the pizzas vertically into their bags for transport.
Hey @getpipizza you have been named by @Esquire as one of San Francisco's best pizzas: https://t.co/VRWMOPWomX

— Elliot 👲🏽🦉 (@Loh) August 26, 2016
Profuse apologies and replacement pizzas made everything right, Kuo assured Hoodline.
Although the company has grown to serve neighborhoods adjoining the Mission, it's still run by a small core team of three—Kuo, his girlfriend, Jessica, and his cousin, Ethan.
Kuo considers Pythagoras as "just another mom and pop," a challenge for a small business in a city that has so many exacting customers.
"It's encouraging that we're in a hyper-competitive food district with so many pizza businesses, and people still give us the time of day." said Kuo. "If we can make it in the Mission, chances are we can make it anywhere."
Pythagoras Pizza is open from 6-10 daily and serves the Mission, Potrero Hill and Dogpatch, with limited coverage of Bernal Heights, Bayshore, Hayes Valley, Noe Valley and SoMa. To place an order, download the iOS app.