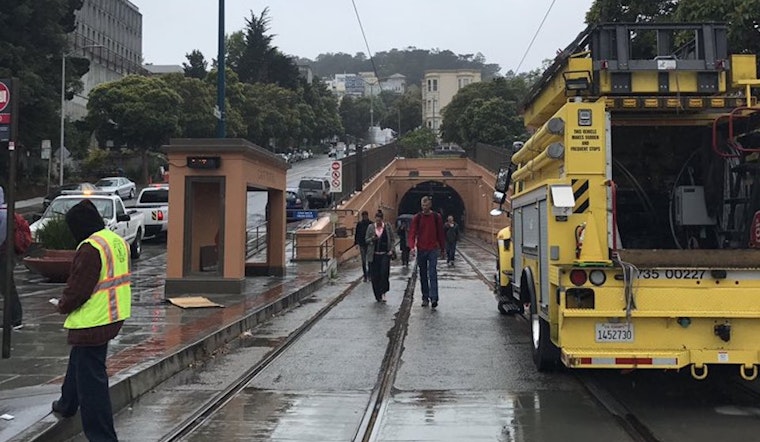 Published on June 09, 2017
Yesterday's commute on Muni's busiest streetcar line was snarled shortly after 7am when a piece of the Sunset Tunnel's ceiling fell, striking the overhead conduit powering an inbound vehicle. As a result, rush-hour passengers were stranded inside the tunnel for nearly an hour, and there were systemwide delays.
Shortly after a light-rail vehicle entered the tunnel in Cole Valley, there was "a strong jolt" before the power went off and the streetcar stopped, tipster Patty C. told Hoodline via email. Riders weren't permitted to disembark until "patience wore thin and a bunch of us demanded to be let out," she said.
On behalf of the transit agency, SFMTA spokesperson Paul Rose apologized to passengers, who were eventually permitted to walk to the tunnel's east portal.
N-Judah passengers currently walking out of Sunset tunnel at Duboce Park. Train stalled inside. #sfist @sfmta_muni pic.twitter.com/p7KXoWmC58

— (((David Lytle))) (@davitydave) June 8, 2017
"In situations like these, our emphasis will always be on the safety of our riders and staff," said Rose via email. "At the time of the incident, we did not know if [a] live electrical wire was near the train."
Vehicle operators needed to get more information about the extent of the damage before evacuating "passengers into an operational tunnel," Rose explained. The incident occurred around 7:13am, "and passengers were evacuating at 8:10," he said.
Patty told Hoodline that the walk to daylight "took about 30 minutes to an hour" over an "extremely uneven, gravelly/rocky pathway."
Worker says the pantagraph that runs along the tunnel ceiling fell. That means the trolley can't connect, so no power to the train.

— (((David Lytle))) (@davitydave) June 8, 2017
Since 2015, Muni has been rehabbing the Sunset Tunnel with seismic upgrades and an improved trackway and electrical systems, but weather delays and noise complaints put the project well behind schedule.
In September 2016, Muni approved adding $3 million to the $13 million project's budget after a contractor discovered that the tunnel, built in 1928, was in worse shape than expected.