Next week, the city is seeking community input on what traffic and environmental improvements could be made on Taylor Street between Market and Sutter to make it safer and more livable.
The Safer Taylor Street Project is in its very beginning stages, said Ben Jose, spokesman for the SFMTA. The early planning stage is anticipated to last until early 2018, when the agency staff will offer proposals for further community input.
To kick things off, the agency is hosting an initial community open house about the project on Wednesday, June 28th, to start gathering community input before developing any proposals. 
"What we'd like to emphasize is that the SFMTA is intentionally casting a wide net early on to better understand the priorities of the community," Jose told us.
The Taylor Street corridor, along with the surrounding streets, is part of the city's High Injury Network, the 12 percent of city streets that make up 70 percent of all traffic collisions in the city.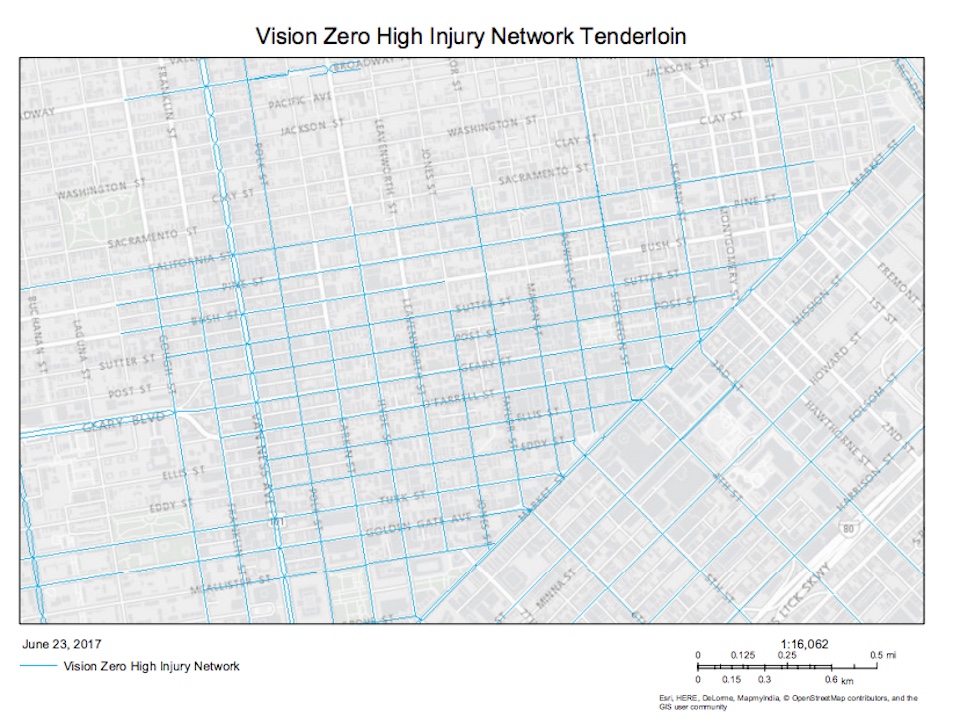 The area is considered a particularly dangerous one, and SFMTA believes that it is critical for its Vision Zero initiative to reduce traffic deaths in San Francisco. In its description for the project, the agency noted that between 2011 and 2016, Taylor Street between Market and Sutter saw 109 collisions, with 69 involving pedestrians and cyclists. 
"This means, each month an average of one person walking or biking is injured in a traffic collision within the area," wrote the SFMTA. 

Although it is too early to suggest what improvements SFMTA will ultimately propose, Jose said the staff team working on the project set a goal that any bike lane proposal for Taylor Street will be a protected one.
As we recently reported, SFMTA is reconsidering its nearby Turk Street improvements after community members opposed its proposal to scale back plans for a parking-protected bike lane.
The agency is also currently reviewing speed and vehicular volume data to determine whether any lane restrictions or speed limit changes will be needed to increase safety on Taylor Street.

The San Francisco Public Utilities Commission is currently installing new lighting along several streets in the neighborhood, replacing older lampposts with new, teardrop poles designed to illuminate both the street and the sidewalk.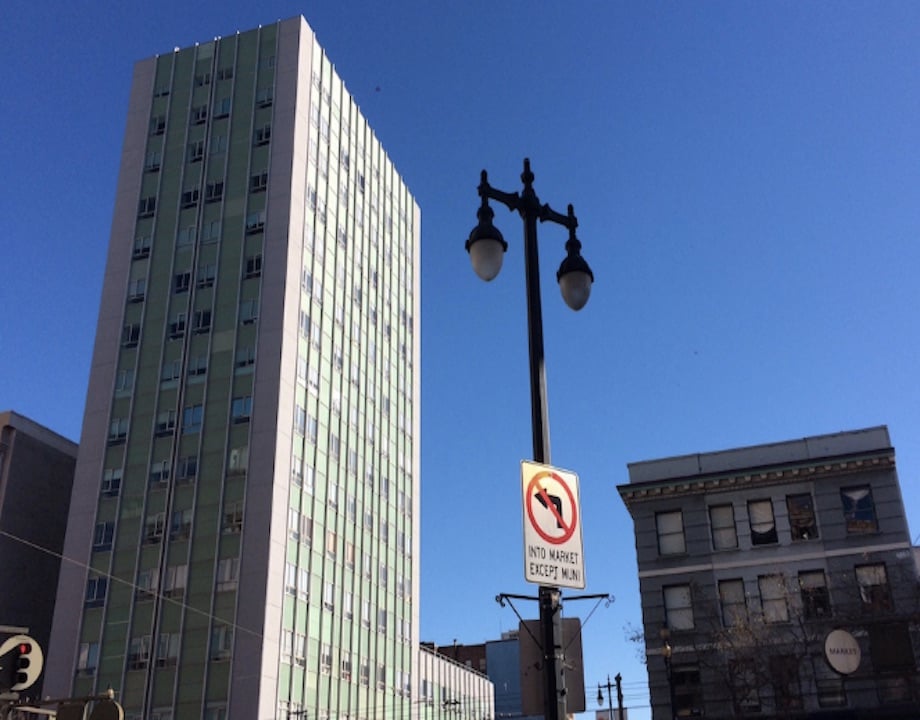 According to Jose, SFMTA also intends to seek input on lighting needs from community members and may propose additional lighting improvements to the corridor.
SFMTA will also present possible ideas for corridor improvements beyond traffic and pedestrian safety. The project could include sidewalk enhancements such as eco-friendly treatments, such as planted areas that capture rain, or corridor branding.
To participate in the planning process for the Safer Taylor Street Project, attend the community meeting next Wednesday, June 28th in the Kelly Cullen Community Center at 220 Golden Gate Ave.