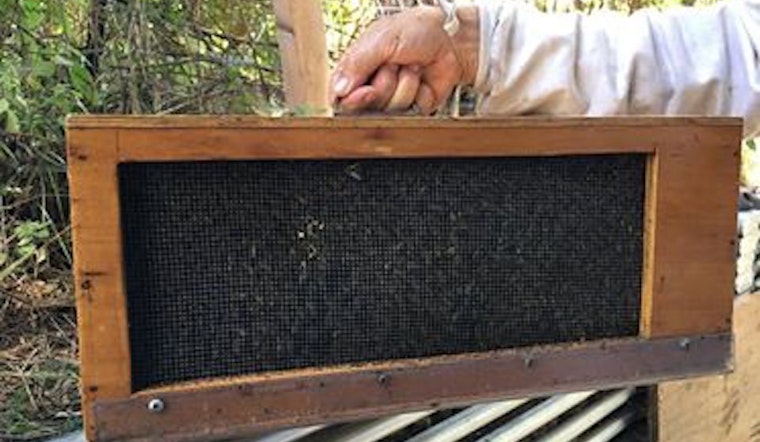 Published on July 20, 2017
Yesterday morning, Castro resident Sean R. Noticed a lot of bees outside the window of his apartment above Tacorgasmico on Market Street.
"I thought maybe something was attracting them in a neighboring yard," he told Hoodline. "Then, I noticed they were all congregating around a small vent in the side of my building outside my window."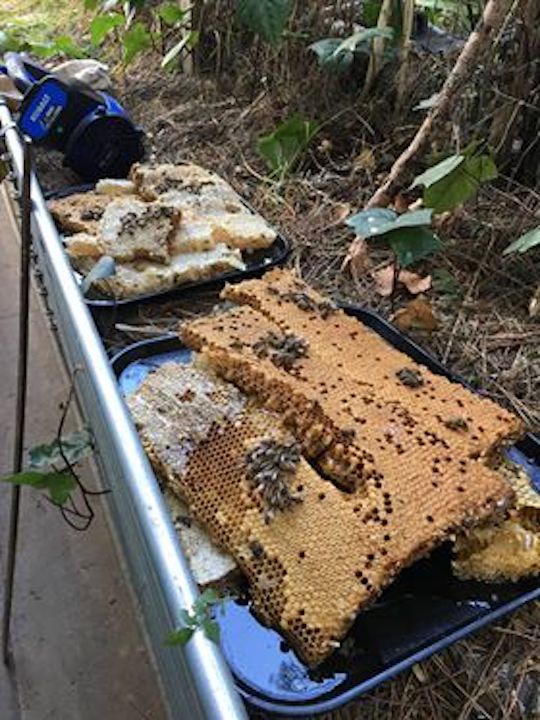 Sean called Greentree Property Management to make sure his landlord was aware of the issue. "When they came out to take a look, it turned out to be thousands of bees and a HUGE hive," said Sean, who asked a representative from Greentree to "please save the bees and hive."
Following his recommendation, Greentree called Noe Valley Bees. Over four hours, beekeeper Phillip Gerrie removed a section of an exterior wall and extracted large sections of honeycomb while working in protective gear.
Noe Valley Bees removes hives around San Francisco, Alameda, San Mateo and Marin. According to owner-operator Gerrie, a "healthy, well-managed hive" consists of about 60,000 bees; yesterday's colony contained about 40,000.
When it comes to developing new homes, bees are "very opportunistic," said Gerrie, but they generally favor south- and east-facing exterior walls to to catch sunlight in the morning. "This situation was neither, but it had been there for some time," he said.
"No one really knew it was there, since they were in a courtyard that was very high up," Gerrie added. "They weren't really bothering anybody until they were getting in the apartment that was directly behind them."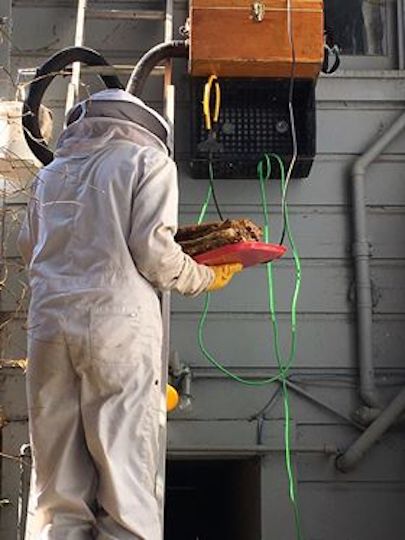 Gerrie recommended that anyone who comes across a bee swarm contact the San Francisco Beekeepers Association at 415-99-SWARM or 415-997-9276.
After receiving a report, an SFBA dispatcher consults the "swarm list," a roster of local bee wranglers. "That's usually where I get most of my calls from," said Gerrie, though prospective clients can also call him directly at 650-766-3513.
According to SFBA, its beekeepers collect live bees in cardboard boxes, then transfer them to new hives where the insects set up housekeeping. "It is a dramatic sight to see a swarm marching into a new hive," reports the SFBA website.