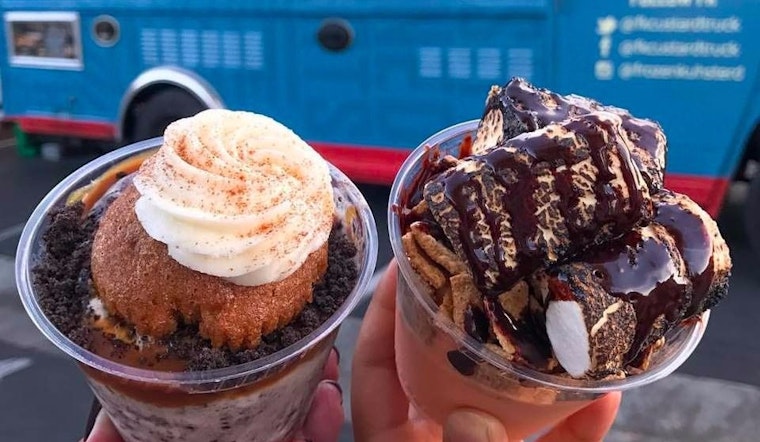 Published on July 03, 2017
Lower Haighters may soon have reason to celebrate the arrival of a new business to the neighborhood: food truck favorite Frozen Kuhsterd is heading to 791 Haight St. (at Scott), the site of the long-vacant former P-Kok between the Grind Cafe and San Francyclo. 
Although the business posted a teaser about the new brick-and-mortar location to Facebook last week, they've stayed mum about their specific plans. An opening date has not yet been announced.
Frozen Kuhsterd began in 2011, and its much-loved food truck hit the streets in 2012, doling out scoops of its rich and creamy "West Coast-style" frozen custard, which comes in a variety of creative flavors such as sweet corn, dirty chai, peanut butter and jelly, and spiced coconut.
With a boozy outpost inside the newly opened Trademark and Copyright bars on Folsom—and pop-ups planned for the Mission's new Dolores Outpost and elsewhere—the team behind Frozen Kuhsterd has been keeping busy since its plans to open a brick-and-mortar on Mission Street fell through.
Frozen Kuhsterd will join Three Twins on Fillmore and Powder on Divisadero as another option for frozen treats for the neighborhood. But with no word yet on the new location's timeline, we'll have to stay tuned to see whether Frozen Kuhsterd will make its Lower Haight debut this summer.