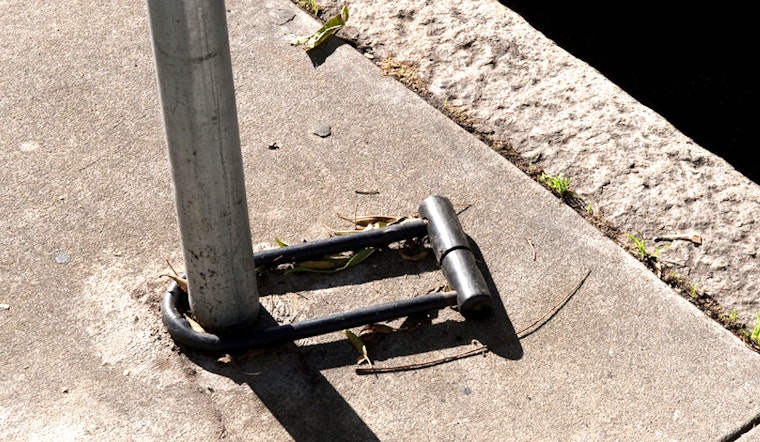 Published on July 20, 2017
More than 700 bikes were reported stolen in San Francisco last year, according to data provided by the San Francisco Police Department to All City News and reviewed by Hoodline.
However, using a Department of Justice guideline that estimates that for every theft reported to the police, four more go unreported, Hoodline can estimate that more than 3,800 bikes valued above $5 million were stolen in 2016.
Most bikes were stolen from homes and residential garages, not from the street or sidewalk. Only 68 bicycles were recovered by SFPD, and the department's bait bike program netted only a single arrest last year.
SFPD did not respond to multiple requests for comment on enforcement efforts. The District Attorney's office said it does not collect data on bike theft prosecutions specifically.
Locations of 2016 bike thefts.
With few police resources dedicated to bike theft, and stolen bikes often turning up for sale in other cities, some cyclists have become digital detectives using web scrapers, GPS trackers, and online registries like BikeIndex to locate stolen bikes themselves.

The data shows that bike theft occurs all over the city, with hot spots in the Mission, Castro, Union Square and Civic Center. The most costly incident reported was a burglary from a four-bedroom home in Pacific Heights in which a thief made off with two Pinarello bicycles worth $10,500 and $6,054, respectively.
At the other end of the spectrum, a trio of bikes (or possibly just bike parts) recovered at Rincon Plaza after an arrest for attempted assault were valued at $0 by police.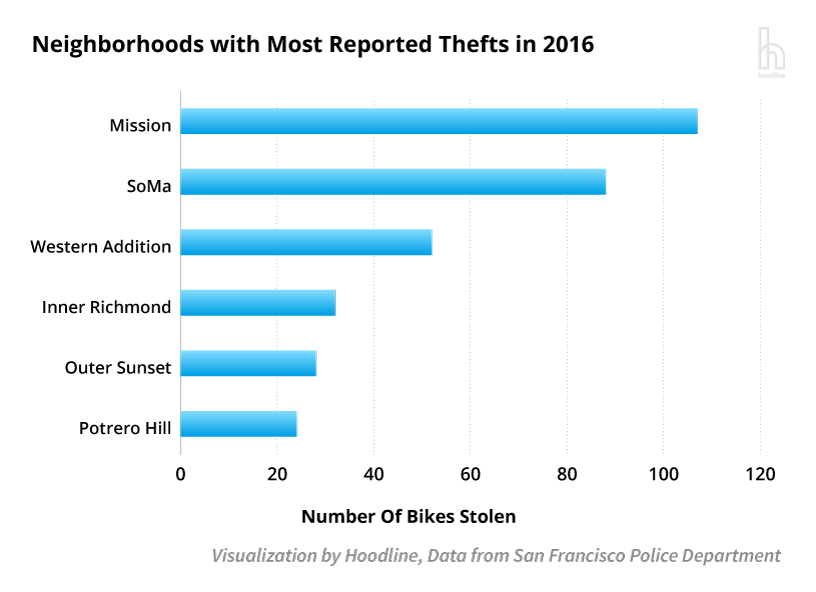 Thieves Target Cyclists In Home Burglaries
Many cyclists have accepted theft as almost inevitable in San Francisco, no matter how well protected their bikes are. Some unlucky San Franciscans have been hit repeatedly.
@jdshutt @Hoodline I've had 10+ stolen, over many incidents. Lost 9 from one garage break-in. Blatant theft and SFPD indifference continues.

— Greg S. (@3030vision) March 31, 2017
@jdshutt @Hoodline Garage was broken into 5 times? Lost count. Installed camera and same guy was coming back. Stole a trackable bait bike and SFPD did nothing

— Greg S. (@3030vision) March 31, 2017
After his garage was burglarized multiple times, Mission resident Greg S. installed a security camera that caught an apparent thief in the act, but did not lead to an arrest.

Juan-Antonio Carballo said his bike was stolen while he attended his best friend's wedding at City Hall.
"I locked the bike right at the front, outside City Hall, at a bike parking arch literally a few meters from the City Hall steps, with a Kryptonite lock," wrote Carballo in an email.
"I think I even saw police cars and policeman roaming around. When I came back after the wedding and was planning to bike to the reception, I found only the broken lock (literally the bar was in two pieces). Needless to say, it ruined that wedding day!"
A.T. Fouty left his bike unattended for a few minutes in Bernal Heights on a momentous date, and it quickly disappeared.
@jdshutt @stolenbikessfo @Hoodline 1st date with my now wife. Quiet st. in Bernal Heights, lean bike against tree while I say goodnight, 10' away. Bike gone in <10 min

— A.T. Fouty (@suckaplease) April 1, 2017
Lonnie Lazar, a longtime city resident, summed things up in an email.
"Had my first bike stolen in SF in 1983," wrote Lazar. "Most recent three were in 2015. It's a jungle out there."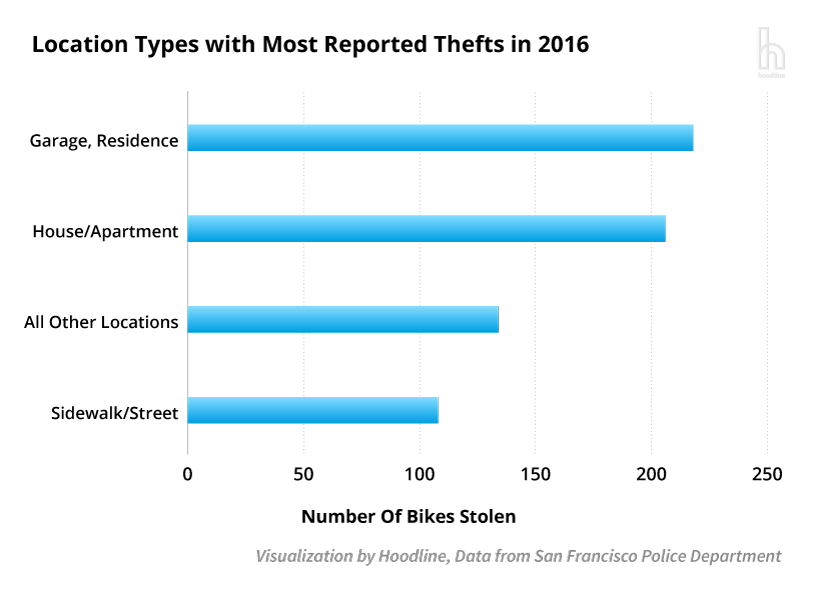 Stolen Bike Recovery A Low Police Priority

Some victims of bike theft have found success using the Internet to track down their bikes. After reporting his bike stolen in San Francisco and getting little help from from police, Alex Shulman created an automated tool to crawl Craigslist and discovered his bike for sale weeks later in San Jose.
"The cops just took a police report and then I heard nothing from them," wrote Shulman in an email. After finding his bike, he said he had to do most of the legwork to recover it.
"I called the SFPD and told them 'Hey, I found my stolen bike on Craigslist, how do I get it back?' They were super unhelpful and told me to call San Jose PD, who told me they wouldn't do anything, that I would have to set up a meeting and then give them a call," he told Hoodline.
Shulman said he contacted the seller to buy back his bike and called SJPD before the meet. While he went to the seller's house, police waited around the corner until Shulman gave them a signal, "and they came to talk to the guy."
Since he had the serial number, proving the bike was his was easy, said Shulman. But holding someone accountable for the theft was a different story.

"They asked if I wanted to pursue charges but told me it's very hard to make them stick," wrote Shulman. "They need to prove that he's the one that stole it or knew it was stolen property."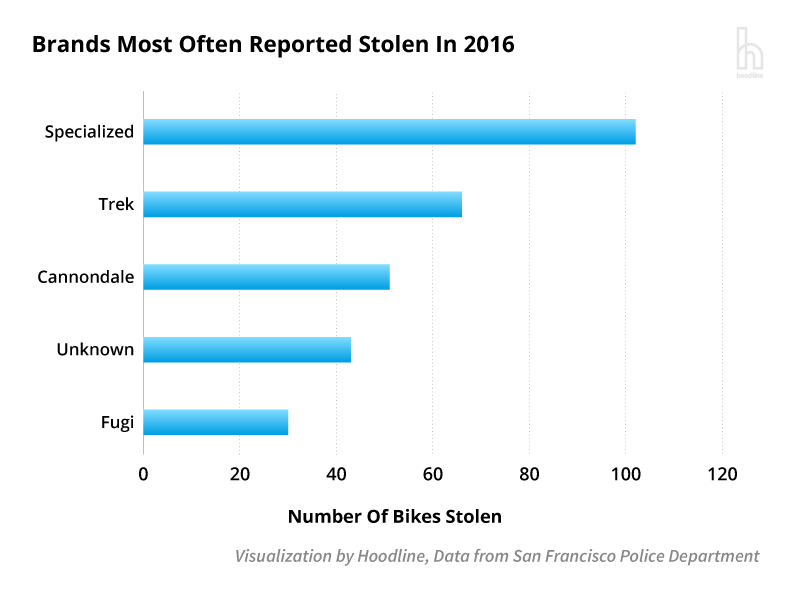 On April 1, Mission Bicycle launched a Kickstarter for Lyra, a bike with an embedded GPS tracker that syncs location data to an iPhone and Android app. More than a dozen bikes were reported stolen within a 2–block radius of Mission Bicycle's store on Valencia Street last year.
Mission Bicycle partnered with bike recovery nonprofit BikeIndex on the software. BikeIndex says it has more than 110,000 bikes listed in its registry and has aided the recovery of more than 3,000 bikes around the country.
On Twitter, BikeIndex said commerce platforms like like Offerup and Letgo have created new ways for professional thieves and fences to sell stolen bikes.
@hartjo @jdshutt @Hoodline you should be checking offerup and letgo, too. we find more stolen bikes there then CL these days

— BikeIndex SF (@stolenbikessfo) March 31, 2017
In 2013, a report on bike theft from the Board of Supervisors' budget and legislative analyst recommended that SFPD share more data, expand its bait bike program, and perhaps even create a dedicated bike-theft investigation unit.
Proposed legislation from Castro supervisor Jeff Sheehy may make it easier for San Francisco police to confiscate bike parts from suspected "chop shops" on city sidewalks.

You can analyze SFPD's bike theft data for 2016 yourself here.