Conceived in the Mission district, a new edible cannabis product is now available at a few dispensaries in San Francisco. Called Pot d'Huile ("PdH"), the locally crafted marijuana-infused extra virgin olive oil is marketed toward chefs, bakers and home cooks.
We met up with co-founder Yannick Crespo, a Mission resident who has a background in finance and accounting. He said he and business partner John Bradbury had the idea to create the oil a few years ago, but felt they needed a specialist to help develop the concept.
"We were trying to find someone to do research and development," he said, "so we set up a meeting with Allison Comiso Bordsen, who is a biochemist and molecular biologist." The three Mission residents gathered at Mission Pie and immediately established a rapport—their 60-minute meeting turned into seven hours.
"Allison fit the bill," said Crespo, "and through a lot of research and development, she made the magic into oil."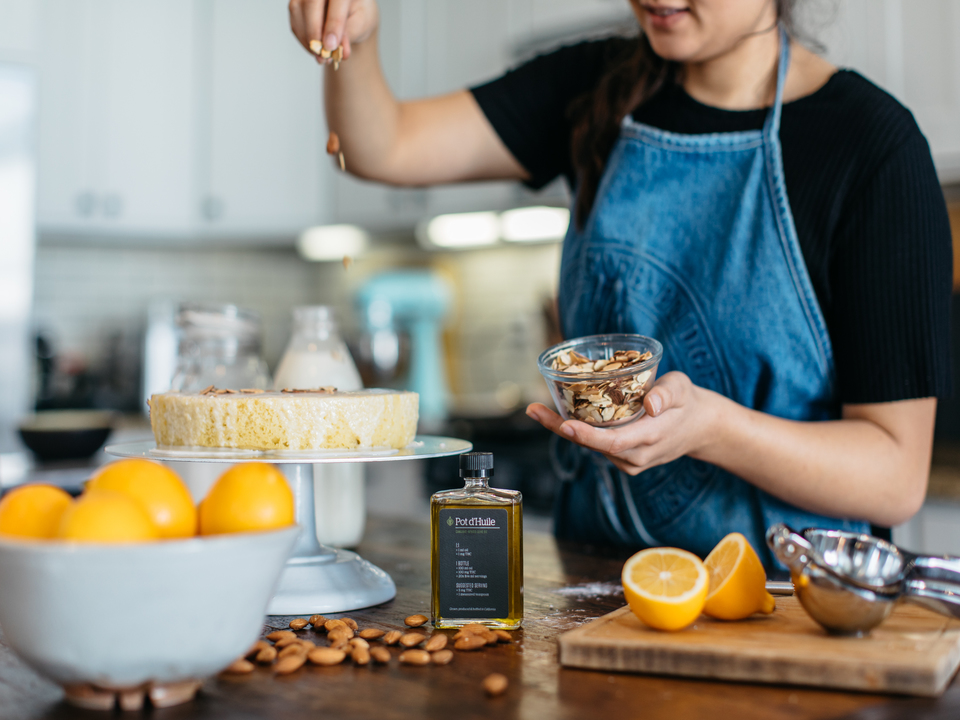 The product is made with California-grown, strain-specific cannabis flowers and extra virgin olive oil sourced from farms in the Sierra foothills, although Crespo said they plan to work with other local farms to co-brand.
To address issues of poor taste and inconsistent dosage associated with many edibles, the team created a flavor-neutral product that offers the full scope of cannabis terpenes, which Crespo said works synergistically with THC to provide medicinal benefits.
Crespo said their product allows users to measure how much THC they are ingesting. Since one milligram of THC exists in one milliliter of PdH oil, it easily makes a ratio for creating recipes and measuring dosage. Users can also blend PdH with non-infused olive oil to dilute its potency.
Crespo said that lot of local chefs have created recipes for the company, some of those being Lolós Jorge Martínez, who makes a beet salad with PdH, and  Wes Rowe from WesBurger 'N' More, who has created a product with it called "Willie Nelson Tots."
Pot d'Huile is currently available for California residents who have a valid recommendation at SPARC in San Francisco or through Vapor Room's and SPARC delivery services. 
While the owners don't wish to disclose their exact location, the Mission is where most of the action happens, as they all live in the neighborhood and hold lot of their meetings at Rosamude's.
"We go there for happy hour but strictly for the first hour to talk shop and then after that we can start eating poutine and sausages and partake in their beers," said Crespo.

For updates, events and recipe ideas, follow Pot d'Huile on Instagram.