At the entrance to Montclair Village, a coalition is working to install a mural on a former railroad trestle that honors the location's history as part of the Sacramento Northern Railway, which once connected Oakland with the state's capital.
The Montclair Neighborhood Council (MNC) and the Oakland Public Art Advisory Committee have approved a new mural approximately 145 feet long and 25 feet high to be installed on a trapezoidal concrete wall on Mountain Blvd.
To be titled 'Train of Thought,' organizers have commissioned Oakland muralist Andrew Johnstone, best known for his work with Burning Man.
The project ties in to the Shortline Pocket Park at the corner of Thornhill Drive and Moraga Avenue, formerly part of the same rail line. Johnstone will execute the work using a trompe l'oeil style, which will give the mural a photorealistic look that brings the past to life.
"I'm interested in the historical nature of the community," said Josh Shaw, a member of the Montclair Mural Project, (MMP) the committee overseeing the mural. "Since I moved to Montclair 10 years ago, I noticed that that wall deserves a mural on it."
The Sacramento Northern was once the longest inter-urban electric railway in the country, running passenger service along 182 miles of rail. The 'Short Line' was popular with city dwellers looking for an escape to the country. For one dolla,r urbanites could ride to then-bucolic Moraga, traveling through the hills of Montclair.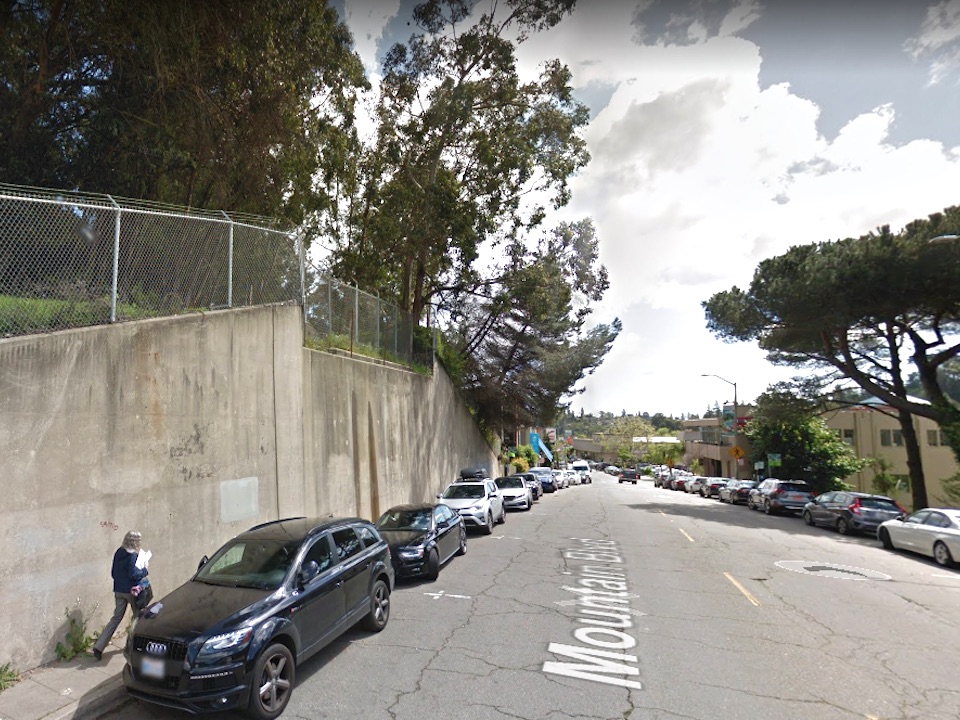 Sacramento Northern stopped using the line in 1940. The rails were then used for freight until 1957, after which, it was abandoned. 
Shaw said the project is moving forward with support from the community. "All the permissions and insurance are in place," he said. "There's going to be some minor revision to the image, but in ways that will greatly improve visibility and resolve a seasonal leak."
Efforts at fundraising have also been successful. "We already got $22,000 of the $35,000 raised," said Shaw. "We're just in the final push now."
Once 'Train of Thought' is finished, Shaw said he hopes MMP and MNC can turn their attention to the disused trestle on the east side of the street. "It's blight," he said.
"As part of a long term goal, we would like Public Works of the city to remove that wall and to create a park extension," says Shaw. "To deconstruct it probably would cost less than ten or twelve thousand dollars, to just remove it and then do some minor landscaping."
Work on the Montclair Boulevard Railroad mural will begin in September. Readers interested in supporting the mural can donate via the MMP's GoFundMe page or via the MNC's ccurrent community projects page.