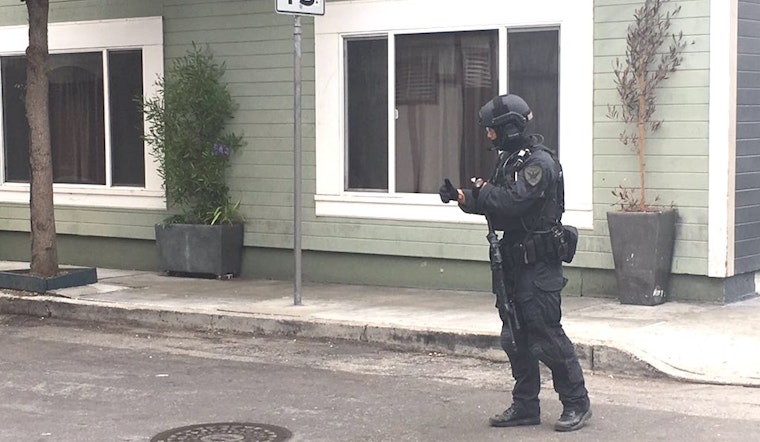 Published on August 10, 2017
The police officers in tactical gear who fanned out across San Francisco across San Francisco and San Mateo County neighborhoods this week were participating in one of the largest Bay Area criminal investigations in years. 
Federal agents and local police officers arrested 75 people and charged another 25 with crimes relating to drugs and guns, said Brian Stretch, Northern California's top federal prosecutor.
"The objective of Operation Cold Day was to get guns and drugs off the streets of our community," he said, using the code name for the investigation. 

Agents with Bureau of Alcohol, Tobacco, Firearms and Explosives worked for more than two years with police in San Francisco and San Mateo to go undercover and infiltrate criminal drug and gun sales networks, Stretch said. 
This week, nearly 1,000 agents and police officers raided homes in Sunnydale and SoMa, along with other locations in San Francisco and San Mateo.
Those arrested faced charges relating to gun sales, drug sales, property crime and homicide, prosecutors said.

SFPD swat team on Folsom at Hallam pic.twitter.com/mfzSUd3HF5

— _ (@R27D) August 8, 2017
Investigators focused on the "street-level and mid-level criminals who often [avoid] prosecution," Stretch said. 
The investigation began as a response to an alarming 2015 spike in auto break-ins in San Francisco and a "plague of car theft," said George Gascon, San Francisco's district attorney.
In 2015, an average of more than 70 cars a day were burglarized, the San Francisco Chronicle reported in 2016.
Jill Snyder, the head of the ATF office in San Francisco, said she was certain the raids and arrests this week would keep law-abiding residents safe. 
"Over 100 criminals will no longer threaten the safety of you and your loved ones," she said.