By
Hoodline
- Published on August 24, 2017.
For much of the last decade, the Marina and the Mission were seen by some as divergent neighborhoods.
Up north, the Marina is viewed by many as a bastion of well-heeled young professionals with a penchant for exercise and partying, while further south, the Mission is the heart of the city's Hispanic community, even as gentrification has wrought massive changes to the neighborhood.
But as rising rents and changing demographics have swept the city, we couldn't help but wonder: how different are the Marina and the Mission these days?
To find out, we analyzed data from City-Data, Yelp and rental listing website Zumper to see how the two neighborhoods stack up. 
Worth noting first and foremost: the two neighborhoods vary wildly in terms of size and population.
The Mission spreads over a palatial (by SF standards) 1.87 square miles, with a population of 45,465 people, while the Marina is a much smaller 0.78 square miles, with a population of 11,805—about a quarter of the Mission's. 
Dining

Given that disparity, we controlled for population to see how many restaurants each neighborhood has per capita.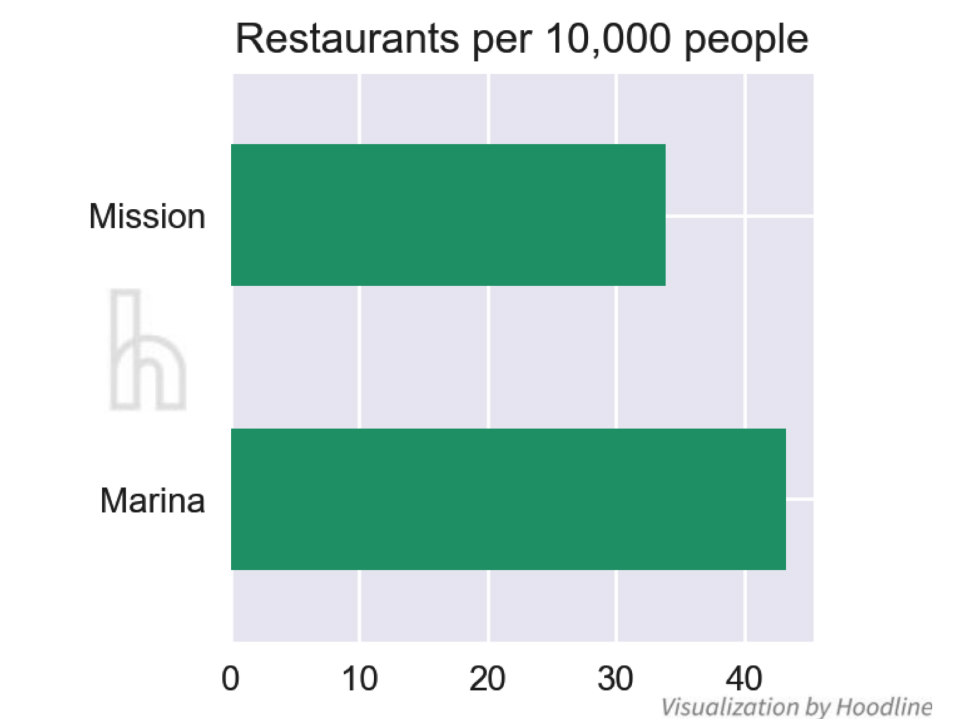 While the Mission is known for its huge selection of restaurants, it turns out that it actually has fewer places to dine per capita: about 33.8 for every 10,000 residents, compared to 43.2 restaurants for every 10,000 Marinaites. 
And despite the recent yuppie influx to the Mission, the Marina also continues to win the brunch wars. There are 9.3 restaurants in Yelp's "Breakfast & Brunch" category for every 10,000 Marinaites, compared to about 7.25 for every 10,000 Missionites. (In the Marina, Blackwood is the top-rated brunch spot on Yelp; in the Mission, it's Foreign Cinema.)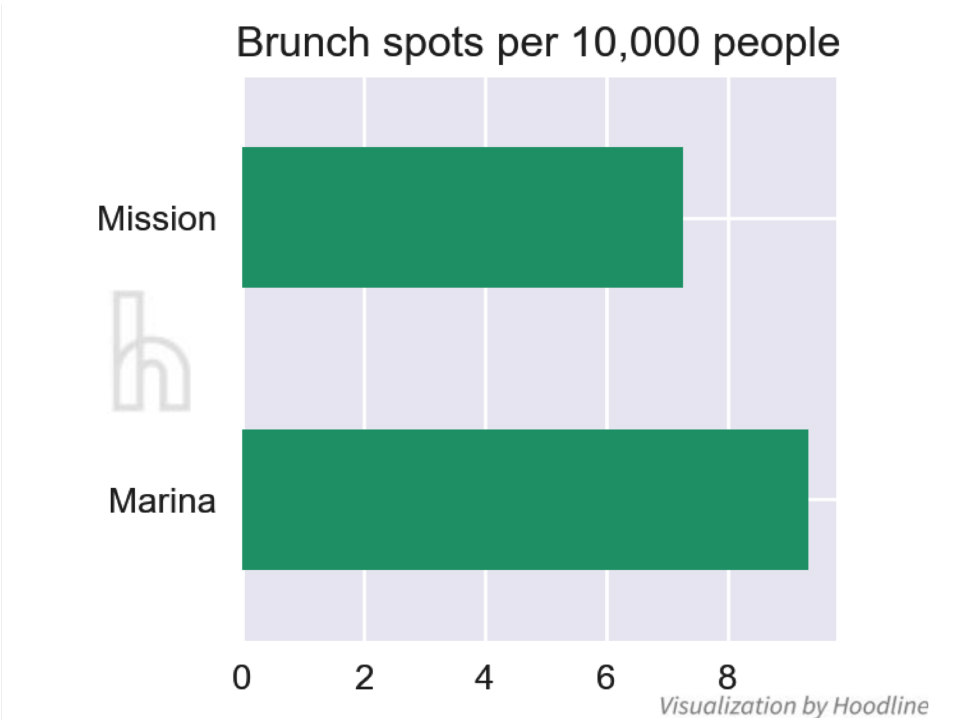 But if you're looking to eat cheaply, you're better off going to the Mission.
Compared to the Marina, it has a way higher percentage of restaurants in Yelp's $ category (indicating a per-person price tag of $10 or less), at 36 percent. Only about a quarter of the Marina's restaurants are $10 or less.

Interestingly, though, the Mission also has the Marina beat on high-priced restaurants: 0.6 percent of its restaurants are in Yelp's priciest $$$$ category ($61 or more), compared to zero restaurants in the Marina.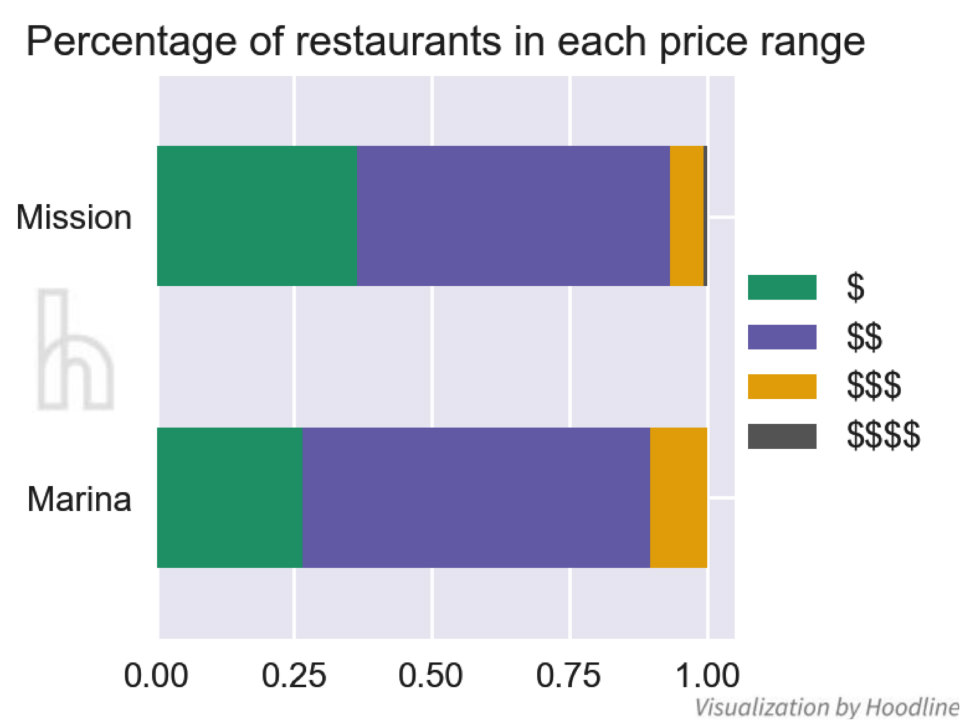 The Marina's biggest categories are $$ ($11-30) and $$$ ($31-60) restaurants, which comprise 63 and 10 percent of its restaurant mix, respectively. By comparison, 56 percent of Mission restaurants are in the $11-30 range, and 6 percent are in the $31-60 range. 
Businesses

But restaurants aren't the only businesses in the Mission and the Marina—and when it comes to the most prevalent types of businesses in each neighborhood, some of the old stereotypes still apply.
The Marina is heaviest on skincare spots, women's clothing stores, and personal trainers, while the Mission is big on theaters and event spaces, galleries, and Mexican restaurants. The one category on which they can both agree: hair salons. 
Top 5 Yelp Business Categories:
Mission
Theater/Performing Arts (114)

Hair (98)

Galleries (92)

Mexican (89)

Massage (83)

Marina
Skincare (67)
Women's Clothing (64)

Hair (57)

Health Trainers (53)

Salons/Accessories/Dentistry (tied — 43)

Rent

Given their high concentrations of restaurants and businesses, both the Mission and the Marina are desirable places to live, and rents run high. But which one is more expensive?
Well, that depends on how many bedrooms you need. According to Zumper, the two neighborhoods are relatively close when it comes to rents for smaller apartments, with median monthly rents of $2,495 and $3,425 for studios and one-bedrooms in the Mission and $2,575 and $3,250 for studios and one-bedrooms in the Marina.
But a two-bedroom in the Marina will run you significantly more: $6,000 per month, compared to $4,700 per month in the Mission. Interestingly, that phenomenon reverses for three-bedrooms: in the Marina, they'll run you about $7,500 per month, while in the Mission, they're $8,495 per month.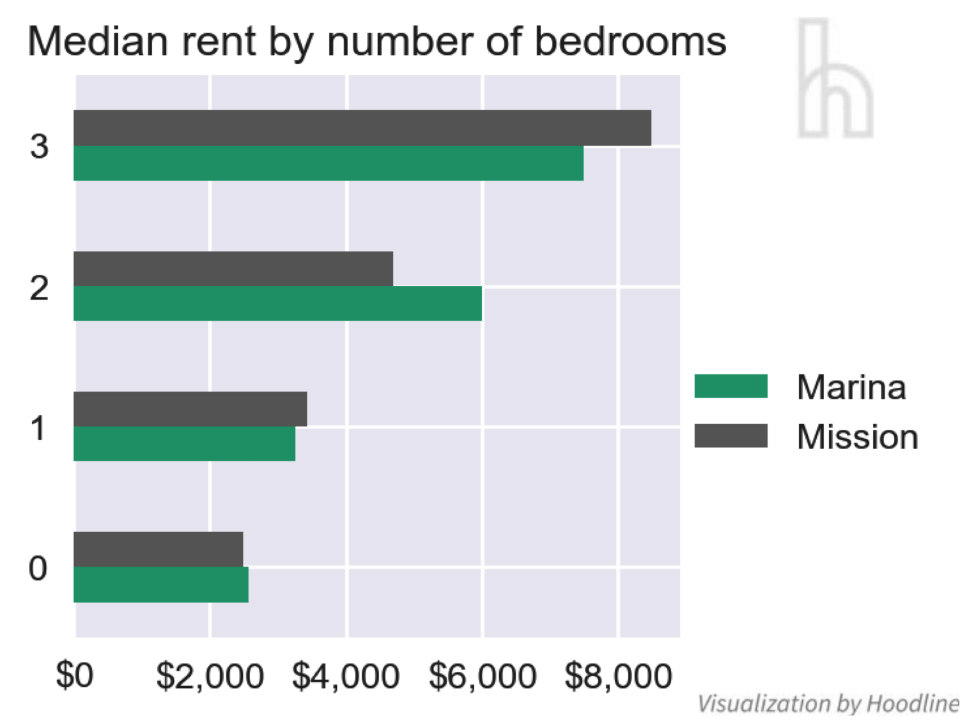 Given those high prices, you might be on the hunt for a deal. The cheapest apartment currently renting in the Mission is a studio at 14th and Mission streets, going for $1,950. The unit itself is on the small side, but it has access to amenities like a gym and laundry room, and the rent includes utilities. 
By comparison, the cheapest apartment currently renting in the Marina, at Gough and Francisco streets, will cost you a bit more—$2,350 per month. But for the extra cash, you'll get a bigger unit than in the Mission, and a big back patio, too. 
If money is no object, the most expensive Mission rental going at the moment is a palatial nine-bedroom home at 20th and Folsom streets, renting for a cool $15,000/month. For that price, you'll get a big backyard, a private elevator, and a three-car garage. 
The Marina's most expensive rental, at a staggering $18,500 per month, doesn't have quite the same amount of room—there are only four bedrooms. But what this three-floor home at Filbert and Octavia lacks in sleeping quarters, it makes up for in fancy perks like a fireplace and two patios. 
So what do you think—Marina or Mission?