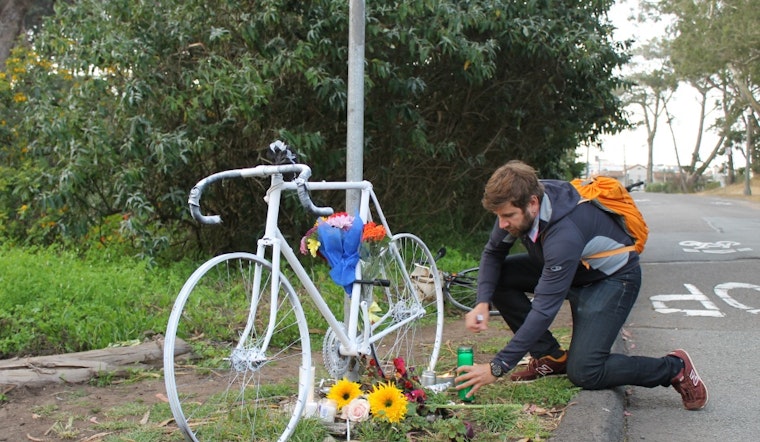 Published on August 29, 2017
After bicyclist Heather Miller died in Golden Gate Park in 2016, city agencies fast-tracked new safety measures intended to slow drivers and reduce collisions. Several months later, San Francisco Municipal Transportation Agency continues to address traffic-related deaths and safety in the city's largest park with a slate of new projects.
The work—proposed for Martin Luther King Drive, John F. Kennedy Drive, and the Fulton Street park entrances—includes additional speed humps, raised crosswalks, turn guidance, and both new and upgraded crosswalks with high-visibility striping. 
SFMTA has already installed 10 speed humps on JFK Drive West, causing average speeds to drop from 32mph to 26mph. The speed limit on the road is 25mph.
Where Fulton Street intersects with certain avenues, installation of new traffic signals has already begun. New signals are present—but not yet active—at 28th, 33rd, and 37th avenues; there will also be a new left turn signal at 43rd.
SFMTA has also installed new pedestrian countdown signals at existing crosswalks at 30th and 36th avenues.
During a recent Recreation & Parks meeting, general manager Phil Ginsberg said he believes there are "too many cars" in Golden Gate Park.
He also encouraged SFMTA to look into hydraulic bollards that would make closing parts of the park to cars easier on Healthy Saturdays, Car-Free Sundays, and "when it's important to create a car-free space."
Currently, metal barricades have to be positioned throughout the park every weekend for street closures.
Commissioner Eric McDonnell noted that "there is a reality, given the increased congestion in the city... are we thinking about the impacts [and] accepting that reality and trying to manage it appropriately?"
Mark Dreger of SFMTA noted that neighborhood feedback has focused on north-south traffic between the Sunset and the Richmond, but current projects were focused on more specific challenges, rather than general east-west traffic.
As noted in a July 7th project update, SFMTA outreach revealed that pedestrians and bicyclists are having difficulty using Crossover Drive in the mid-block crosswalk for the walking/bicycling path that connects 22nd Avenue to Transverse Drive.
The current fix will be converting a lane from Crossover to Transverse into a right-turn only lane.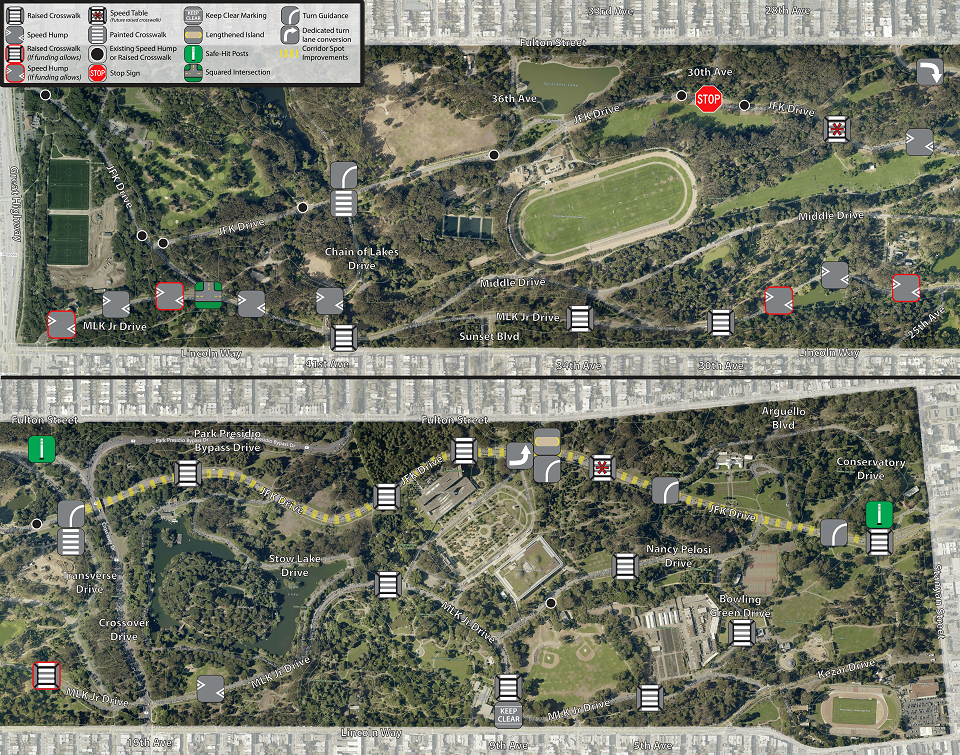 However, the 2017 projects do not include fixes for a known collision pattern near 30th Avenue and JFK, close to where Heather Miller died in June 2016. While fixes have been piloted, this project will move into another public outreach phase this fall.
Pending approvals from Rec & Park, SFFD and SFMTA, these projects are set to start this fall and continue through early 2018. SFMTA has a full project plan and larger version of the map here.