After weeks of of controversy, the National Park Service has formally approved a permit, "with significant restrictions," for the Patriot Prayer event at Crissy Field on Saturday. 
The park is part of the Golden Gate National Recreation Area, and considered federal land. 
"We cannot deny a permit to anyone planning to exercise their First Amendment rights based on their political stance or beliefs," said Cicely Muldoon, GGNRA's general superintendent, in a statement.
"We can deny a permit application for public safety reasons if the event raises such significant public safety concerns that law enforcement cannot manage the event," she added. 
The NPS also said law enforcement recommended issuing a permit for the Patriot Prayer gathering to "increase their ability to ensure public safety." 
As part of the restrictions for the Patriot Prayer event, the NPS is restricting 26 items for anyone at the permitted event, including handguns and tiki torches, which became a symbol of white nationalists after a Charlottesville, VA gathering that ended in violence. 
On its website, the NPS writes that the area adheres to all California gun control laws, and open carry of firearms is illegal. While concealed carry with a permit issued by a state county sheriff or chief of police is legal in California, the permit prohibits all firearms. 
In her statement, Muldoon also pointed out that the National Park Service had approved four other First Amendment permits for counterprotest events.

In addition to the Patriot Prayer rally on Saturday, Friday will see a "People's Town Hall" candlelight vigil and press conference at Crissy Field. Two events were also approved to take place at Ocean Beach on Saturday: "Better Angels San Francisco" and "Stop Hate Human Banner" gathering.  
Local officials greeted the decision with anger and disappointment. 
"The shameful, anti-American trend of hate-filled extremist rallies will unfortunately be allowed to continue this weekend in our city," said Mayor Ed Lee in a statement.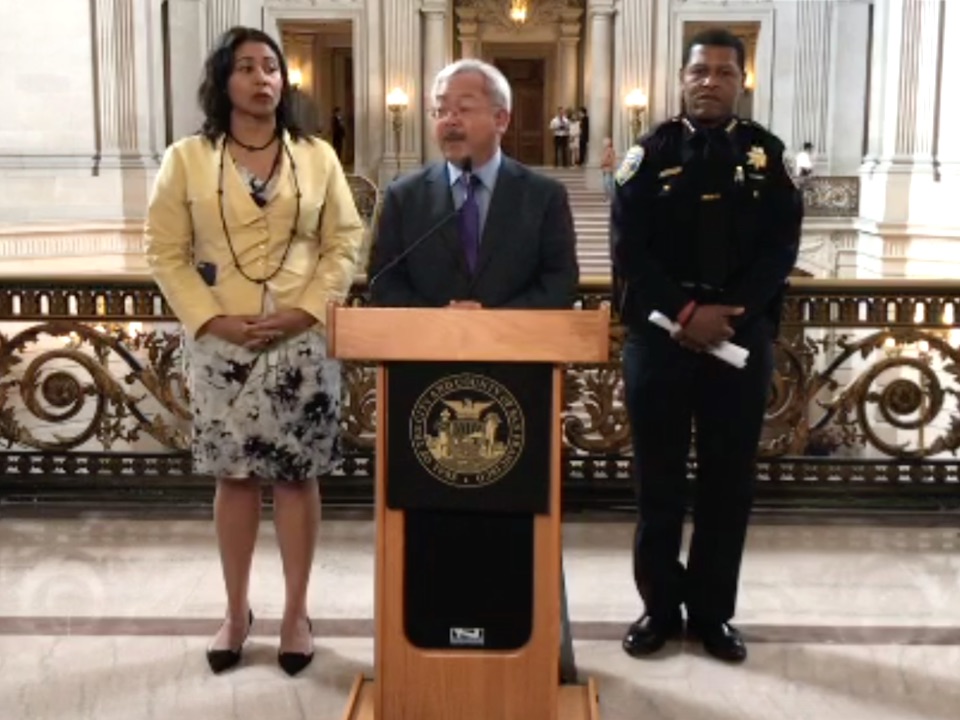 For many residents and public officials, the fear of violence during the Patriot Prayer rally became an issue after a so-called "alt-right" rally in Charlottesville, VA, where dozens were injured and a woman died after a white supremacist drove into the crowd. 
To maintain public safety, SFPD will work with the GGNRA and NPS police on what the GGNRA is calling a "comprehensive public safety plan." 
In a press conference, Mayor Ed Lee, Supervisor London Breed and Chief William Scott emphasized their opposition to the permit approval.
They also encouraged San Francisco residents to attend a officially-sanctioned counterprotest tomorrow at Civic Center at noon, instead of going to Crissy Field on Saturday. 
"It is important to not dignify these people with a response by answering their call (to incite violence)," said Breed. "[We are] a city that will not let hate destroy us. We will not let these people tear our city apart." 
Scott also said a heavy police presence would be deployed at the protest area and around the city during the weekend.
At Crissy Field, the area itself will be secured. "Persons will be screened before they go into the protest area," he said, adding that there would also be checkpoints. 
Portions of the Presidio and many businesses within the park will be closed to the public on Saturday. Chief Scott said that while SFPD would not force or mandate businesses to close, the police department was working with community to ensure safety. 

Along with city officials, the NPS also emphasized that no violence at the event would be tolerated. 
"We urge those planning to attend these events to share their views in a peaceful manner, to look out for each other, and to support law enforcement personnel to keep everyone safe," said Muldoon in a statement. "
NPS respects the right to free speech, and in turn, we expect all participants to respect one another and this beautiful national park." 
The NPS also welcomes all to express their views at [email protected] or 415-561-2822.