A new fine-dining restaurant called Eight Tables by George Chen is heading to China Live at 8 Kenneth Rexroth Lane (between Columbus Avenue and Vallejo Street) in Chinatown.
The spot's inspiration comes from shifan tsai (or sifang cai), which Chen has dubbed "private chateau-style cuisine," generally homestyle food cooked in a private home. 
In recent years, a number of underground restaurants and kitchens in China, Hong Kong, and Taiwan have sprung up in private residences, often serving their own house specialties.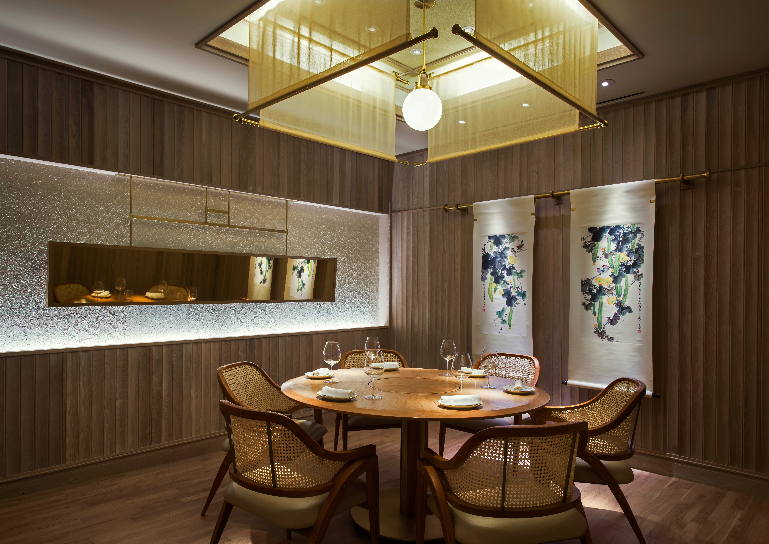 "At Eight Tables, we want to present elegant Chinese cuisine in a different light, bringing the glory of a classic cuisine to the present with modern interpretations from a San Francisco perspective," said Chen, the founder and head chef at Eight Tables, in a statement. 
"Crafted in a world-class show kitchen," he said, "the menu will push Chinese culinary boundaries and serve as an ongoing wellspring of novel approaches to a grand cuisine."

The restaurant offers a 10-course tasting menu starting at $225 per person, paired with a wine selection from sommelier Anthony Kim and handcrafted cocktails by bar director Anthony Keels, for an additional cost. (China Live also features a Shanghai-inspired saloon.)
Expect a seasonal menu with nine cold appetizers, savory courses and intermezzo coursing of various pastries, finished off with sweet dishes prepared by China Live pastry chef Luis Villavelazquez.
The opening menu will offer velvet chicken with Burgundy truffles and matsutake mushrooms with veal soya jus; and red braised pork belly with tea quail egg, and yuba knots.
The dining experience is meant to feel like guests are visiting someone's home, complete with walls adorned with the chef's own personal effects and family portraits. Guests will enter the restaurant from a hidden door in the alley, after they are transported to the elevator in a Shanghai-style rickshaw. 
Before being escorted to one of eight semi-private tables for dining, guests are encouraged to lounge in the foyer, equipped with a custom bar cart and personalized cocktail service provided throughout the evening. 
Eight Tables is set to debut October 3rd and will be open Tuesday to Saturday, 5–10pm.