Fall officially started last weekend, but thanks to a heat wave beginning today, many San Franciscans can keep wearing their summer styles.
The National Weather Service reported that it was 60 degrees this morning, but by the afternoon, temperatures around the city are expected to hit 83 degrees. The hot weather will continue through the week, with things expected to cool off by Friday.
5 am temps 60 in SF and San Rafael, 61 in San Jose. Its warm and breezy in the hills with mid 70s at this hour and Northeast winds 20-30 mph

— NWS Bay Area (@NWSBayArea) September 26, 2017
The San Francisco Department of Public Health offers an online FAQ to teach people how to identify heat-related illnesses. Signs include hot, dry skin or cold, clammy skin, trouble breathing, rapid heartbeat, confusion or disorientation and nausea or vomiting. 
Keep a close eye on pets, children, elderly people, and anyone else who might be vulnerable to high temperatures; if they show any of the symptoms above, seek medical help immediately.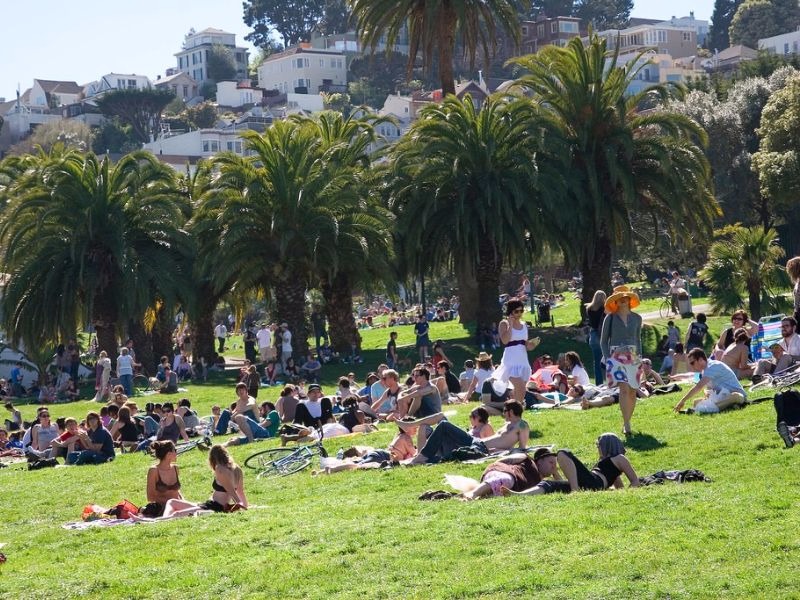 Find a cooling center
From today until Thursday, the city is opening several cooling stations around town—this map identifies swimming pools, air-conditioned libraries, and other facilities.
Take a swim
Locals can also head over to one of the many public pools available in the city for a dip. It's $7 for adults and $1 for children under the age of 17. Those who arrive at a pool for cooling needs will be permitted a free swim in a reserved lane.
Martin Luther King Pool: 5701 3rd St.
North Beach Pool: 651 Lombard Ave.
Coffman Pool: 1701 Visitation Ave.
Hamilton Pool: Geary Boulevard & Steiner Street
Mission Pool: 1 Linda St.
Garfield Pool: 26th St. & Harrison St.