By
Hoodline
- Published on September 06, 2017.
Back in the heyday of the Beats, artsy types flocked to North Beach to pursue their painting, poetry, and music. But these days, you're probably more likely to find San Francisco's bohemians in Bernal Heights, where home prices (until recent years, anyway) were more affordable for artists and their families.
While North Beach enjoys the legacy of Jack Kerouac, Lawrence Ferlinghetti, and Francis Ford Coppola, among others, Bernal is home to a new generation of artsy San Franciscans, including musicians Matt Nathanson and Dan "The Automator" Nakamura, director Terry Zwigoff, and public radio host Amy Standen. 
So how do these two artistic neighborhoods compare? To find out, we analyzed data from City-Data, Yelp and rental listing website Zumper to see how the two neighborhoods stack up. 
Worth noting first and foremost: the two neighborhoods vary a bit in terms of size and population.
North Beach and Telegraph Hill are 0.492 square miles, with a population of 18,815. At 1.049 square miles, Bernal is more than double that size, with a slightly larger population of 25,440. To compare the two most accurately, we controlled for population size in some of our findings, evaluating metrics on a per-capita basis. 
Dining
Given its popularity with tourists, it's no surprise that North Beach has Bernal beat when it comes to dining options. There are 9.7 restaurants for every 1,000 North Beach residents, compared to 3.7 for every 1,000 Bernalites.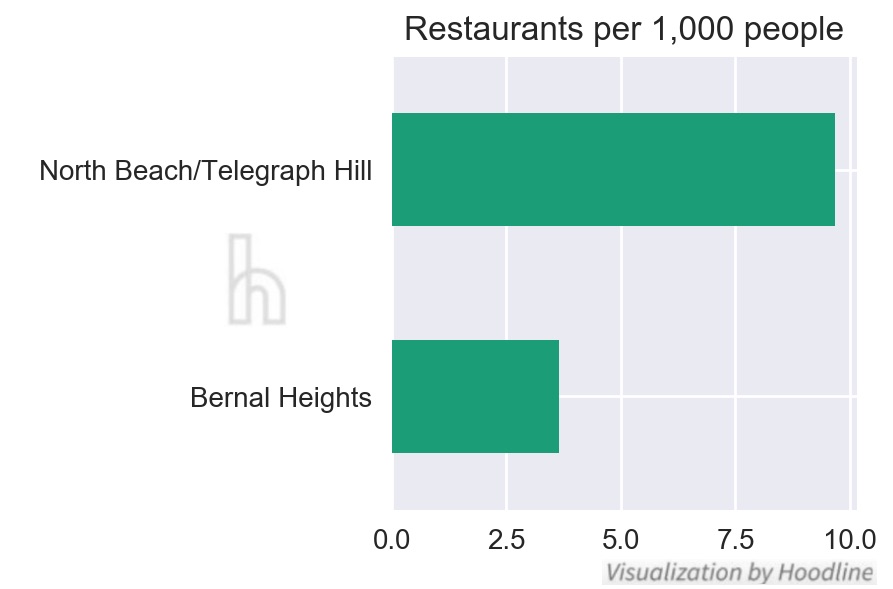 Surprisingly, the most popular Yelp cuisine category for North Beach restaurants isn't Italian food—it's actually seafood, with 45 spots serving aquatic delights. Italian is in second, with 26 spots, and New American is third, with 20. 
Bernal's proximity to the Mission shows in its restaurant count: Mexican, that neighborhood's most common cuisine, also ranks #1 in Bernal, with 12 spots. Pizza is also big in Bernal, with 11 restaurants slinging pies; Italian food is in third, with eight. 
Given the restaurant standings, it's also not surprising that North Beach has Bernal beat when it comes to brunch. There are 0.8 brunch spots for every 1,000 North Beachers, compared to 0.4 for every thousand Bernalites.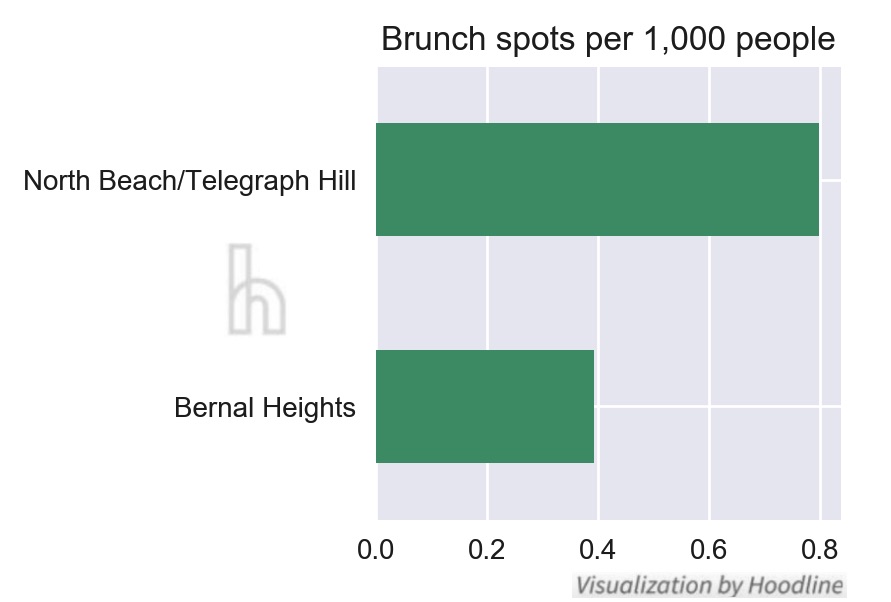 Based on Yelp ratings, the best-loved brunch spot in North Beach is Mama's on Washington Square, which draws massive lines of both locals and tourists. In Bernal, Cafe St. Jorge, known for its hearty Portuguese-influenced breakfast options and coffee, is the crowd favorite. 
If you're looking to eat on the cheap, you'll have a slight edge by going to Bernal, where 30.3 percent of restaurants are in Yelp's $ category, indicating a price tag of $10 or less for a meal. By comparison, North Beach's proportion of cheap spots is 26.3 percent.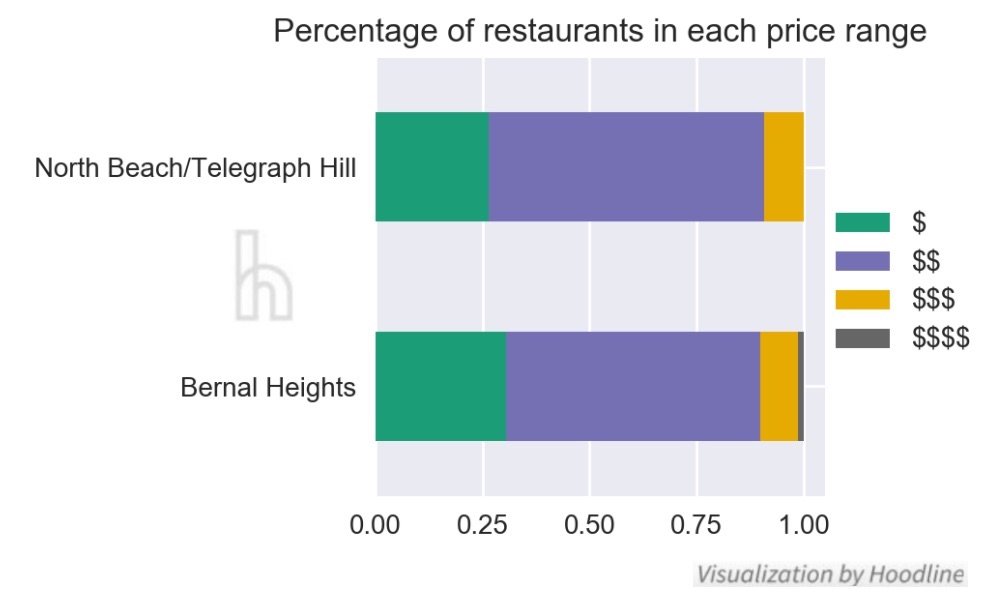 However, Bernal Heights has a slightly higher proportion of expensive restaurants as well: 10.1 percent of its spots are in the $$$ ($31-60) and $$$$ ($60+) categories, compared to 9.2 percent of North Beach's.
Both neighborhoods' sweet spot is the budget-friendly $$ ($10-31) category, which makes up 64.5 percent of North Beach restaurants and 59.4 percent of Bernal restaurants. 
Businesses
But restaurants aren't the only businesses in North Beach and Bernal—and when it comes to the most prevalent types of businesses in each neighborhood, some of the old stereotypes still apply.
North Beach is heavy on businesses that appeal to tourists, including tour companies, women's clothing and jewelry shops, and of course, all those Italian and seafood restaurants. Bernal's business lineup is more quotidian, with a mix of hair salons, acupuncturists, grocery stores, and of course, childcare. 
Top 5 Yelp Business Categories
North Beach/Telegraph Hill
Seafood Restaurants (44)
Tours (42)
Women's Clothing (29)
Jewelry (27)
Italian Restaurants (26)
Bernal Heights
Hair (25)
Acupuncture (20)
Grocery (19)
Childcare (14)
Coffee (13)
Rent
Both neighborhoods offer desirable characteristics for aspiring renters—North Beach has proximity to downtown and a bustling nightlife scene, while Bernal offers a peaceful retreat for families that's still close to the hopping Mission District (and lacks North Beach's waves of tourists). So which one is more expensive?
Despite rising prices, there's a clear winner when it comes to rents: Bernal. According to Zumper's data, it's the far cheaper of the two, whether you're looking for a studio (median price $2,375/month) or a three-bedroom or larger home (median price $5,995/month). By comparison, rental properties of the same size in North Beach go for $3,495 and $9,500 per month, respectively.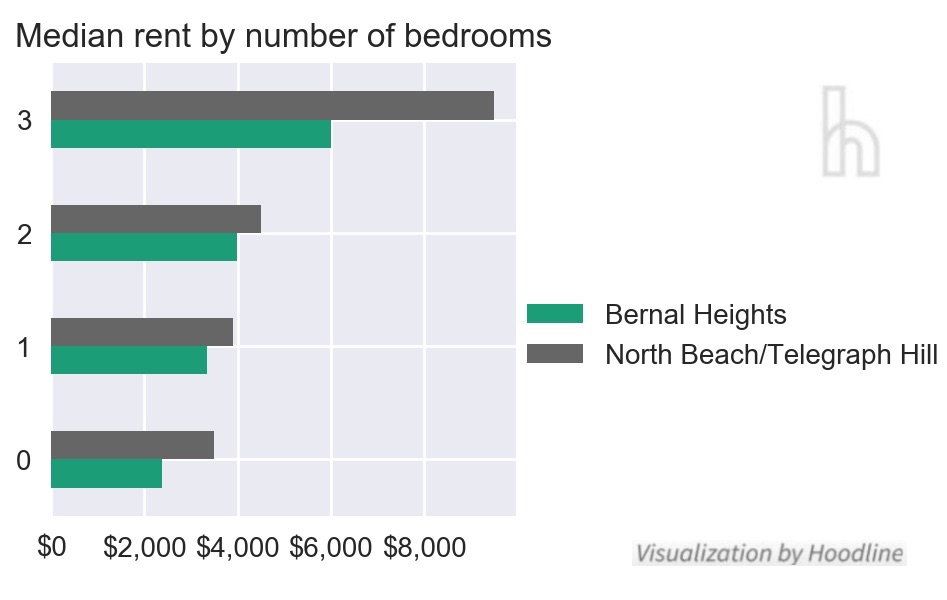 If you're on the hunt for a new place in North Beach, the cheapest listing in the neighborhood right now is 566 Vallejo St., a one-bedroom that's renting for a comparatively inexpensive $3,100/month—$800/month below the median for one-bedrooms in North Beach. It offers hardwood floors, in-building laundry, a separate storage space, and a pool. 
Budget apartment-hunters in Bernal can find a spot for even less: 130A Ripley St., a studio that's currently the cheapest listing in the neighborhood, is $2,300/month. Though its kitchen is very small, the apartment boasts a large deck with views of the city skyline, backyard access, and hardwood floors, and the rent also includes all utilities, including cable TV and Internet. 
On the other end of the price spectrum, North Beach's most expensive current listing, 1724 Grant Ave., clocks in at a cool $14,495/month. A three-level home with four bedrooms, 3.5 baths, four-car parking, and a huge roof deck, it's definitely a luxurious perch for those with lots to spend. 
Meanwhile, Bernal's biggest budget-buster is only about half the price, at $7,950/month. 76 Bronte St. is a three-bedroom home that recently got a full renovation, with amenities like two master suites, 11-foot ceilings, a big backyard with a fire pit, and a bonus room with a wet bar. 
Which neighborhood do you think is the best for artsy types—Bernal Heights or North Beach?