Originally slated for installation early this summer, one of the next changes to the Lower Haight's roadways is the Scott St. Traffic Diversion, a traffic-calming measure whose design was approved two years ago.
The planned work will create an "extra-large bulb-out" on the corner of Scott and Fell that permits bicyclists and pedestrians to continue on Scott and requires southbound drivers to turn right on Fell Street.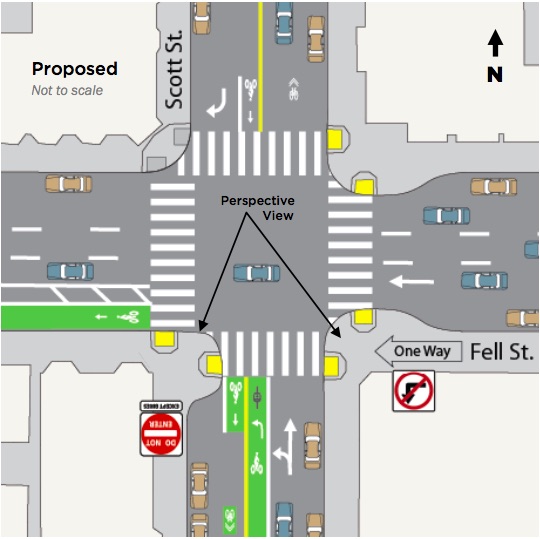 Making Scott Street one-way between Oak and Fell will reduce its appeal to crosstown drivers, "making it a more pleasant place to walk, bike, and live," according to an overview.
Some neighbors are frustrated with the work's delay.

Via email, one who wished to remain anonymous told Hoodline that residents asked for the changes four years ago after a near-fatal collision at the intersection.
"Since the project was proposed, more people have been struck and injured here (example)," they wrote. "Neighbors are really frustrated with the delays."

Alex Murillo, manager of public affairs and communication for Public Works, acknowledged the delay and confirmed work on the diversion was set to commence October 19th.
"We had hoped to have the contractor start working on the diverter at the Fell and Scott intersection in July/August," Murillo said.
"However, as is often the case with the construction projects of this scale, some of the work was resequenced in order to accommodate the development of a sufficient traffic control plan. We want to ensure the work zone will be safe during construction of the diverter."
The diversion installation is just one component of a long-running series of improvements to the Wiggle, which has also impacted intersections frequented by cyclists along Waller at Scott and Steiner.
The source of recent grief for residents, street construction at Waller and Scott has wrapped up, with crews moving to Waller and Steiner next week to install a raised sidewalk.
"This phase of work will take about a week to complete," Murillo said. "Bicyclists are encouraged to use alternate routes."