At a meeting last night, the team behind a 177-unit residential and commercial development slated for 400 Divisadero St. shared their preliminary plans for the site with members of the community.
The project would replace the Touchless Car Wash and Shell gas station at Oak & Divisadero. Hoodline today spoke with David Kriozere of Genesis Real Estate Group, the proposed developer, and project architects Will Duncan and Vincent Hunter of WDG Architecture.
Last night's session was the first of several public fora the developer plans to offer to obtain community input and feedback on topics like design elements, retail composition and city housing stock goals.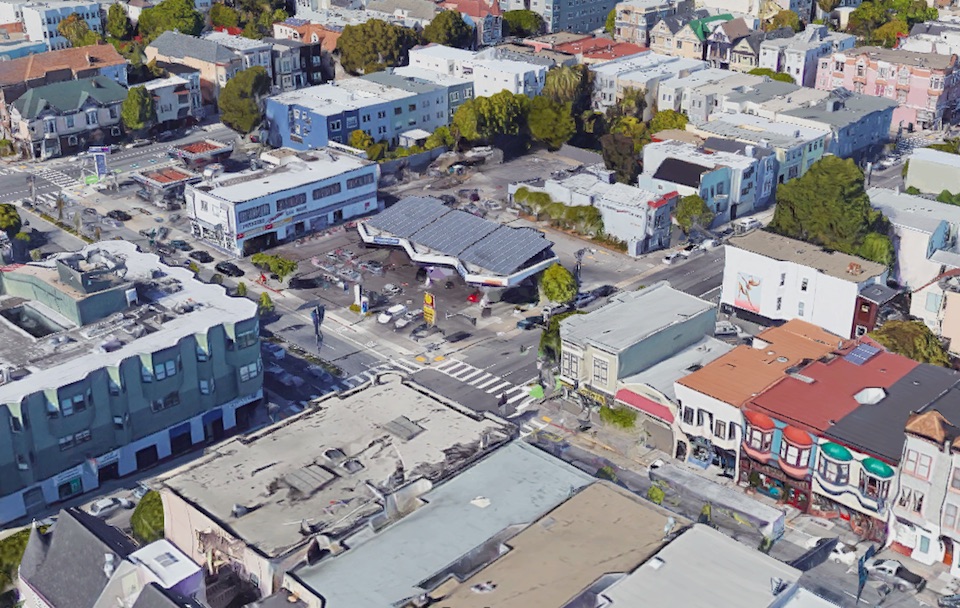 And it was also the public's first look at the firm's sketches for the proposal, which includes 177 rental units in studio, 1- and 2-bedroom size, averaging 574 square feet.
An alternate rendering, topping out at 8 rather than 6 stories, would provide 217 units.
The project also includes multi-tiered living roofs, a garden courtyard for residents, a public-accessible side alley fronting Divisadero and roughly 8,000 square feet of street-level retail space broken into smaller units for seven to ten shops.
The goal, said Kriozere, was to replace the car wash—being sold by owners Roy and Patty Shimek—with something that was "worthy of the things people love about Divis," namely "tasteful housing and retail" and a way to preserve Divisadero's economic diversity.
To that end, Kriozere wants to add a middle-budget housing stock to the neighborhood. "We've got all this great diversity," he said, "but we're missing it for housing. All we have [in new projects] is Section 8 and really expensive."
Rather than build luxury condos, he said, "I want to try to keep this diverse. My notion is, by helping folks in the middle." A previous plan called for building 50 2,000-square foot units until the city approved higher density.
As to how many below market-rate units will be created, Kriozere said the exact number depends on city requirements for BMR density and neighborhood input. 
In coming months, Genesis will host a series of meetings to gather more input from neighbors and merchants. In the meantime, for more information or materials, contact the project's community relations representative Luis Cuadra at lcuadra [at] bergdavis [dot] com.