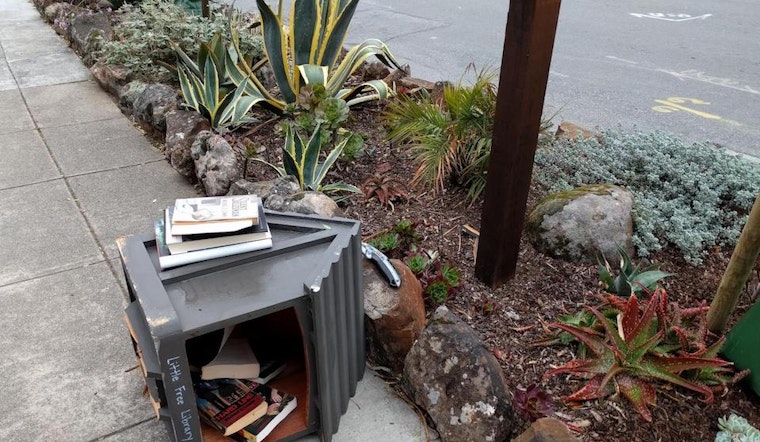 Published on October 31, 2017
On Sunday morning, a Little Free Library on Castanada Avenue in Forest Hill was defaced with box cutters and knocked off its perch. Vandals left the library  in a planter on the property.
It was the third time in two years that the library has been vandalized, said owner Kristina K., who declined to share its exact location.
"It's an absolute mystery," she said. "People have an impulsive need to hurt it."
The library has been in its current spot since August 2015. After purchasing the little library—shaped like a house—on Etsy, Kristina and her husband painted it gray to match their home. 
"I saw these little libraries popping up all over the city, and I love reading," Kristina explained. "I thought this was a nice way to trade books." The library was popular with the neighborhood, and people started putting books into it right away, she said.
A few months after it went up, unknown parties ripped the door off of its hinges and threw it in the planter. Six months later, someone else knocked the library off of its perch, landing in their planter again.
"The parts you needed to connect it were really damaged," said Kristina. She and her husband fixed up the little library again, and it was "going strong" until this past Sunday.
Kristina's husband discovered the library on the ground, with various pieces of wood ripped off from the box cutters. Compared to the previous incidents, the damage was "significant" this time around.
"I don't know what the Little Free Library did to them," she said. "It's close to death, and I'm not sure what to do."
While Kristina filed a police report, she said she and her husband may not repair the library again if it is vandalized a fourth time. However, she noted that her neighbors were strongly in support of the library. 
"There's an elderly woman who depends on it for her all of her reading," she said. "It'd be a real shame for her. She comes over every day." 
"On the flip side," she said, "I can't keep it on the pole if people keep attacking it."
This isn't the first time a Little Free Library in San Francisco has suffered abuse. In 2016, the Duboce Triangle Little Free Library closed after vandals set it on fire and then made off with it for the second time.