Around a hundred people rallied Saturday afternoon in United Nations Plaza in San Francisco in support of an independence referendum that took place in Catalonia on Sunday.
Catalans from around the Bay Area carried flags, signs and homemade ballot boxes to express their demands that the Spanish government allow the vote to proceed.
"I'm here to support democracy and the freedom to vote," said Regina Español-Suñer, who moved to the Bay Area from Barcelona and helped organize Saturday's demonstration.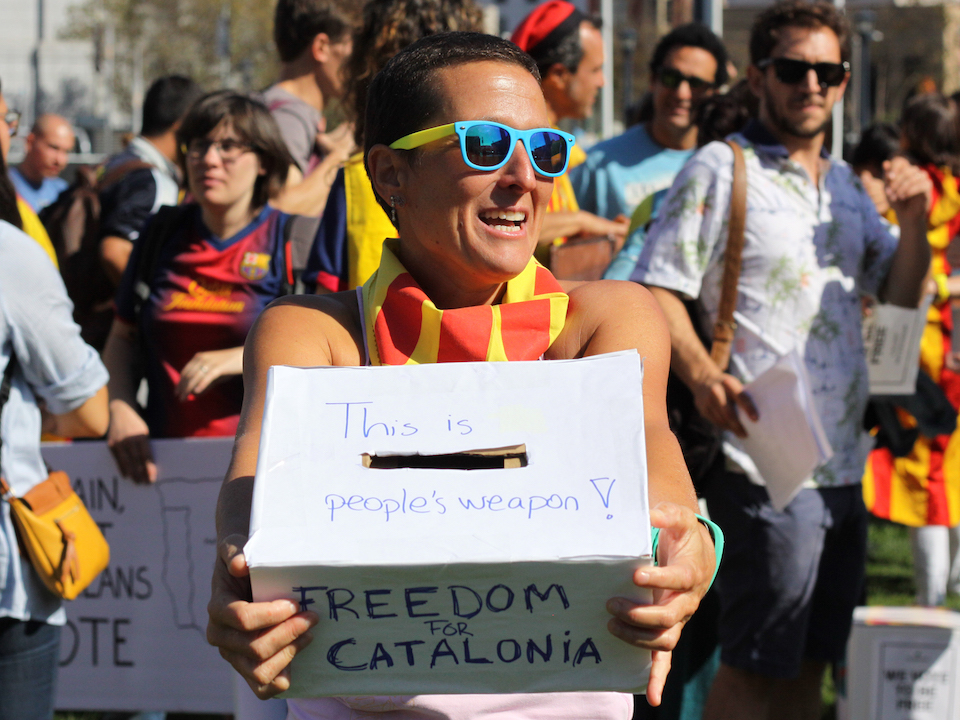 "It's important that politicians listen to what people want," said Bernat Baeza Raja, a representative of the Bay Area chapter of the Catalan National Assembly. "That should happen everywhere."
The Constitutional Court of Spain declared Sunday's referendum illegal and promised not to recognize the results.
However, the Catalan government announced Sunday night that nearly 90 percent of the 2.3 million voters had cast their ballots in favor of independence. Catalan president Carles Puigdemont said he would submit the result to the regional Parliament, the next step in declaring independence from Spain.
From 1939 until 1975, Francisco Franco ruled Spain as a military dictator. During this time Catalans were openly discriminated against and were prohibited from speaking their language in public.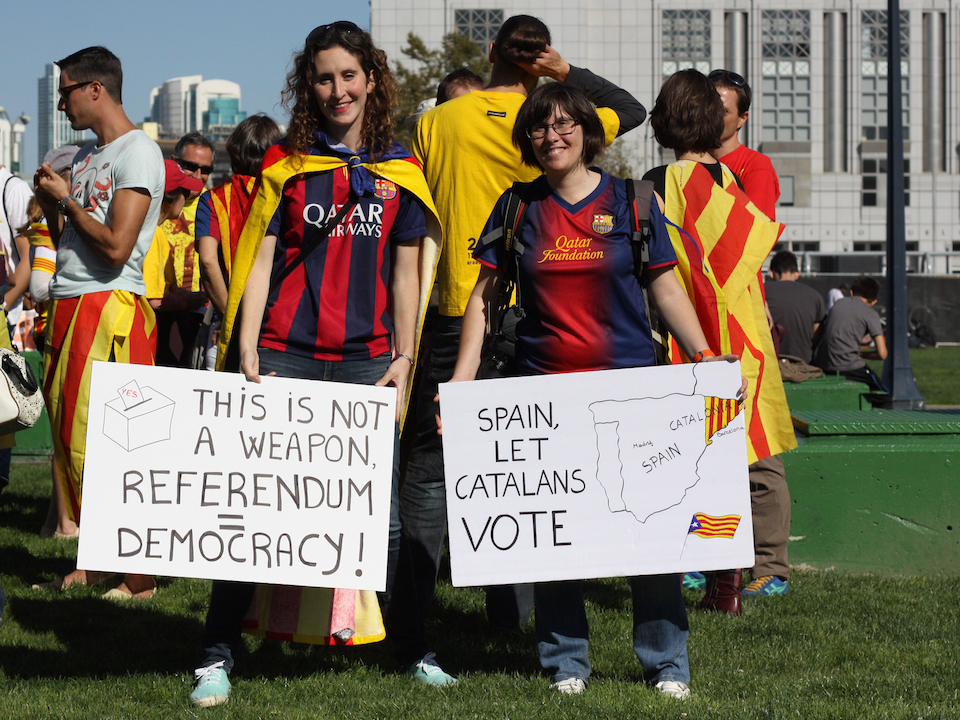 In the weeks leading up to the referendum, the Spanish government had tried to stop the vote. Police raided the offices of companies to keep them from printing ballots. The federal government shut down websites and online campaigns that promote the vote. Last week, 14 Catalan officials were arrested.

"It's supposed to be a democracy," said Virtudes Banducci, originally from Barcelona, "but unfortunately it doesn't seem to go like that."
Many of the Catalans who gathered in UN Plaza on Saturday were checking their phones for updates from back home. Earlier in the day, Spanish police had closed down more than half of the 2,315 schools designated as polling stations, prompting Catalans to camp out at schools in efforts to shield them from police.
"My friends were texting me about going to sleep over in the schools," said Albert Lopez Gonzales, who moved to San Francisco from Barcelona last year. "They're trying to reach as many as possible before the police get there."
Alberto Fonts, who moved to the Bay Area from Barcelona in 2003, wished he could be there for the referendum. "The school that I went to growing up is a polling station and my parents are gonna try to vote there," Fonts said. "I felt like I want to go there and protect it."
Virtudes Banducci grew up in Barcelona under Franco and left Spain in 1954 at the age of 24. "We didn't have freedom for anything. We couldn't speak Catalan. We couldn't sing Catalan," Banducci said. "I was just a child but I still remember."
To see Catalonia independent, "it would mean that anything could be dreamed of," she said. "It would be what should have happened many years ago."
Fonts was also hopeful that independence would be good for Catalonia. "I might move back to Barcelona if Catalonia is independent," Fonts said. "I think it will be a more open, inclusive society with more opportunities."
Dramatic images flooded the internet Sunday as regional Catalan police and firefighters squared off against Spanish police in efforts to protect polling stations.
"Right now we are very sad following the news from Catalonia but at the same time we are happy to see how Catalan people are protecting democracy," Meritxell Gran, who moved to the Bay Area from Barcelona, said Sunday evening.
But on Monday, Gran expressed "frustration when seeing the Spanish public television hiding the images of the incidents," as well as with the "EU Parliament not interfering to defend their own citizens."
After Sunday's events, in which Spanish police injured more than 800 peaceful voters, many Catalans view independence as the only way forward.
"I think [Spain] can stop a referendum," said Bruna Girvent, originally from Catalonia, "but they cannot stop a movement of people wanting to vote and wanting to be independent. And that's what they don't realize."