Last night, dozens of dove-shaped posters were held aloft in Civic Center Plaza by more than 200 protesters calling for an end to President Donald Trump's immigration policies. 
The candlelit vigil, titled "No Muslim Ban Ever," was planned by the Council on American Islamic Relations (CAIR), the Asian Law Caucus, the Arab Resource and Organizing Center, the National Iranian American Council and the Black Alliance for Just Immigration.
The groups gathered on behalf of people affected by Trump's "travel ban," which denies entry to the US to people from five largely Muslim countries—Iran, Libya, Syria, Somalia and Yemen. The latest version of the ban, announced September 24, adds Chad, Venezuela and North Korea.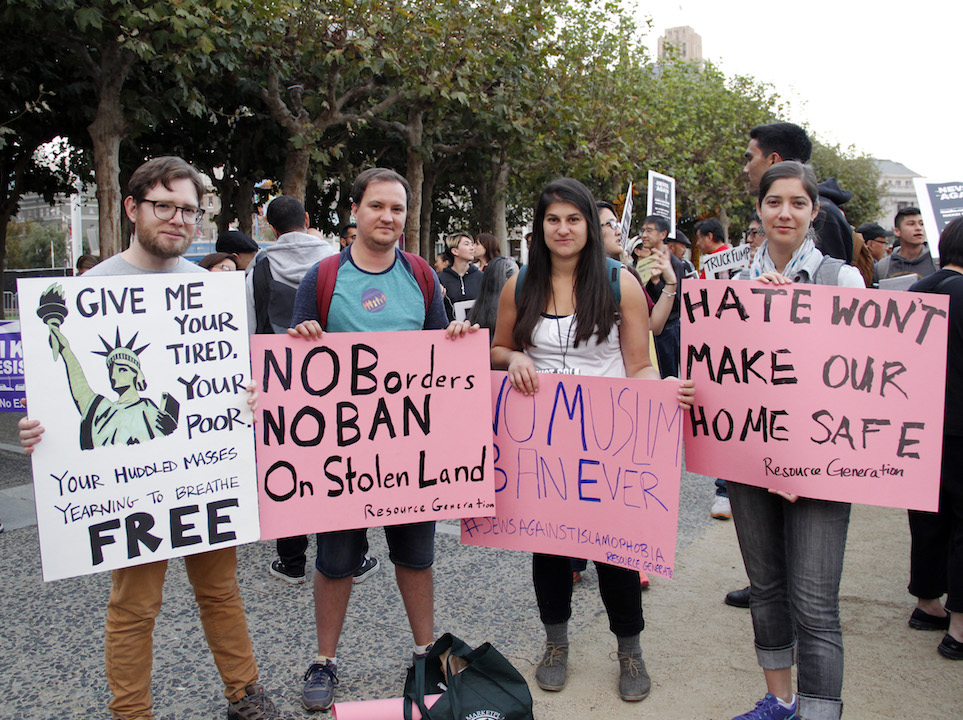 "These types of events allow people to have their voices be heard—and amplified," said Jehan Hakim, a community advocate at the Asian Law Caucus.
Hakim, a San Francisco native of Yemeni descent who lives in Fremont, added that local Yemeni and Muslim communities are living in fear because of the travel ban.
"Our identity is being otherized," she said. "We are not American enough and we are now perceived as national security threats, so our very identity is a threat to the country we call home." 
Monday's vigil mixed activism and art, with songs and dances accompanied by poetry and impassioned speeches. "Down, down with racist bans," shouted Sharif Zakout, a lead organizer with the Arab Resource and Organizing Center. "Up, up! Let's take a stance," the crowd replied in unison.
Oakland resident Anna Meyer said the vigil was her first time participating in a local protest, but she wanted to support her fellow Muslims, specifically Yemeni friends from Oakland who are separated from family members abroad.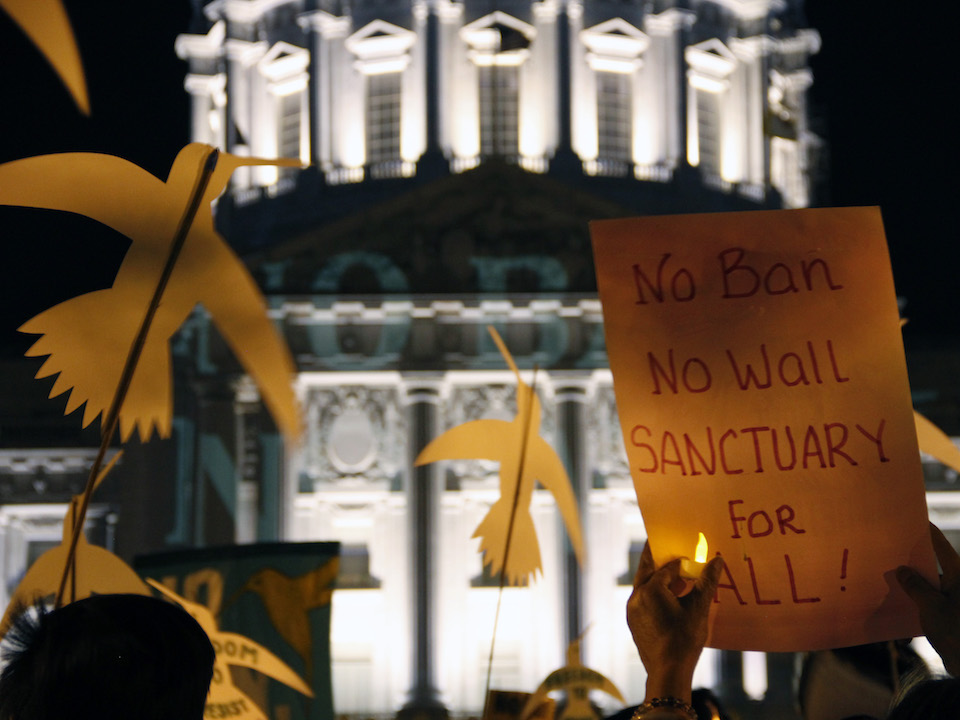 "I just hope people's civil rights can be respected and that people can come in and out of the country as they please," she said.
Hatem Bazian, a professor of Near Eastern and Asian American Studies and Asian Diaspora Studies at the University of California, Berkeley and the co-founder of Zaytuna College, the first Muslim undergraduate college in the US, delivered a fervent speech.
He asked the crowd to look around them. "There is no place in the world that you see this much diversity, hear this many languages spoken," he said. "Don't let anyone tell you that you cannot change history. You can and you will change history."
Zahra Billoo, the executive director of CAIR's San Francisco Bay Area branch,  said the main goal for the vigil was to "impact, influence and expand the conversation" about the "Muslim ban."
Before the close of the three-hour event, she thanked attendees for their participation and reminded them of the importance of civic engagement: "We are redefining power," said Billoo. "This is power. You are power."