Signaling the completion of upgrades to the intersection of 25th Avenue and Fulton Street, Public Works installed herringbone designs in all four crosswalks on Monday and Tuesday.
The work was funded by District 1 Supervisor Sandra Lee Fewer using "add-back" money from an allocation she receives for district projects.  Over the last year, the intersection has been the site of ongoing construction.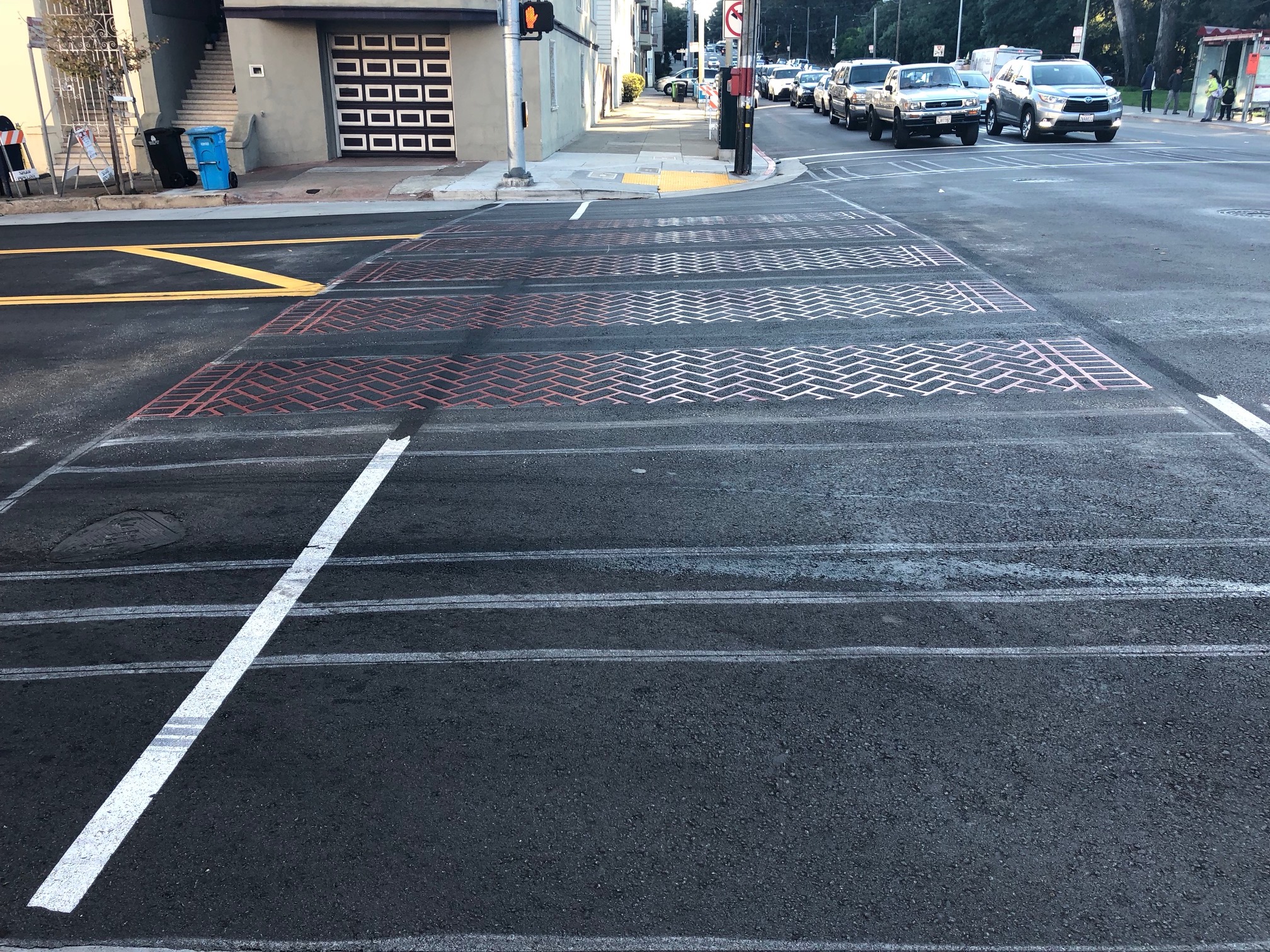 The herringbone pattern is stamped into the roadway and is meant to be at once decorative and eye-catching. The crosswalks cost about $38,000 to complete, with Fewer's office contributing roughly one-third of the funds, said Rachel Gordon, a spokesperson for Public Works.
When neighborhood groups were upset by rain-delayed road upgrades along 25th Avenue last winter, they began working with Fewer to come up with solutions to make the street and crossing points safer and more attractive.
Public Works and Fewer then worked with residents to assess two to three designs, with residents making the final choice.
Fewer said the design is meant to beautify the area and signal to drivers that they're exiting the park and entering a residential neighborhood. If effective, the installation could help calm traffic from Crossover and Transverse drives that feed into the Richmond District.
Supervisor Fewer noted that traffic signals have also been re-timed in another attempt to slow cars exiting the park.
Similar intersections at 3rd Avenue and Clement Street  and at 18th & Castro streets have been community- or supervisor-driven, also marking the end of major projects. The colorful designs are meant to add more "sparkle" and represent each neighborhood's unique culture, said Gordon.
"[It's] amazing how a small improvement like that can dress up the intersection," noted Fewer.