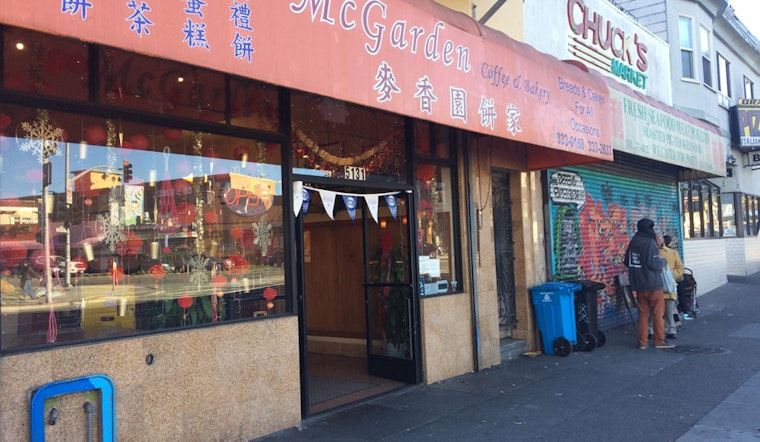 Published on December 08, 2017
As part of a city-funded pilot program, five artists have designed ten window displays for Excelsior neighborhood businesses to help attract holiday shoppers.
One of the participants, Borderline Art Collective, a group of four artists that works out of a Mission district warehouse, designed the displays for Little Joe's Pizza and McGarden Café.
The project was simple, said Amy Lange, a founding member of the collective. After discussing possible designs with the businesses, they put together holiday-themed displays based on their desires.
"This sounded like a really good way to get involved in the community rather than being off in our little art bubble," Lange said.
McGarden Café's display is a mash up of snowflakes, coffee cups and Chinese lanterns.
"It's Christmas meets Chinese New Year," Lange said.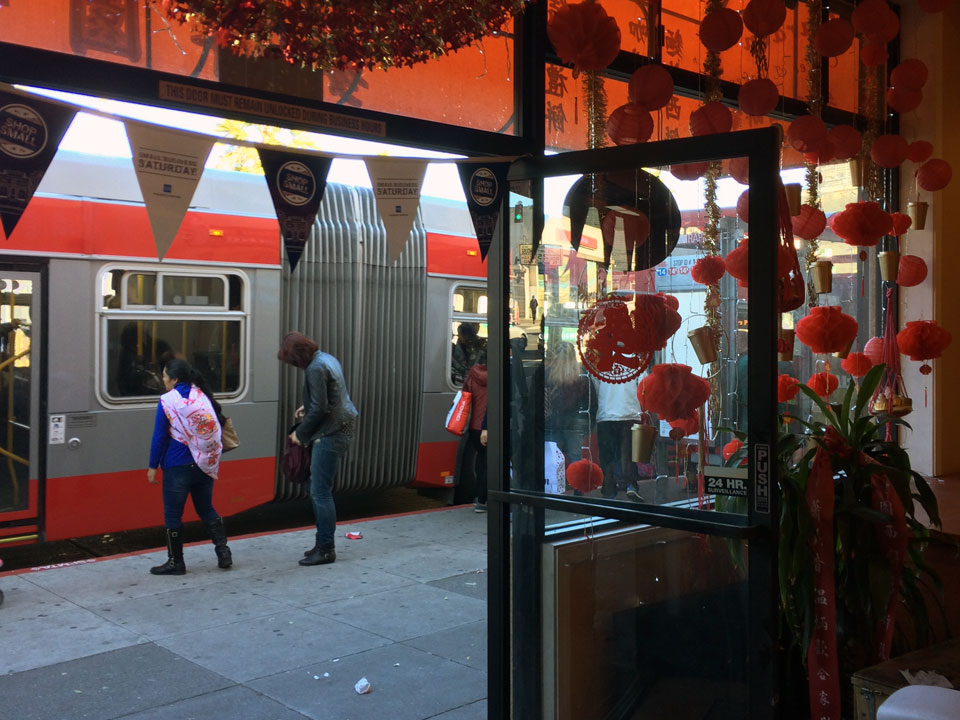 The display, which has been up since Thanksgiving, has been good for business at the McGarden, according to owner Chuck Siu. Pedestrians who usually walk past the café stop to study the display and sometimes come inside, he said.
"We need to do this kind of thing more often in this neighborhood," Siu said. "It draws people in."
At Little Joe's Pizza, the theme is more nostalgic. The display features Christmas tree ornaments as well as historic pictures of San Francisco and Santa Claus.
The project is a pilot program that could be used on other corridors around the city, said Stephanie Cajina, executive director of the nonprofit Excelsior Action Group.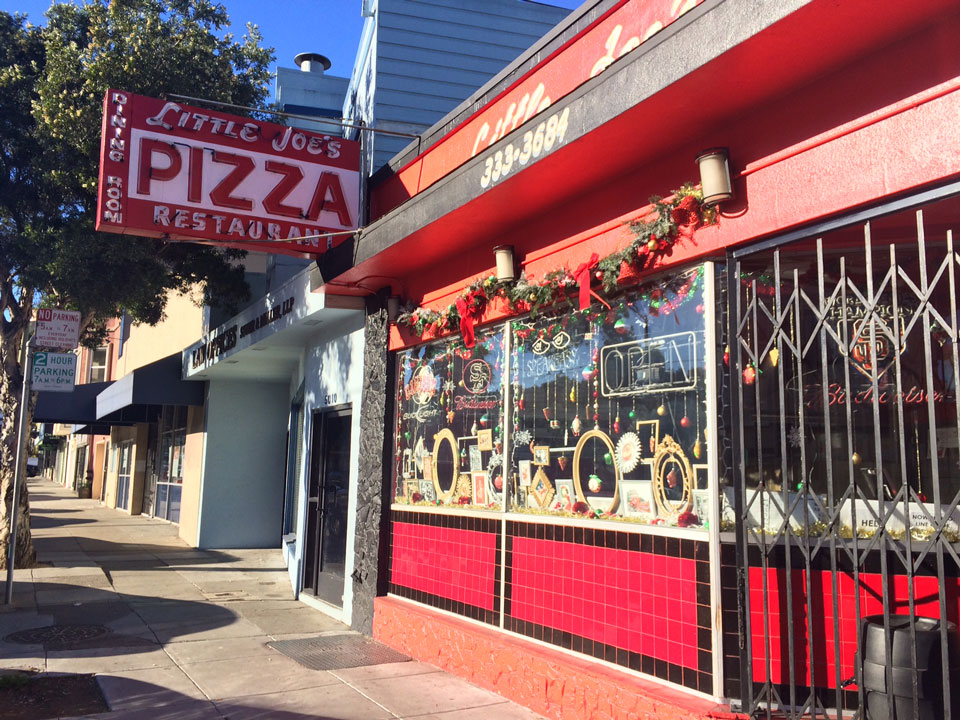 In years past, EAG organized holiday window display competitions offering prizes like a $100 gift card or recognition from the district's supervisor, but struggled to get businesses to participate.
This program removes the burden of work from the small businesses, into the hands of local artists.
"We definitely want to set a precedent for the program," Cajina said. "I hope it gets replicated in other areas."
The displays are intended to "connect small businesses to local creative partners and encourage the use of art and design in small business spaces" to attract new customers to the corridor, according to Gloria Chan, a spokesperson for the Office of Economic and Workforce Development.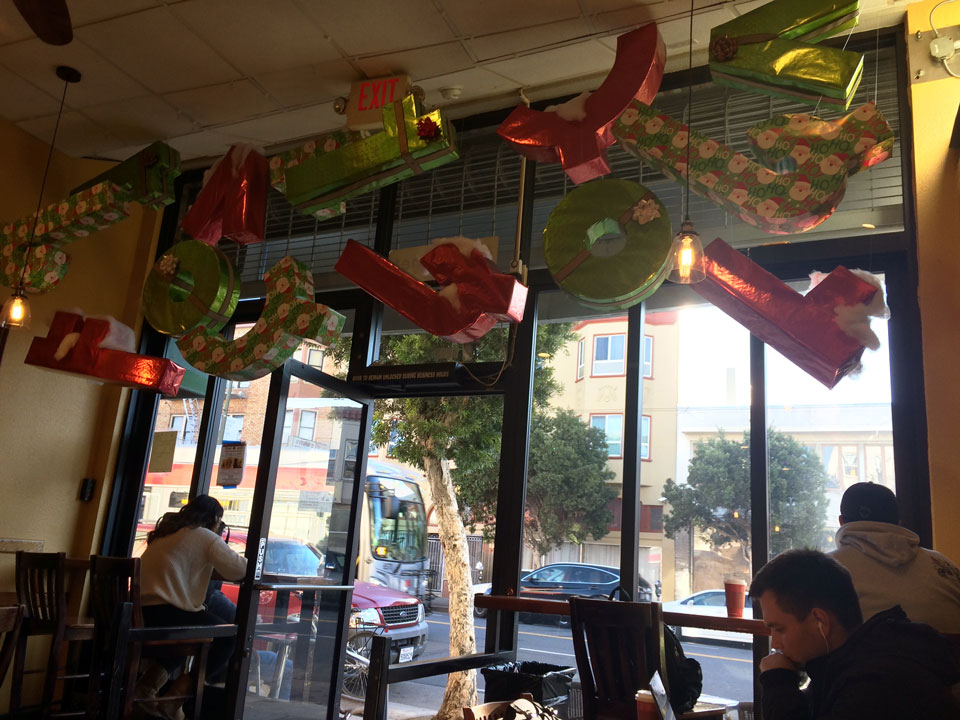 Central Drug Store, Stevens Books, Cumaica Coffee, El Corazon Gallery, Little Joe's Pizza, McGarden Cafe, El Botanica Lucky Candles, Geneva Eye Care, the Dark Horse Inn and Daniels Pharmacy all have holiday displays. The displays will be left up until January 18th, according to Chan.
The four other artists are Aaron De La Cruz, Alexis Arnold, Sarah Hotchkiss and Yuka Ezoe.
The EAG, OEWD and participating artists will guide a tour of the displays this evening from 5 to 7pm. The tour begins at Central Drug Store, at 4494 Mission St. between Francis Street and Santa Rosa Avenue, and will end at Daniels Pharmacy, at the intersection of Mission and Geneva.
This story was published in partnership with the Ingleside-Excelsior Light.