On November 1, Capo's Chicago Pizza & Fine Italian Dinners turned five years old. To celebrate, owner Tony Gemignani is hosting a party in collaboration with The Speakeasy on National Repeal Day, December 5th, from 4–10:00pm.
Gemignani said he's looking forward to collaborating with the Speakeasy.
"They've been an amazing contribution to the neighborhood," he said. "Speakeasy and Capo's truly go hand in hand, and it's a perfect pairing. The clientele that they bring to the neighborhood are always great. Everyone is dressed to the tees and they complement us very well."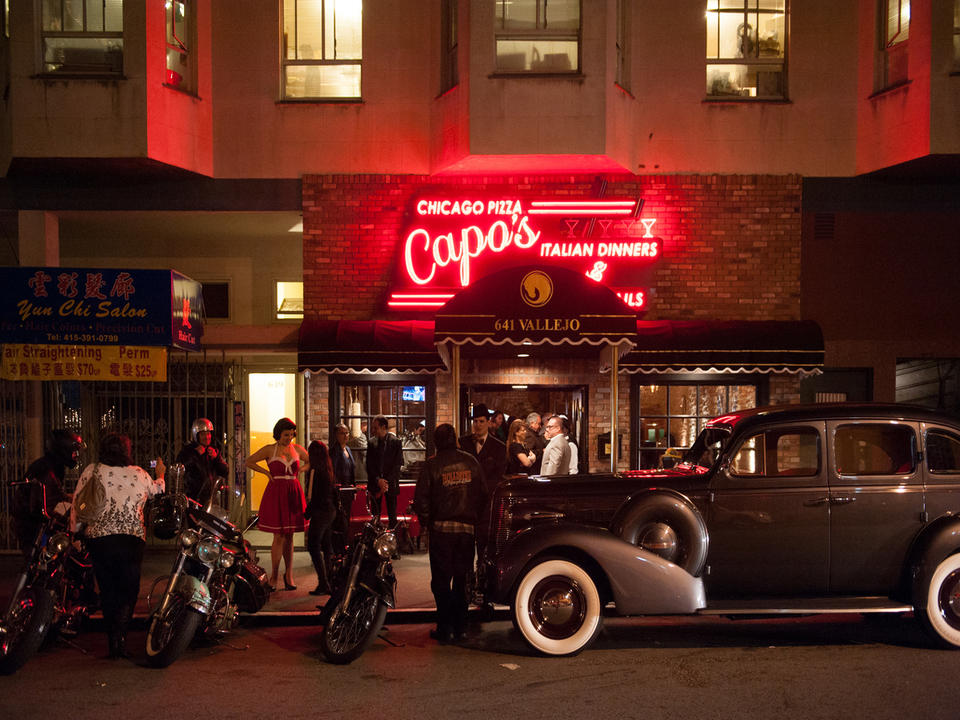 Despite ongoing construction in North Beach and a large number of business closures, "we've been able to push through it," said Gemignani, who is the first American to be certified as a Master Instructor by the International School of Pizza.
Gemignani said that there's more to look forward to in the future of Capo's as he has plans to expand its food and cocktail menu and hopes to add live music on certain nights. 
Internationally renowned and a regular on the culinary TV circuit, Gemignani has racked up 12 wins at the World Pizza Championships and will be featured in a program on The Food Network next year. Capo's head pizzaiolo, Matt Molina, was named 2014 Pizza Maker of the Year at the International Pizza Expo in Las Vegas.

Known for its Prohibition-era decor, handcrafted cocktails, and Chicago-style cuisine, the restaurant's most popular offering is the Dillinger, which won "best pizza in the world" at a World Pizza Championship in Las Vegas.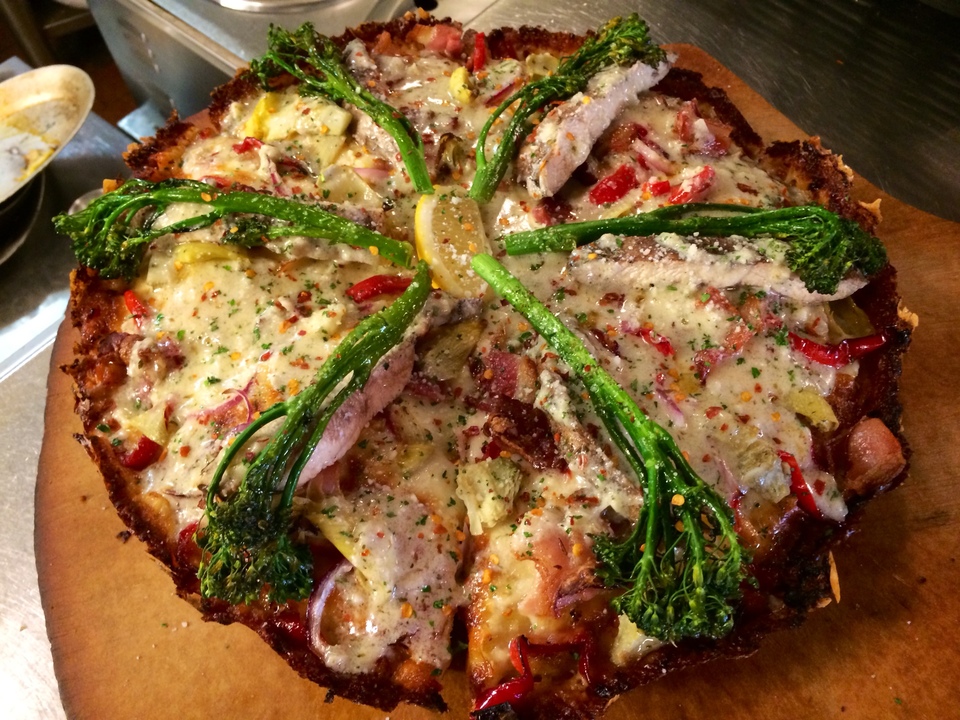 Baked in a cast-iron skillet, the pie is topped with cheddar, mozzarella and provolone, broccolini, artichoke hearts, chicken and bacon, vodka cream sauce, and a fresh lemon.
Other popular items are the Quattro Forni pizza and the Old Chicago. Despite a preponderance of deep dish pies, the restaurant also offers a range of thin-crust pizzas.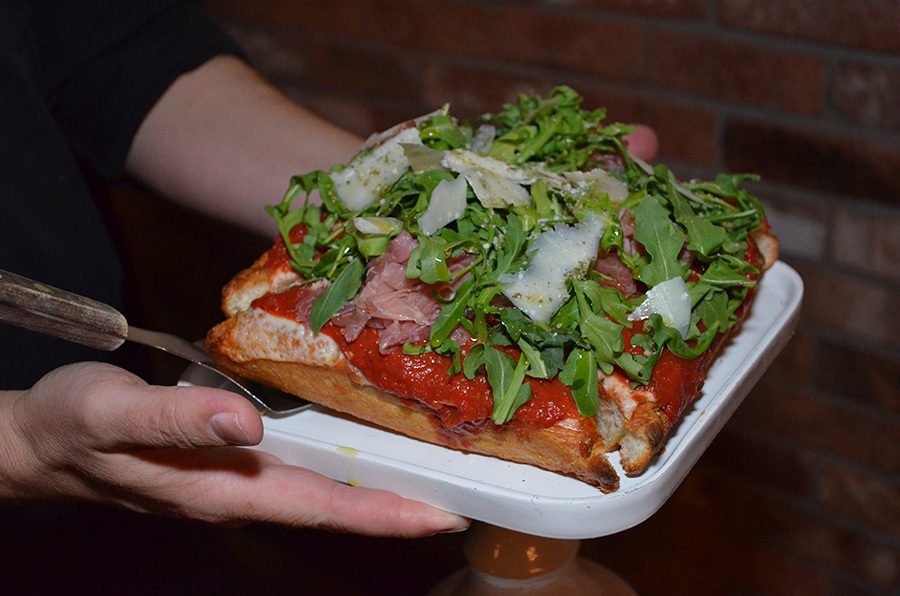 Gemignani said he chose Capo's "off the beaten path" location at the edge of North Beach and Chinatown intentionally.
"I built Capo's to be like a restaurant that has been around for 70 years but is also the new kid on the block," he told Hoodline.
"It pays homage to those classic old-school Italian restaurants that you don't see any more in North Beach that have either gone out of business or closed their door."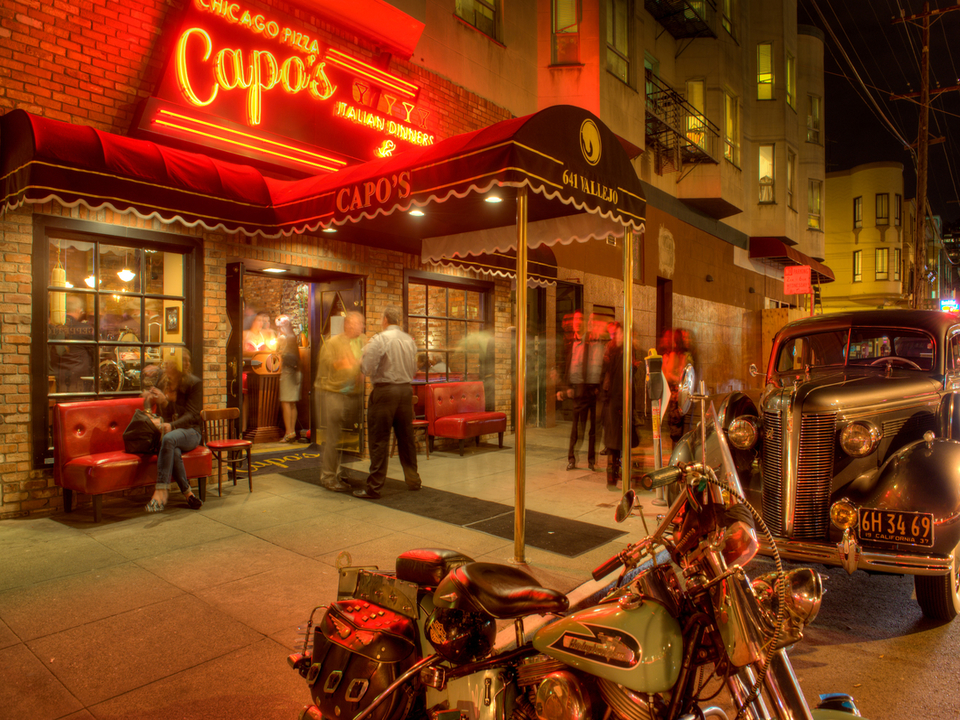 In addition to tourists, he said the restaurant is a favored haunt of others who work in the area, like the family who owns Little City Market across the street, along with other nearby restaurant owners, servers, and staff.
"Capo's is kind of seen as a staple in the restaurant industry," said Gemignani.
The Repeal Day party launches The Speakeasy, an immersive theater group featuring 35 characters set in 1923 who lead patrons on a "choose your own adventure" style excursion.
The event includes actors in vintage attire who'll mix with attendees, live music, a specialty cocktail named after gangster Al Capone, and standing passed bites at the bar. For dinner service, reservations are recommended.