With so much happening in San Francisco's culinary scene, this week, we decided to bring you another edition of SF Eats.
In this update, an upscale Chinatown eatery launches a pop-up "ghost restaurant," a former beauty salon is poised to become a coffee shop, and other updates from around the city. 
Openings
Citywide: Mister Jiu's
Food delivery app, Caviar has announced an experimental partnership and menu concept with Michelin-star chef Brandon Jew of Chinatown's Mister Jiu's, called Mamahuhu. 
The new concept is described as a delivery pop-up or "ghost restaurant," and they'll will be testing out new dishes throughout the weekend. 
The menu focuses on healthy Chinese plates, according to a spokesperson for Caviar, and will coincide with Lunar New Year celebrations throughout the city. 
In a Medium post by Caviar, Mamahuhu is billed as "a quirky expression of Chinese food that is delicious yet healthful — that you can feel great about eating."
On the app, look for dishes like a duck or tofu-topped scallion pancake, flatbread sandwiches and salads, "Tingly Cabbage Chips" to snack on, and a new take on the restaurants black sesame cake from Mister Jiu's for dessert.
"We've centered the menu around a very historical Chinese ingredient — duck — and we've chosen a playful, tongue-in-cheek name to express our feeling that super high-quality food ought to also be fast, lighthearted and fun," said Jew (You can take a look at the menu here.)
Hoodline did not/will not receive any compensation for this update.
Marina/Cow Hollow: Starbucks Reserve (1889 Union St.)
Distinguished tipster Al M. told us that Starbucks Reserve will be taking over the former will move into a space below Berenice Hair Salon and appears to be ready to open any day now.
"By the looks of things, it's almost near opening," said Al. "The windows already have signage on them and everything's squeaky clean." 
Incidentally, there's already a full-service Starbucks located next-door at 1899 Union St. It's not clear if they'll both remain in operation or eventually merge into one larger location, though. 
Starbucks Reserve is a new concept café that the big-box coffee roaster has been debuting throughout the country, spotlighting its special small-batch blends of coffee. 
The menu is similar to a regular Starbucks, so expect to see popular mainstays like Frappuccinos, mochas and lattes. But coffee connoisseurs can also enjoy small-batch reserve coffee flights, specialty cold brew, pour-overs and siphon-brewed coffee. 
Closures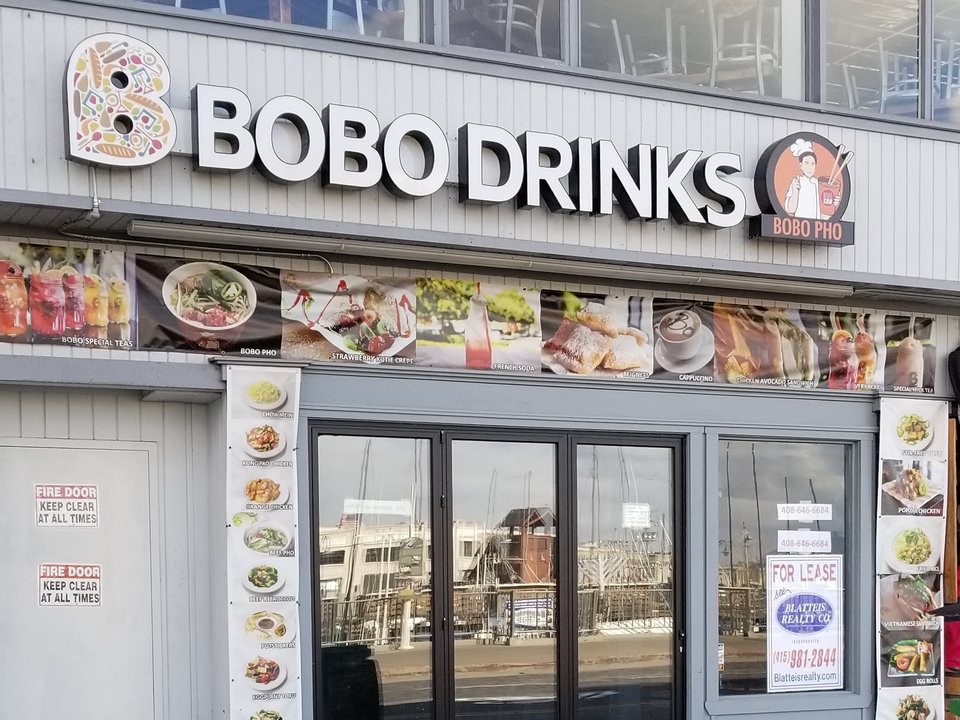 Fisherman's Wharf: BOBO Drinks & Pho (235 Jefferson St.) / Rocket Fizz Soda Pop & Candy (245 Jefferson St.)
Over at the Wharf, BOBO Drinks & Pho and Rocket Fizz Soda Pop & Candy have both shuttered, Al reported. 
"This turn of events may or may not be related to the closing of Joe's Crab Shack upstairs," he speculated—both spots are in the same building and "For Lease" signs now adorn the windows.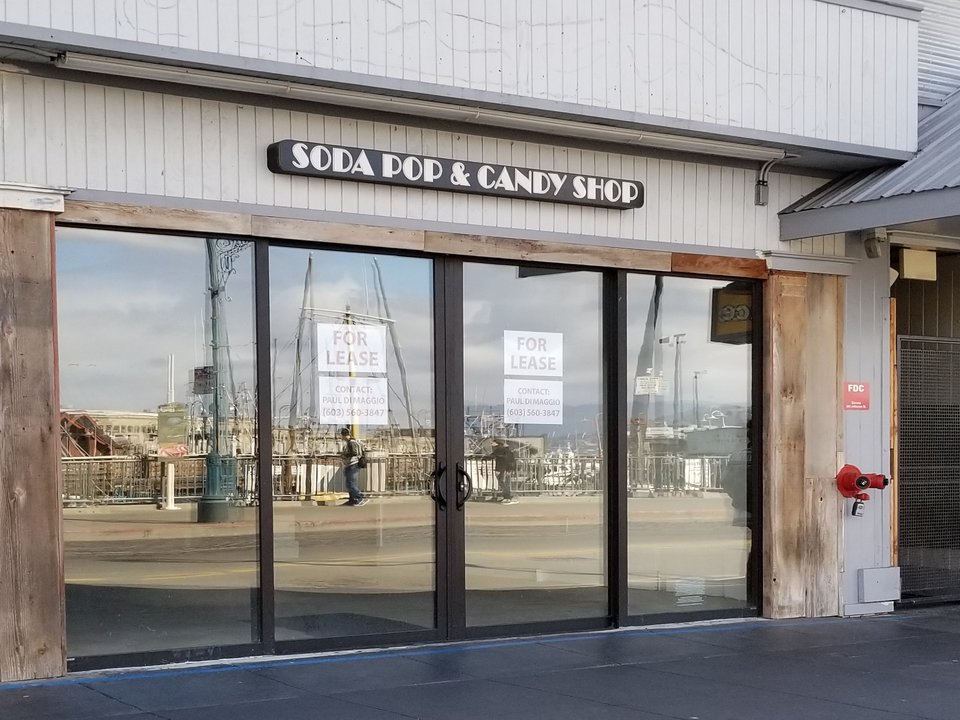 The national sweets shop chain appears to have only been in operation since early 2016, and there's no indication on its website as to the reason for its closure. 
BOBO Drinks & Pho,—which has three other outposts in San Jose and one in Berkeley—appears to have closed due to a poor evaluation from the city's Department of Public Health. Records indicate that the eatery scored 67 with citations for improper cooling methods, inadequate and inaccessible handwashing facilities and food in poor condition. 
Updates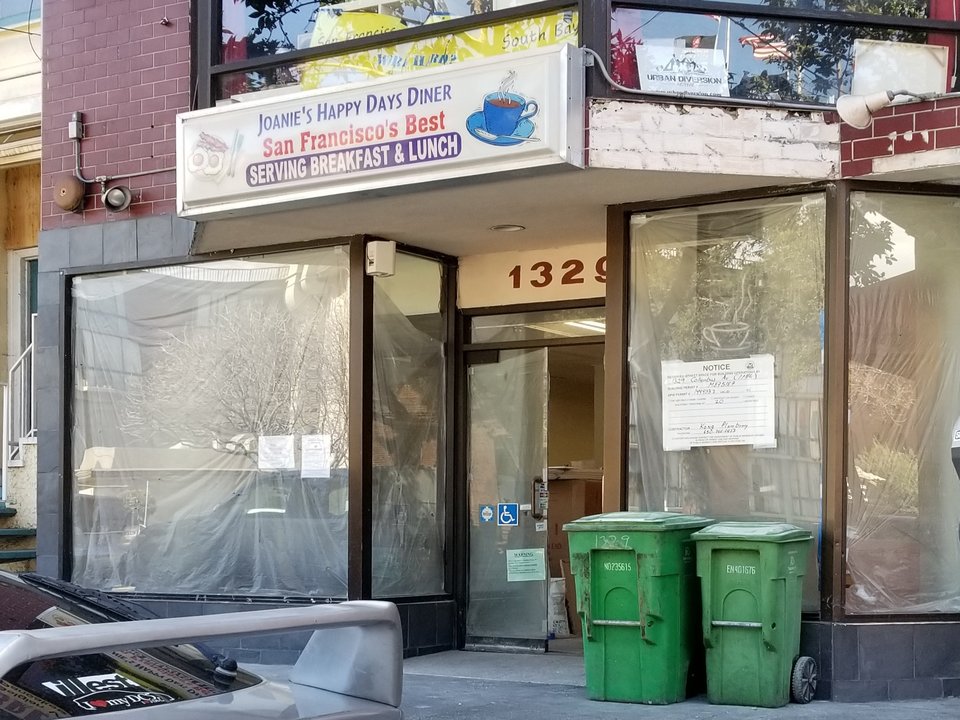 Fisherman's Wharf: Joanie's Happy Days Diner (1329 Columbus Ave.)
Also in Fisherman's Wharf, Al told us that Joanie's Happy Days Diner is temporarily closed for remodeling. 
"The inside is gutted and new wall panels and ceiling has been installed," he said. "A hand-made looking hip counter has been installed as well." 
It appears that the diner may be getting rid of table service as a cost-cutting measure, Al explained. In the future, customers may need to order and pay for meals at the counter before being delivered to the tables. He said he'll keep an eye on the space and report back with updates as warranted. 
If we missed an opening or closing in your neighborhood, email [email protected] or send a text to 415-200-3233 and we'll give you credit for the tip.