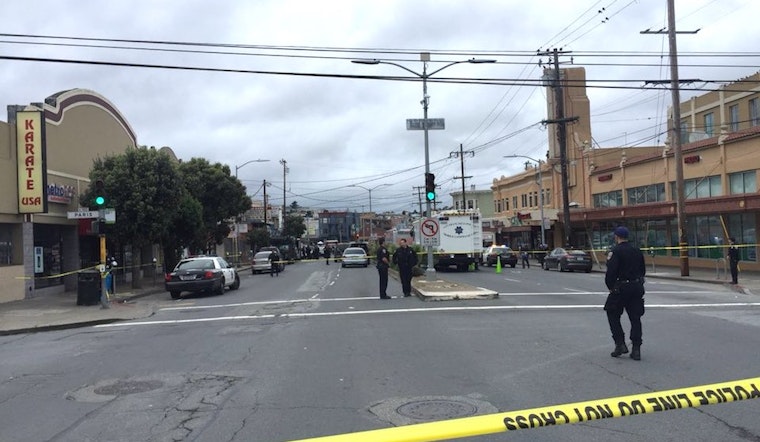 Published on March 22, 2018
[Update: 3/22/18, 12:02pm] According to a statement released by SFPD, the suspect succumbed to his injuries last night at San Francisco General Hospital.
---
The San Francisco Police Department issued a statement last night that offered a timeline of events preceding an officer-involved shooting on the border of the Excelsior and Crocker-Amazon districts yesterday afternoon.
According to the release, officers from Ingleside Station responded to the 200 block of Amazon Avenue at 4:27pm after receiving a report of an armed individual, which led them to Amazon Barber at the corner of Amazon Avenue and London Street.
After police entered the premises "and made contact with several individuals," officers exchanged shots with the suspect. When the close-quarters gunfight was over, one officer was wounded in the leg, and five others were wounded, including the suspect. According to ABC7, "witnesses heard more than a dozen shots."
An Instagram video shot by a passerby shows multiple police officers on the scene, several with guns drawn as they took cover behind vehicles. A police officer who appears to be wounded is shown crawling away from the barbershop's front door, assisted by a colleague.
Witness cell phone video of injured @sfpd officer crawling away from shooting at Geneva and Mission. Cop and five others shot. #SanFrancisco pic.twitter.com/txZ9YYeD2B

— Lilian Kim (@liliankim7) March 22, 2018
The suspect and another person inside the barbershop suffered life-threatening injuries, and the wounded officer and two other people were listed in non-life-threatening condition. All were transported to the trauma center at San Francisco General Hospital. 
Because the sixth patient is a juvenile, confidentiality laws prevent the release of any details about their condition.
In keeping with SFPD policy, the department will schedule a town hall meeting within the next ten days to share additional information and take questions from the public.
Anyone who has information about this incident is encouraged to contact SFPD via the department's anonymous tip line at 415-575-4444, or text TIP411 with "SFPD" at the start of the message.
Here's why we usually don't include suspect descriptions in crime reports.