Muni is testing three-car trains at night with its new light-rail vehicles (LRVs), the agency announced yesterday.
The tests have reportedly gone well and three-car trains could be rolling out systemwide as early as this spring, said the transportation agency. But first, new two-car trains will be put out on the most-used routes, like the N-Judah, sometime in April.

Deploying longer trains presents certain challenges: some Muni platforms aren't long enough to accommodate three cars, which might also require more operators.
Additionally, three-car trains can block intersections more easily and have trouble navigating some streets. As SFMTA studies the matter, longer trains will likely be used as shuttles to clear out crowds for special events and during peak rush periods.
As we reported last November, the SFMTA has started putting its first new LRVs since the 1990s into service. The effort is part of the 2014 SFMTA Transit Fleet Management Plan and the agency's 20-year capital plan.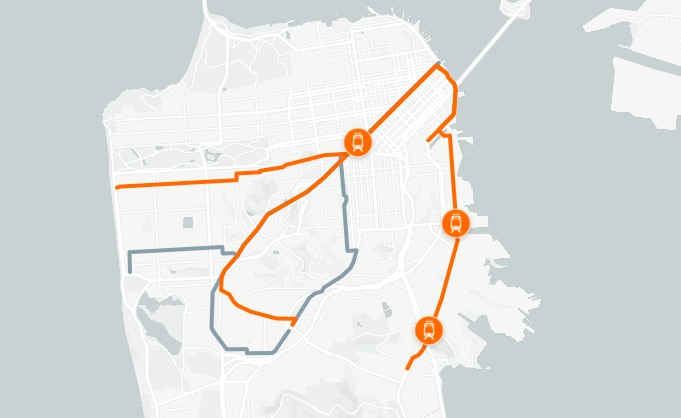 Built by Siemens in Sacramento under a $1.2 billion contract, 218 new vehicles began arriving in San Francisco last year.
The new LRVs are reportedly quieter, have wider aisles and more reliable passenger doors. They also have an enhanced braking system and larger signage, and will require less maintenance because they're lighter and have fewer parts.
San Francisco Transit Riders has created an online LRV4 tracker map that shows the current locations of the new Siemens cars. As of this writing, the cars are in service on the N-Judah, K-Ingleside and T-Third Street lines.