Ten suspects allegedly connected to a string of home burglaries in the Bayview have been arrested by officers from the city's new Burglary Unit in a multi-jurisdictional operation, SFPD announced today.
"With these arrests, there has been a marked decrease in burglaries in the Bayview, Ingleside and Taraval districts," said San Francisco Police Chief William Scott.
Two subsequent arrests have been made after search warrants were executed; officials are currently investigating to determine their involvement in the burglaries. 
"Our establishment of a General Crimes Unit to focus on serial residential and commercial burglaries, auto break-ins, bicycle thefts and other neighborhood property crimes is bearing results," Scott added. 
As we reported last October, Scott reassigned several department captains as part of a comprehensive plan that includes increasing the number of beat officers working foot patrols citywide and focuses on education to prevent crimes of opportunity.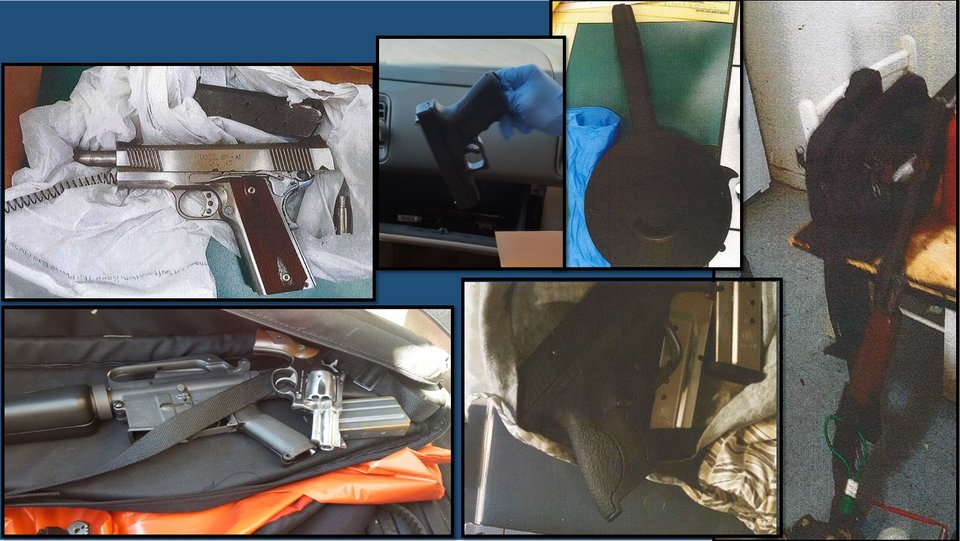 In total, thirty were identified as suspects in the investigation, which spanned multiple jurisdictions, including Brentwood, Oakland, Antioch, and Las Vegas and unfolded over the last 90 days, said police. 
San Francisco investigators determined that eleven firearms have been reported stolen during the burglaries, nine of which have been recovered. Additionally, four firearms were recovered while conducting a search in Brentwood last week, including two that were stolen in separate break-ins in Fremont and Reno. 
Police estimated that "hundreds of pieces of jewelry, US and foreign currency, credit cards, passports, vehicle titles and vehicle keys were stolen" in the incidences—valued at nearly $3 million. 
So far, some of the stolen property has been recovered, including jewelry, passports, cash and eight cars allegedly used in the burglaries. 
Last November, police identified a pattern of residential burglaries that frequently occurred in the Bayview, Ingleside and Taraval neighborhoods. From that investigation, officers learned that as many as 60 of the reported residential burglaries were committed by organized crews.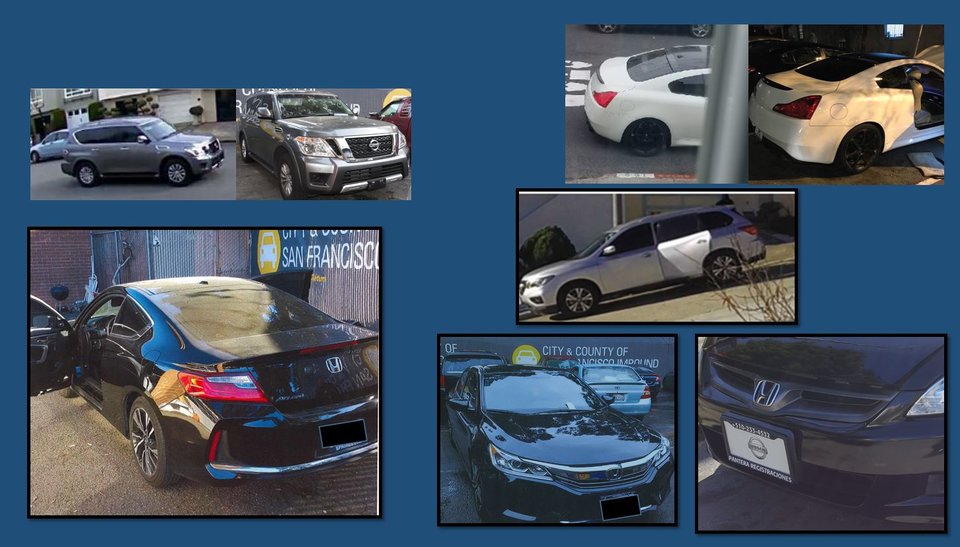 According to police, the suspects used multiple cars with paper license plates to mask their vehicle's identity while committing the crimes. In many cases, the suspects allegedly gained entry into homes by "forcing their way through locked gates and breaking front and rear doors."
The incidences included hot prowl burglaries, where a victim was home at the time, as well as unoccupied homes. Surveillance video captured one of the hot prowl burglaries in progress as an elderly woman returned home through her garage door as suspects escaped via her front door before fleeing in a car parked in front of her home.
As the investigation is ongoing, Chief Scott said police "will continue to pursue crime prevention and investigation strategies that will increase safety for all and help bring justice for victims of serial criminals."
Anyone who has information about any of these incidents is encouraged to contact SFPD via the department's anonymous tip line at 415-575-4444, or text TIP411 with "SFPD" at the start of the message.
The ten suspects arrested in the sweep are Demarria Conley (23) of Antioch, charged with conspiracy, burglary, possession of stolen property, and resisting arrest; Steve Levy (64) of Oakland, charged with firearms violations; Jabari Jackson (44) of San Francisco, charged with multiple counts of possession of stolen property and vehicle theft; Kelvon Watts (25) of San Francisco, charged with assault with great bodily injury and elder abuse; Marshay Goodspeed (33) of Antioch, charged with burglary and reckless evasion; Jimmy Heard (26) of San Francisco, charged with burglary and destruction of evidence; Corey McCroey (26) of San Francisco, charged with burglary and destroying evidence; Mandela Mabrey (25) of Marin City, charged with resisting arrest and a warrant; Melvin Glaspie (40) of San Francisco, charged with burglary and destroying evidence; Marcus Broussard (46) of San Francisco, charged with firearms violations, possession of stolen property and narcotics violations.