By
Hoodline
- Published on May 17, 2018.
Are you craving a bowl of dumplings that will fog up your glasses or a spicy bite that makes your eyes water? You're in luck: here are the newest places to check out the next time you're in the mood for Chinese food.
Orchids Cafe
1031 Ocean Ave., Ingleside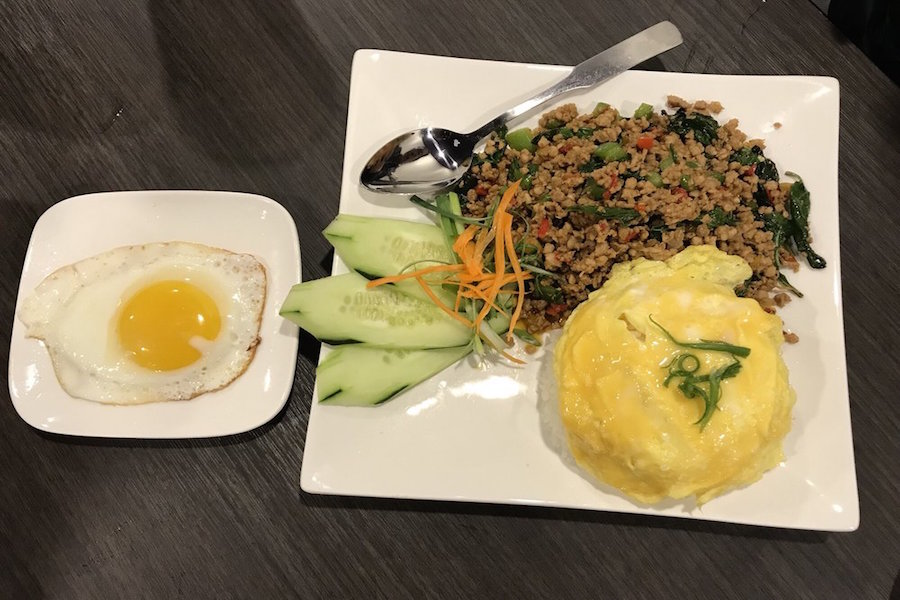 First on the list is Orchids Cafe, a new Hong Kong-style restaurant between Harold and Lee avenues serving noodles, crispy chicken, milk tea and more.
On the menu at Orchids, expect to find dishes like oxtail in red wine sauce, baked seafood over fried rice, salted egg and prawn fried rice, and stir-fried black pepper beef with spaghetti — all accompanied by complimentary hot tea.
Orchids Cafe currently holds 4.5 stars out of 12 reviews on Yelp, indicating favorable feedback from the neighborhood.
"The food was flavorful, came in sizable portions, and didn't skimp on the seafood — which is always good to see," wrote Yelper Ryan L. "My favorite is going to be the green onion pancake — the dough is crispy on the outside and chewy in the inside, comes with eight slices and enough green onions. Will come back again to try more of their dumplings."
Yelper P L. added, "This place is the exact reason why I look forward to class at CCSF. I get a hearty filled meal right after my lecture. The guy running it is really attentive. Quick to order — food came fast, and he even refilled my Hong Kong milk tea."
Orchids Cafe is open from 11 a.m.–8 p.m. daily.
DNM Hot Pot
1115 Clement St., Inner Richmond
DNM Hot Pot is a Chinese and Mongolian spot where patrons cook selections of thinly sliced meat like beef, lamb, or pork by dipping proteins into pots full of hot broth. Options include lamb tenderloin and marrow bones, fried pork, beef, lamb organs — while broth options include tomato, mushroom, clear or spicy.
The restaurant's Mongolian focus extends to the decor, adding lucious blues and greens throughout the dining room, which features a morin khuur (horsehead fiddle) hanging from the wall, and a mural portraying a war-scene with equestrian soldiers.
Yelp users are excited about DNM Hot Pot, which currently holds 4.5 stars out of 28 reviews on the site.
"Big Love of the Soup," wrote Yelper Faye L. "I highly recommend this place to all of my friends. I love the pork soup base the most, and the lamb is very good as well."
Aly C. added, "Very well thought-out atmosphere, you can smell the fume of wood once you enter and get settled. Lovely place and service — the chef and owner come out from kitchen to check in with the customers, giving some backstory, and taking in feedback."
DNM Hot Pot is open from 5:30 p.m.–10:30 p.m. on Monday–Thursday, 11:30 a.m.–2:30 p.m. and 5:30 p.m.–11:30 p.m. on Friday and Saturday, and 11:30 a.m.–2:30 p.m. and 5:30 p.m.–10:30 p.m. on Sunday.
Yuanbao Jiaozi
2110 Irving St., Outer Sunset
Yuanbao Jiaozi is a fresh dumpling spot peeking through the fog in San Francisco's Outer Sunset.
Cruise over to grab some dumplings after a day in the park and expect to find fillings like shrimp and zucchini, shiitake mushrooms and fish, and celery and pork. The dumplings at this local haunt are served boiled in soup, steamed or fried.
Other entrées on the menu include hot and spicy beef tendon, tofu skin salad, and shredded pig ears in chili oil.
Yuanbao Jiaozi's current rating of four stars out of 67 reviews on Yelp indicates the newcomer is finding its way, but it's still early days.
"What an amazing experience," Yelper Dan L. said, "I went there on Saturday with friends and family, and it was beyond my expectations."
Yelper Iris H. added, "Stumbled upon this place last weekend accidentally and so glad we did. We thought it was great."
Yuanbao Jiaozi is open from 11 a.m.–3:30 p.m. and 5 p.m.–10 p.m. on Monday, Wednesday, Thursday, Friday, Saturday and Sunday. (It's closed on Tuesday.)
The Little Fresh
420 Judah St., Inner Sunset
Coming in at number four is The Little Fresh in the Inner Sunset. The restaurant offers casual Chinese fare available for takeout or delivery only.
The menu offers hearty plates like stir-fried beef with onions, scrambled eggs with tomatoes, Sichuan-style spicy chicken with veggies and tofu, mapo tofu, and boiled fish with pickled cabbage and chili.
The establishment serves up a selection of noodle dishes as well, including chow mein, beef chow fun, and cold noodles with sliced chicken.
The Little Fresh currently holds 4.5 stars out of 15 reviews on Yelp, indicating good reviews.
"Wow! So I love mapo tofu," Yelper Stephanie K. said. "Like — I really do. I've tried at least 10 different mapo tofus around the city, and most of them were bland or just really salty. But omg. This is the one. Perfect saltiness, with just the right amount of chili oil and peppercorn."
Yelper Huang S. noted, "This is probably my favorite Chinese place in town. If you are in SF, please do check this place out. They offer [authentic] Chinese cuisine with a very well-designed menu and plus, they have my favorite dishes."
The Little Fresh is open from 5 p.m.–10:30 p.m. on weekdays, 4 p.m.–12:30 a.m. on Saturday, and 4 p.m.–10:30 p.m. on Sunday.
Sizzling Pot King
139 8th St., SoMa
Sizzling Pot King, which specializes in customizable dry pot dishes, is a fresh SoMa Chinese spot (between Natoma and Minna). The restaurant also has locations in Sunnyvale, Fremont, and San Diego — as well as Seattle, Washington, and Chicago, Illinois.
Build your own meal by choosing from an assortment of options like catfish, chicken, rabbit, snails, griddle-cooked beef tongue, or pork ribs. Then choose your spice level, and complete the experience with sweet and sour, garlic, or seafood flavors. 
Sizzling Pot King's current Yelp rating of four stars out of 45 reviews indicates positive attention from users.
"The portions are pretty generous and the flavors were spot on," Ada C. wrote. "I loved the spiciness and tingling sensations I got after eating to my fullest. The ingredients were tasty and fresh. Can't wait to come back for more."
Cherylynn N. added, "There's nothing like Sizzling Pot King in the area, so I think they're going to do really well in the hood. I can't wait to return!"
Sizzling Pot King is open from 10 a.m.–3 p.m. and 5 p.m.–9:30 p.m. on Monday–Saturday, and 10 a.m.–3 p.m. and 5 p.m.–9 p.m. on Sunday.