A troop of Girl Scouts has come to the rescue of a frustrated Cole Valley homeowner.
In February, Todd Lukesh received the latest in a series of citations from Public Works because parties unknown spray-painted a construction barrier in front of his home with a large "EVICT TRUMP" message.
Lukesh has been renovating 269 Carl St. (between Stanyan and Willard streets) for two years and raised a plywood wall ten feet high and 25 feet long to hide unsightly construction materials.
But because the barrier was also an attractive canvas for vandals, the time and expense related with abating graffiti soon became burdensome. Workers at the construction site took time from other tasks to paint over tags, as did Lukesh himself.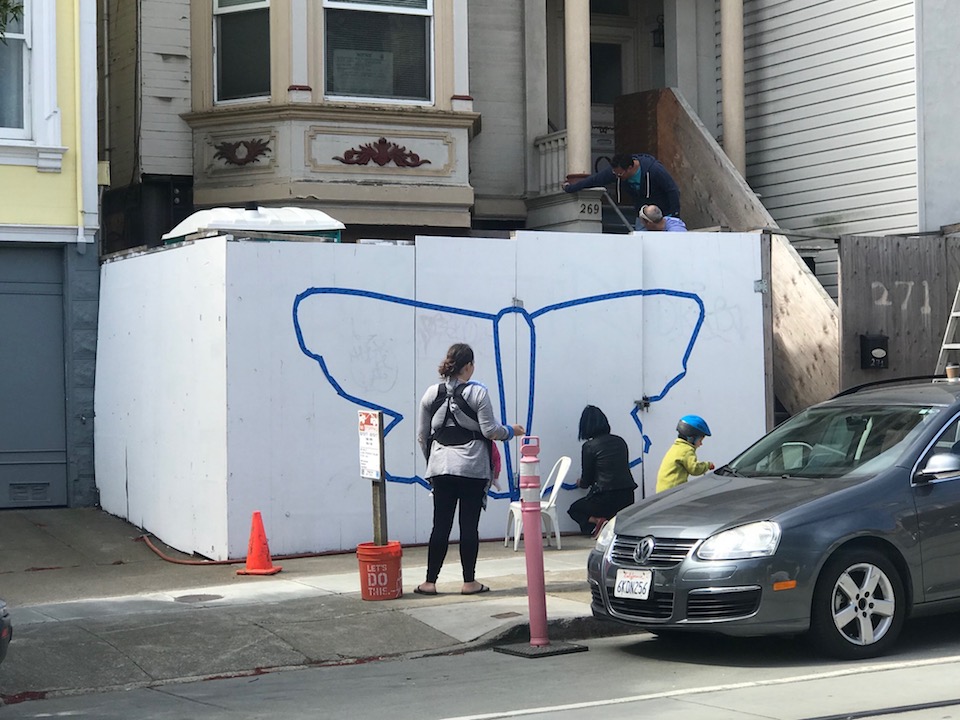 "When I got fined by the city for the graffiti, they offered an opportunity for me to hire a studio," said Lukesh, but covering the costs of installing and maintaining a mural would have cost him thousands of dollars.
"That just seemed crazy," said Lukesh. "So, I thought I'd go out to the street and try to get something going with a community effort that's more cost effective."
After Hoodline reported on the graffiti, Alma Sorensen, leader for Girl Scouts Cadette Troop 61902, said she received a call from Public Works.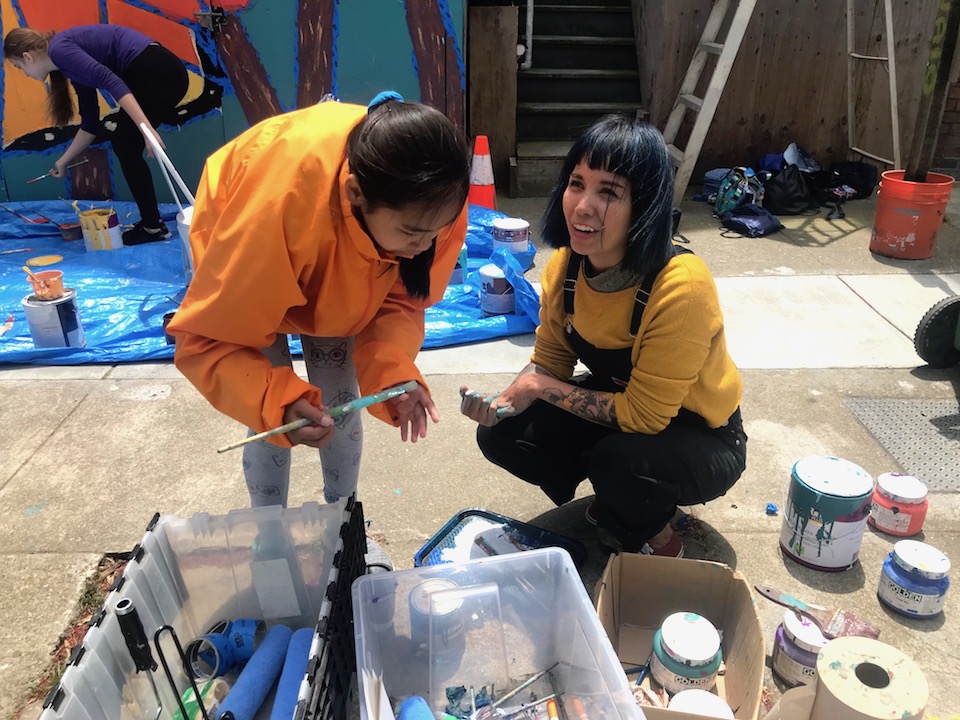 Sorensen had previously contacted the agency to ask about joining the city's StreetSmARTS program, which matches artists with private property owners, but because her troop lacked insurance and funding, they couldn't participate.
"But they remembered my name and our troop when they read the Hoodline article," said Sorensen. After reading the story, "I contacted the homeowner, and here we are."
To create the Carl Street mural, cadettes worked with Lucia Leal of Little Artistas, a children's art studio and Spanish-language immersion program with locations in Noe Valley and Glen Park.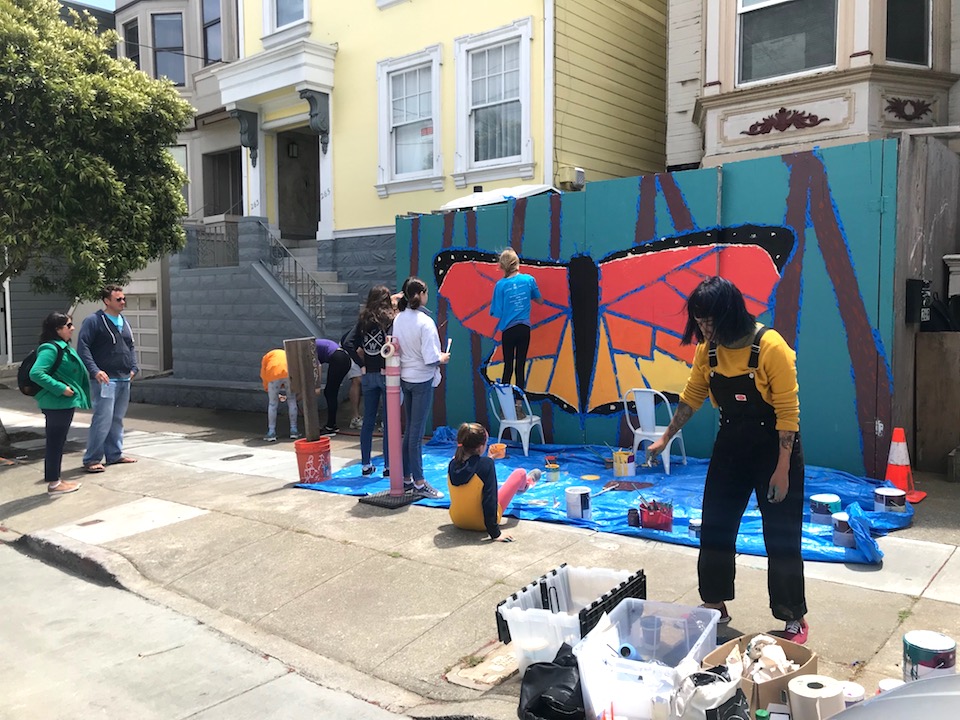 After preparing the wall with a base coat on Sunday morning, they added painter's tape to trace the mural's central design: a Monarch butterfly.
Leal said the troop chose the concept after seeing butterflies in Sutro Forest and learning that they migrate from Mexico. "They liked the whole idea of freedom, how beautiful they are and migration, so they picked it," she said.
Sorensen said Little Artistas usually charges $2,500 for a mural, but lowered the rate to $500 to cover the cost of supplies. Lukesh chipped in $100, as did Jennifer Bennett, owner of Cole Valley restaurant Zazie. The troop covered the remaining balance using profits from cookie sales.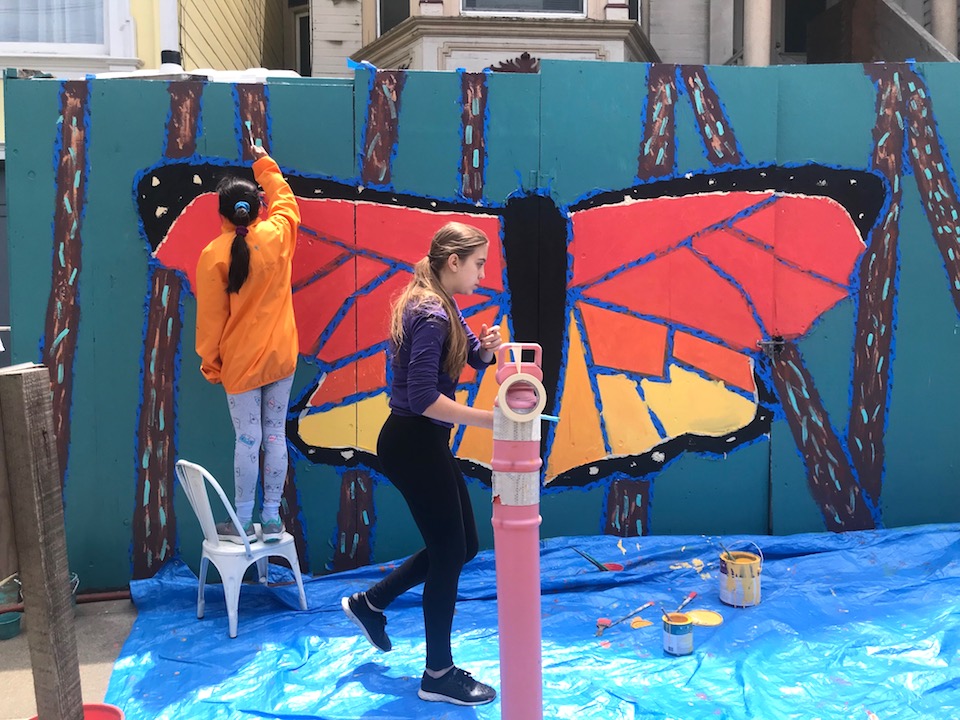 Lukesh said the mural will likely remain in place for at least a year after he secures permits to conduct seismic upgrades and other work. "My hope is that whoever's doing this graffiti will appreciate and respect this more than just a blank canvas and see that this was a community effort."
"Even though we've never done a mural before, I think it turned out really great," said Elizabeth, a member of Troop 61902. "With this here, it's going to brighten someone's day."
"It's a community effort, for sure," said Sorensen.