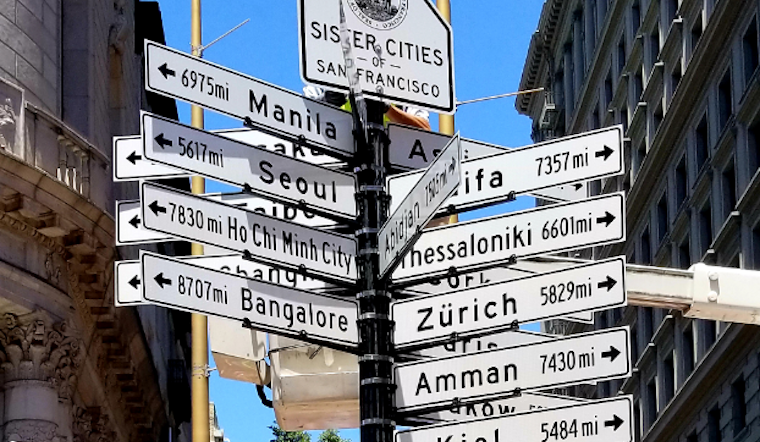 Published on June 27, 2018
People passing through Hallidie Plaza who've lost their bearings just got a major assist: city officials today unveiled a new directional sign near the Powell Street cable car turnaround.
Installed yesterday by Public Works, the sign includes the names of each of San Francisco's nineteen sister city partnerships along with their approximate direction and distance. 
On the display, names are ordered by official designation, with room to accommodate additional blades in the future as new relationships are established. 
The display was installed at the request of interim Mayor Mark Farrell, said a DPW spokesperson.
Public Works managed the project and installed the foundation, SFMTA made and installed the signs, and the San Francisco Public Utilities Commission provided the pole.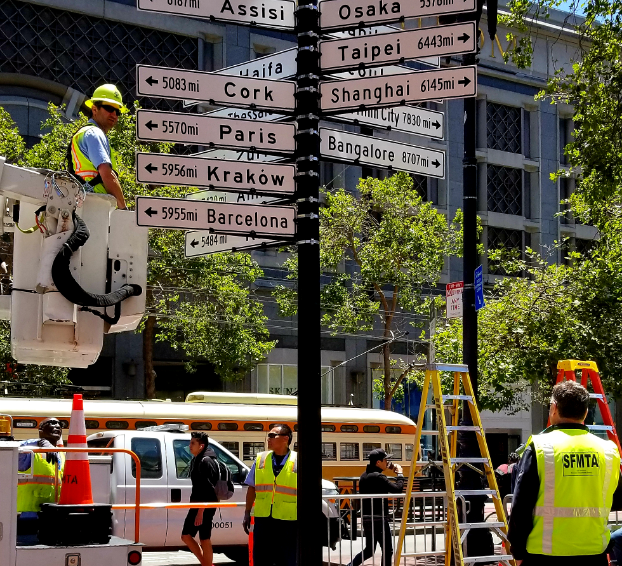 The sign display is made possible by a partnership with the Mayor's Office of Protocol, the San Francisco Municipal Transportation Agency's Sign Shop, the San Francisco Host Committee and DPW. The Office of Economic and Workforce Development manages the Sister City program. 
"The relationships bring people of different cultures together to celebrate and appreciate their differences and create cultural, educational, informational and trade exchanges through person-to-person diplomacy," according to a statement reads from the mayor's office . 
For more than six decades, San Francisco's sister cities program has spearheaded cross-cultural exchanges that encompassed sporting events, the arts, cultural activities, government best practices initiatives and business development.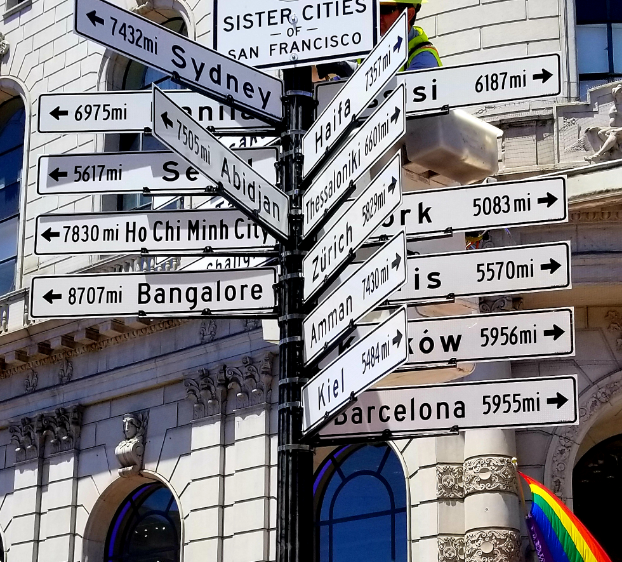 Earlier this month, in coordination with the sister city program, The San Francisco Arts Commission revealed a 25-foot-tall artwork on the waterfront called "Point of View" that offers visitors a view of Haifa, Israel.
San Francisco's sister cities include Abidjan, Côte d'Ivoire; Amman, Jordan; Assisi, Italy; Bangalore, India; Barcelona, Spain; Cork, Ireland; Haifa, Israel; Ho Chi Minh City, Vietnam; Kiel, Germany; Krakow, Poland; Manila, Philippines; Osaka, Japan; Paris, France; Seoul, Korea; Shanghai, China; Sydney, Australia; Taipei, Taiwan; Thessaloniki, Greece; and Zürich, Switzerland. 
Many thanks to Al M. for the tip and photos!
If you've seen something new in the neighborhood, text tips and photos to 415-200-3233, or email [email protected]. If we use your info in a story, we'll give you credit.