An SF Planning public hearing next month will review efforts to retain low-priced retail at a Mission parcel that's up for redevelopment.
A proposed mixed-use project at 2100 Mission St. would raze a building that currently houses a One $ Store. A plan updated in late January would replace the existing one-story structure with a six-story building that includes 27 residential units and 3,000 square feet of ground-floor retail. 
The commission will hold a discretionary review hearing this week to discuss the development and the proposed ground-floor space, which would be less than half as large as the existing 7,630-square-foot store that exists today.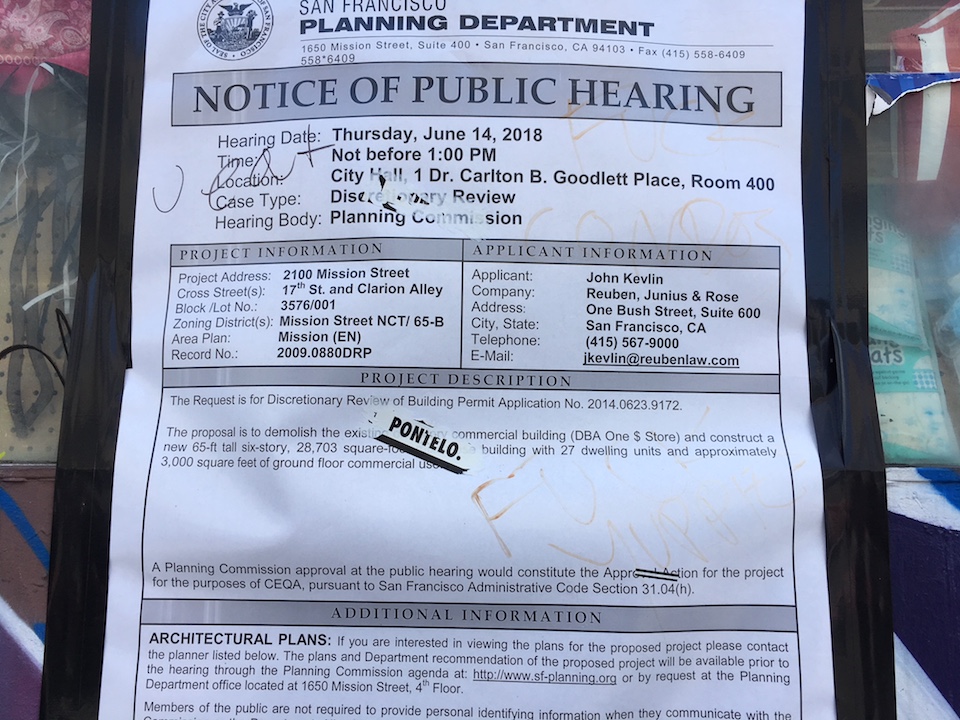 The discount store at the corner of Mission and 17th streets has held the space since 2005, when a brake service shop departed the location. The application for a discretionary review was filed by Peter Papadopoulos, a land use policy analyst with Mission Economic Development Agency (MEDA).
The project was scheduled for review late last year, but an administrative error prevented a vote until after the expiration of interim restrictions on new restaurants and storefront consolidations which were designed to promote and preserve neighborhood-serving businesses.
Those controls would have required the project to go through a more intensive review than would be required under typical development processes for a building its size.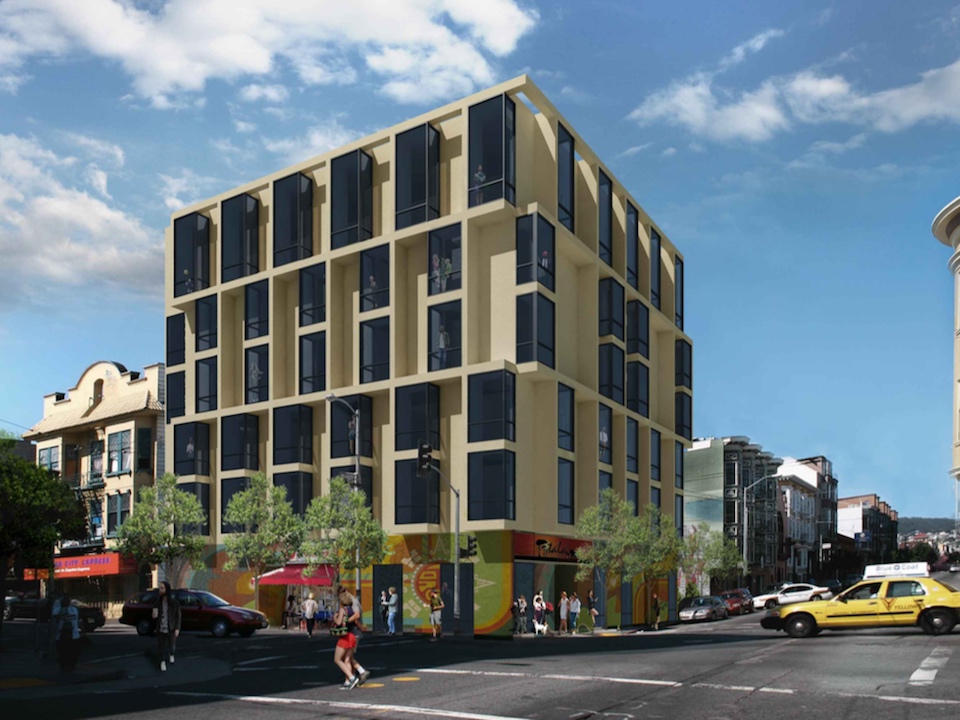 Papadopoulos told Hoodline that after the December 2017 Planning Commission vote was postponed, project sponsor Timothy Muller modified the project so it wouldn't require a variance hearing under the site's current planning requirements. 
"MEDA then filed a discretionary review to bring the project back to a hearing as community groups had long presumed would happen, with commissioners able to exercise some discretion over this important project on the struggling Mission Street corridor," Papadopoulos said.
While the One $ Store initially intended to stay in business, it recently alerted the Planning Commission that it will close, he added.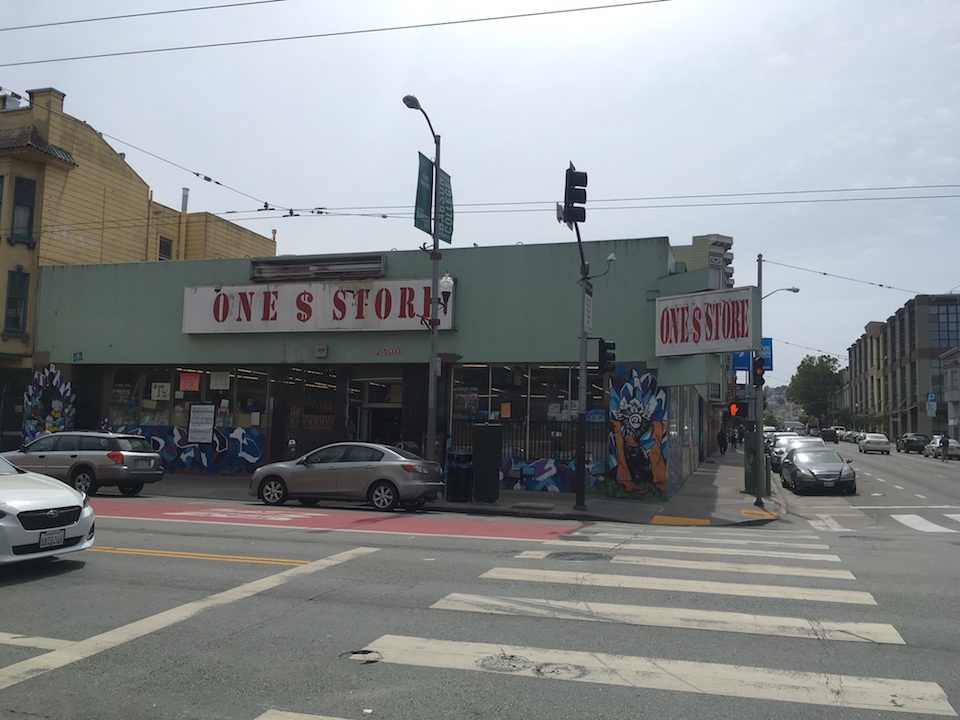 In response to community requests that the new building house a similar community-serving business, the project sponsor has offered to allow Goodwill to occupy the ground-floor retail space, he added.
Community groups want the developer to include more permanently affordable units, guarantee a long-term affordable lease for Goodwill or a similar business, and commit to funding murals proposed in the project's description.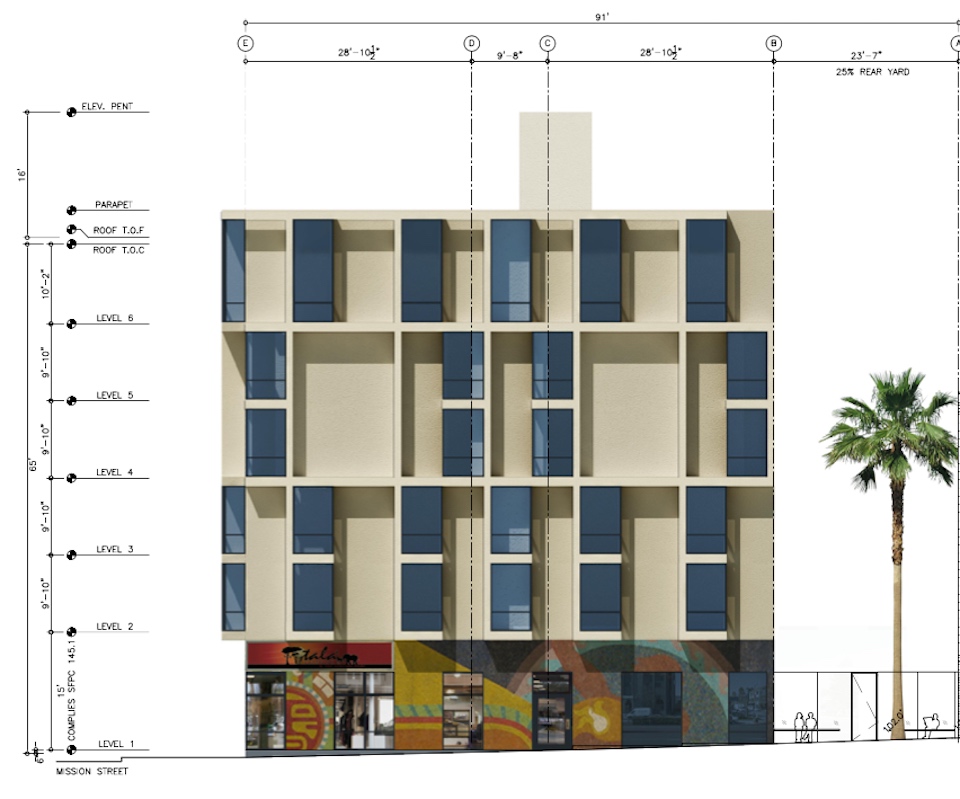 While MEDA and other community groups think Goodwill would be an appropriate choice, they "feel it is important to make sure that the terms of the agreement maintain an affordable lease rate in the long term" for any similar tenant moves into the space, Papadopoulos said. 
The Planning Commission will consider Papadopoulos' request for discretionary review after 1:00 p.m. on Thursday, July 12th in Room 400 of City Hall. 
Update June 14th, 2018:  The discretionary review hearing on 2100 Mission St., will not occur until July 12th.