By
Hoodline
- Published on June 14, 2018.
If you've got chewy noodles, braised meat and savory broth on the brain, you're in luck: we've found the freshest New York City eateries to quell your cravings. Here are the newest shops to check out the next time you're in the mood for some ramen.
Wanpaku
621 Manhattan Ave., Greenpoint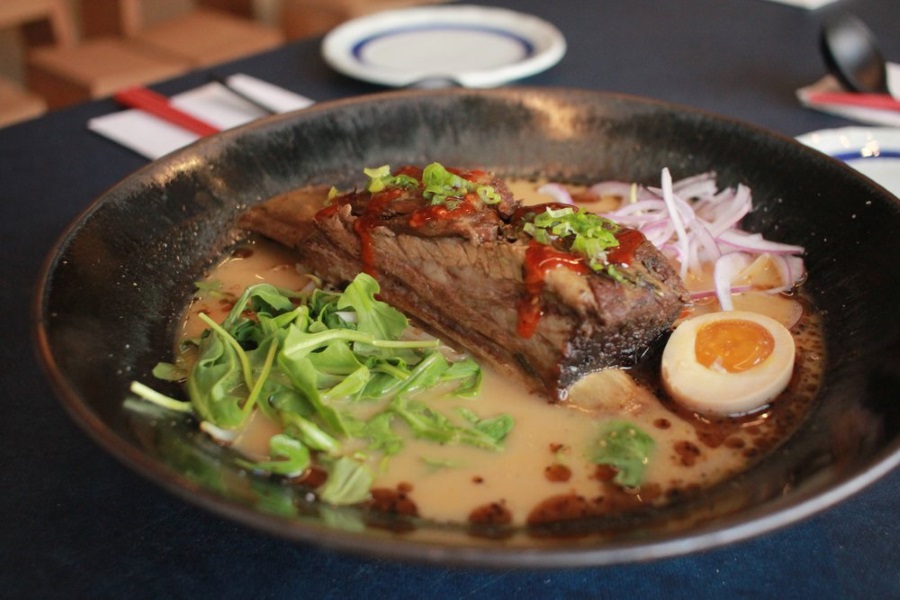 Wanpaku is a Japanese spot to score ramen and more. Located at 621 Manhattan Ave. in Greenpoint, Brooklyn, it's serving up classic Japanese comfort food and small plates.
On the menu, look for chicken-based ramen like the shoyu with pork chashu, fish cake and a marinated egg, as well as beef broth based bowls with barbecue beef ribs and spicy garlic. 
Small plate choices include pork buns, burdock root chips and lotus root salad. There are also other homestyle Japanese dishes on offer, like the pork katsudon (a panko-crusted pork cutlet with onions and egg over rice) and the pork katsu curry with a Scotch egg. (You can take a look at the full dinner menu here.)
Yelp users are excited about Wanpaku, which currently holds 4.5 stars out of 10 reviews on the site.
"I was blown away by this ramen spot in every category — food, service, atmosphere were all stupendous," said Natalie H., who enthused about the vegetarian ramen. "The tofu melted in my mouth, the vegetables were fresh and bursting with natural flavor, and the noodles were perfectly tender."
And Yelper Jessica K. wrote of the shoyu ramen, "It was a very clear, light, chicken broth base with a tiny bit of sweetness but had the most amazing chashu pork I've ever had, or at least top five. It's not the standard chashu pork, it's really soft and thick, way more like a thick cut of pork belly that melts in your mouth like butter."
Wanpaku is open from noon–3:30 p.m. and 5–10:30 p.m. on Monday-Thursday, noon–3:30 p.m. and 5–11 p.m. on Friday, noon–11 p.m. on Saturday, and noon–10:30 p.m. on Sunday.
Tamashii Red
71-34 Austin St., Forest Hills
Tamashii Red is the third location for Brooklyn-based noodle joint Tamashii Ramen, as we recently reported. The outpost at 71-34 Austin St. in Queens joins two other New York City shops in Long Island City and Astoria. 
Tamashii focuses on chicken-based ramen broth, house-made fresh daily by simmering a whole chicken with vegetables for 14 hours, according to its website.
On the menu, signature ramen choices include the miso ramen with hatcho miso (100 percent soybeans, aged for 2 years), the mineral salt shio ramen, and the spicy tantanmen with ground pork, bean sprouts, broccoli, bok choy and an egg.
Vegetarian options are also available, as are other classic Japanese small plates like okonomiyaki, a savory pancake with cabbage, onion and seafood grilled into the batter. (You can check out the full menu here.)
Tamashii Red currently holds 3.5 stars out of 50 reviews on Yelp, indicating fair reviews.
Yelper Sam E., who reviewed Tamashii Red on June 2, wrote of the miso ramen, "The broth is rich and not overly salty, the chashu pork is rich and tender, all but melting in your mouth, and it's absolutely crammed with ingredients."
"I came here specifically to try the curry ramen," Avina H. said, but was not impressed. "The curry was a miss for me. I felt the broth was watered down, very light curry taste and they were heavy handed on the salt."
Tamashii Red is open from noon–11 p.m. daily.
Bua Thai Ramen & Robata Grill
1611 Second Ave., Upper East Side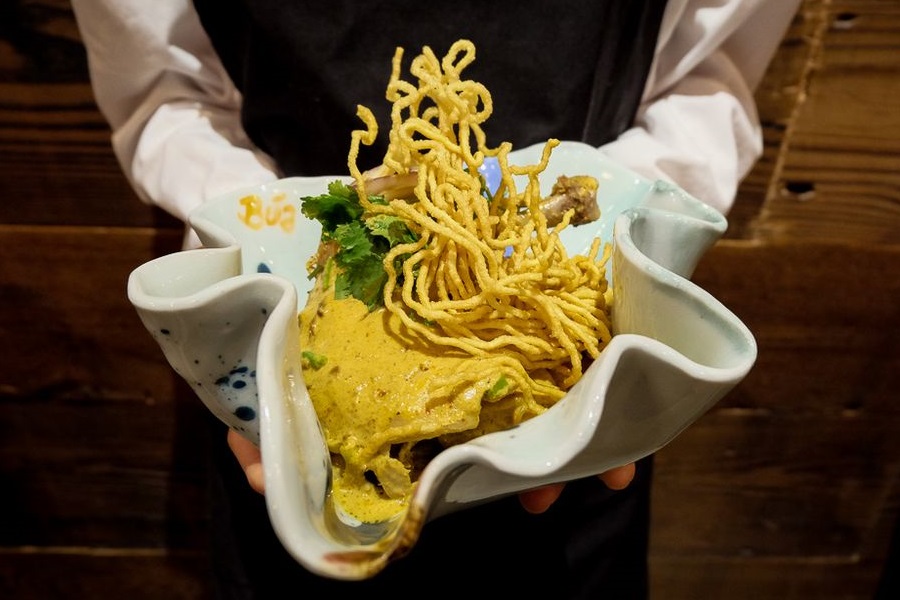 Bua Thai Ramen & Robata Grill is a Thai eatery offering Thai-style fusion ramen, grilled meat skewers and classic stir-fried dishes, as we recently reported. Located at 1611 Second Ave. on the Upper East Side, it provides both dine-in service and online takeout and delivery orders.
Ramen options on the menu include the signature yellow curry ramen noodles  with a whole leg of chicken, bean sprouts and red onions; and the Bamee Gyo ramen with Thai spinach noodles, roasted pork belly and blue crab meat.
Those looking for more traditional Thai food can order the shrimp in a lemongrass broth with mushrooms, scallions, cilantro and lime leaf, or the pad krapow, stir-fried with onions, bell peppers, string beans, garlic and chile peppers. (You can check out the full menu with the online ordering system here.)
With a 3.5-star rating out of 30 reviews on Yelp, Bua Thai Ramen & Robata Grill is still finding its way, but it's early days.
Yelper Chanthel K., who reviewed the restaurant on May 3, wrote, "The Thai noodle ramen was an interesting taste — I was expecting a salt base but it was actually quite sweet. I personally probably would try the salt-based ramen on our next visit. Overall great food and great experience!"
But Ferdinand C. said of the ramen, "For a ramen broth, it tasted like it had no depth and just a lot of salty seasoning. We basically walked out after finishing lunch thinking that the restaurant gave fair portions for the amount we paid but the food wasn't memorable."
Bua Thai Ramen & Robata Grill is open from 11 a.m.–10:30 p.m. Monday-Thursday, 11 a.m.–11:30 p.m. on Friday, 11:30 a.m.–11:30 p.m. on Saturday, and  11:30 a.m.–10:30 p.m. on Sunday.
Ichiran
132 W. 31st St., Chelsea
Ichiran is a popular tonkotsu-focused Japanese ramen chain that recently expanded to the U.S. with a location in Bushwick. After a positive reception, it's now opened a second New York City outpost at 132 W. 31st St. in Chelsea.
In addition to its focus on tonkotsu ramen with housemade noodles, Ichiran is known for its signature small dining booths, intended to minimize distractions from the food. Customers enter, fill out their orders on a small piece of paper, and wait for their bowls to be delivered without ever interacting with a server.
Unlike the Brooklyn location, the Manhattan location has only this type of solo seating, as Eater New York reports.
All bowls come with the house specialty tonkotsu broth and housemade noodles, but diners can choose the recommended "set" meal, or create their own by customizing the richness, noodle texture, amount of garlic and other add-ons for their ramen. 
Ichiran's current Yelp rating of 3.5 stars out of 100 reviews indicates the new location is still finding its feet.
"Ichiran is on the pricier side and it's not a great place to go with multiple friends, but the ramen is so unequivocally exceptional that it will continue to be one of my go-to ramen spots," wrote Yelper Anthony M., who called the shop the best in the city.
But Shay N. voiced criticism of the spotty quality, gimmicks and high prices. "Food is an experience which should be shared. You either have the biggest ego or you're lying to yourself to think that anyone would want to eat in a cattle stall. ... A single lunch here was $34! For a bad bowl of ramen and Lipton tea. Seriously?"
Ichiran is open from 9 a.m.–1 a.m. daily.
Ramen Andante
255 Berry St., Williamsburg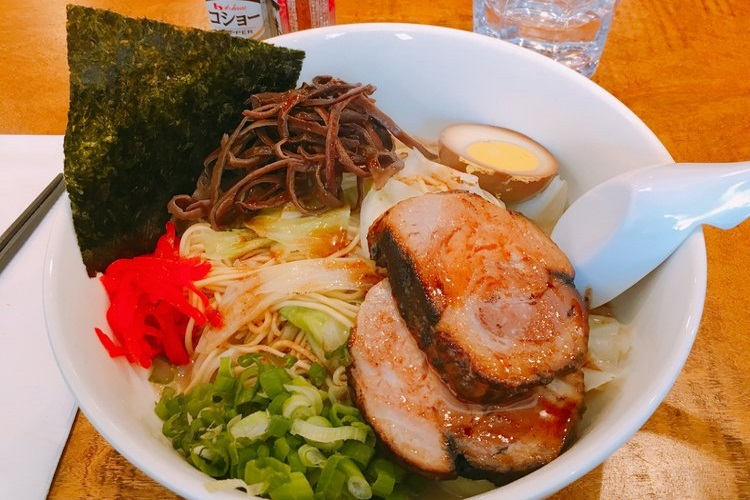 Williamsburg newcomer Ramen Andante is the brainchild of chef-owner Shigeto Kamada, who is also a jazz musician. Located at 255 Berry St., it's serving up compositions from the Japan-born Kamada, a veteran of the New York ramen scene already known for Minca and Kambi Ramen House. 
The inspiration for the name comes from the restaurant's broth, which simmers for 24 hours to enhance the flavor; and from the musical term "andante," which means a moderately slow tempo, as JapanCulture NYC reports.
In addition to standards like shio, shoyu and miso ramen with a pork bone broth base, customers can request chicken-based and vegetarian soups. Gluten-free noodles are available, as are delivery and takeout options. Toppings include thick-sliced chashu pork, pickled ginger, boiled eggs and wood ear mushrooms.
Yelpers are already singing the praises of Ramen Andante, which currently holds 4.5 stars out of 12 reviews on Yelp.
"I give them five stars because they seem to know what they're doing even though they just opened," said Yelper Takeshi O., who was the first to review the shop on March 22. "Ramen is straightforward and tasty. No gimmicks but just good, honest ramen."
And Yelper Jeff L. chimed in, "You will get very authentic Japanese ramen here with arguably the best pork chashu in the city; tender and well marbled, flame seared."
Ramen Andante is open from noon–10:30 p.m. daily.