It looks like Noe Valley is getting a new burger joint.
This week, veteran Hoodline tipster Al M. spotted signs of progress inside the space at 3853 24th St. (between Sanchez and Vicksburg Streets), previously home to wine bar Caskhouse.
After a recent visit, Al said "things are coming together" as interior work appears to be nearing completion and workers have installed kitchen equipment and a self-service soda fountain.
"A point of sale system is still wrapped in plastic and picture frames are going up," said Al. There's no word on the official menu, but the prices "seem reasonable."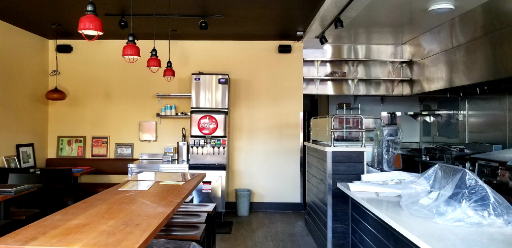 Public records indicate the business has been approved for beer and wine sales. According to public records, the new eatery comes from long-time restaurateur Randy Kaplan, who opened Mexican restaurant Pancho's at 1639 Polk St. in 1992. 
Kaplan started in the restaurant business when he opened McBurley's in Isla Vista, California in 1985 while still a college student at UC Santa Barbara, according to Pancho's website. In 1998, he opened a second Pancho's location at 3440 Geary Blvd. in the Inner Richmond. 
Al said that if all goes well, Hi-Way Burger and Fry should be open later this month. We've reached out to Kaplan for more information but have not yet heard back. 
Thanks as ever to Al M. for the tip!
If you've seen something new in the neighborhood, text tips and photos to 415-200-3233, or email [email protected] If we use your info in a story, we'll give you credit.