By
Hoodline
- Published on June 07, 2018.
Looking to update your wardrobe or have a wedding on the horizon? Selling women's clothing, unisex gear and bridal gowns, these fresh new stores are worth checking out. Read on for the newest places to visit the next time you're searching for artistic apparel, the latest trends and more. 
Statix
210 S. Washington St., Pioneer Square
Featuring the work of Ten Hundred (aka Peter Robinson), an artist and designer, comes Statix, an art space and store offering women's, unisex and kids' apparel along with footwear and headwear. 
T-shirts, long-sleeve shirts, hoodies and tank tops with artistic designs are on hand, as are snapback and beanie caps. Monthly gallery shows open the first Thursday of each month and feature group and solo shows. Original pieces of artwork can be purchased on-site.
With a five-star Yelp rating out of four reviews, Statix has been getting positive attention.
Yelper Abbe R., who reviewed Statix on May 12, wrote, "My favorite shop in Seattle! Such a cool, laid-back vibe. Amazing art, amazing apparel, affordable prices and plus sizes up to 3X! It's so nice to be able to wear cool, artistic clothes that fit!"
Eva L. noted, "One of my favorite gallery shops in Pioneer Square. Really awesome merchandise and the owner is super tight, too. It's always exciting to pop in there on First Thursday's Art Walk since they have a new show every month."
Statix is open from 11 a.m.–7 p.m. on Monday-Thursday and 11 a.m.–8 p.m. on Friday and Saturday. (It's closed on Sunday.)
Scout & Molly's Boutique
5317 Ballard Ave. NW, Suite B, Ballard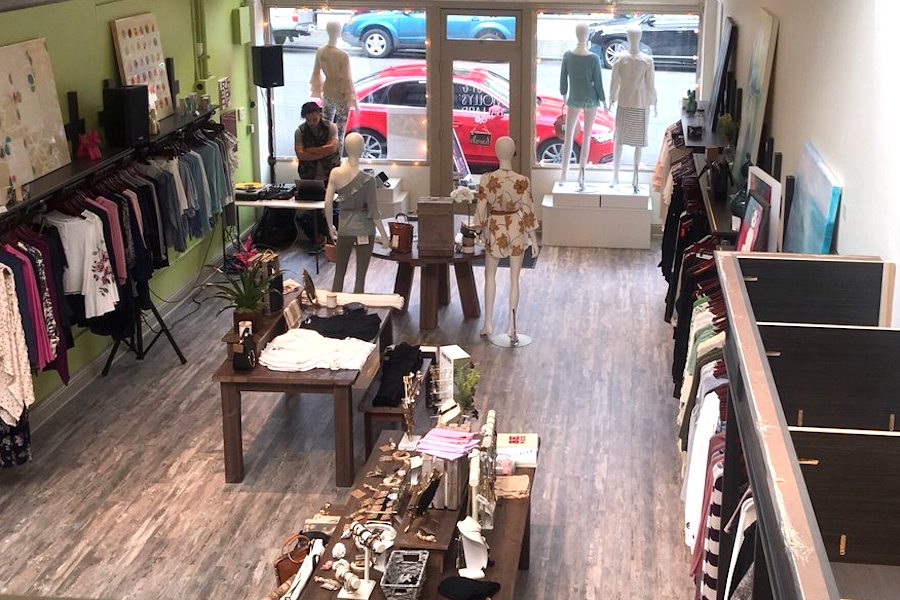 Scout & Molly's Boutique sells shoes, accessories, women's clothing and more, with stylists available to assist customers with the latest styles and trends.
"No one style fits all, so we choose from a variety of styles and silhouettes to help our customers feel beautiful and comfortable in her clothes," the company says on its website. This is the first Scout & Molly's in Washington, with more than 50 locations across the country. 
The shop offers a wide selection of items from tops, tees, tanks and outerwear to accessories, jewelry, intimates, denim and skirts. Take a look at the online store here.
With a five-star rating out of six reviews on Yelp, the new store has been getting positive attention.
Yelper Sarah V., who reviewed the newcomer on April 14, wrote, "An instant neighborhood gem, my go-to shop for a date night or fun casual gear. They do a great job of having a solid base of simple pieces with fun, creative pieces to layer, which is my favorite way to do it."
Yelper Tiffany B. wrote, "What a beautiful store! This store has a great selection of apparel selectively picked for the everyday woman. The staff is wonderfully welcoming and will provide style consultations for any of your needs."
Scout & Molly's Boutique is open from 11 a.m.–6 p.m. on Monday-Wednesday, 11 a.m.–7 p.m. on Thursday-Saturday and 11 a.m.–4 p.m. on Sunday.
Brides for a Cause
6514 Roosevelt Way NE, Roosevelt
Brides for a Cause offers a large inventory of donated gowns, with net proceeds going to women-focused charities.
The boutique — with locations in Tacoma and Portland — has a constantly changing selection of both new and used wedding dresses, starting at $150. Check out the nonprofit's website to see a sampling of past and current gowns, many from high-end designers like Lazaro, Reem Acra, Monique Lhuillier and more.
Brides for a Cause currently holds five stars out of three reviews on Yelp, indicating good reviews.
Yelper Leah L., who was one of the first users to visit the bridal shop on March 4, wrote, "I recommend Brides for a Cause to everyone I know! I have so much admiration and respect for their mission, their dress selection and their staff."
Yelper Karen M. wrote, "I got the info about their new location from my friend so I went to check it out. There were plenty of dresses to look at and choose from. I found several I liked and they even let me put one on hold; some of the other shops I visited wouldn't let me do that."
Brides for a Cause is open from 10 a.m.–6 p.m. on Monday-Saturday and 11 a.m.–5 p.m. on Sunday.