A North Beach farmers market that shuttered five years ago has reopened in a new location, but how many local shoppers were looking for a second bite at this particular apple, metaphorically speaking?
The market returned in early May after closing in 2013 due to a lack of customers, so we checked in on a recent weekend to talk to vendors and neighbors about how well the artisanal commercial zone is doing in its second incarnation.
As we've reported, residents made moves in 2015 and 2016 get a new market off the ground, but some opposed the idea; at an outreach meeting in February 2016, one merchant reportedly shouted his objections to a proposed location near his seafood restaurant, as one plan called for closing Green Street between Columbus and Grant avenues.
This year, the farmers market is back every Saturday until December 1 from 9 a.m.–1 p.m. in a parking lot next to Piazza Pellegrini at 699 Columbus Ave. (at Filbert Street). However, Hoodline found that some neighbors who live within blocks of the new location didn't know it was in operation.
"The market is a joint effort between our neighborhood group, North Beach Neighbors, and a local restaurant, Piazza Pellegrini," said Danny Sauter, the group's president and market's director.
"It turns out we've each wanted to start a farmers market in the neighborhood for a while, so when we got word of this, we put our heads together and spent about eight months together tackling city permits, farmer outreach, and lots more to make this dream become a reality," he said.
Approximately five hundred neighbors added their names a petition to support the market's return, but it will take more than signatures to keep it afloat. Although some vendors are strong draws, participants are working to boost community awareness.
On the day we visited, about five vendors canceled, but a steady flow of customers passed through the space and showed enthusiasm for the fares available.
Many customers gravitated to Bolani Company East & West Afghan Food for bread and hummus, while others stocked up on fresh strawberries and smoked salmon.
Nick Ferris, another organizer, said they plan to distribute flyers in the neighborhood, instead of simply relying on foot traffic and a corner location surrounded by restaurants with a park across the street.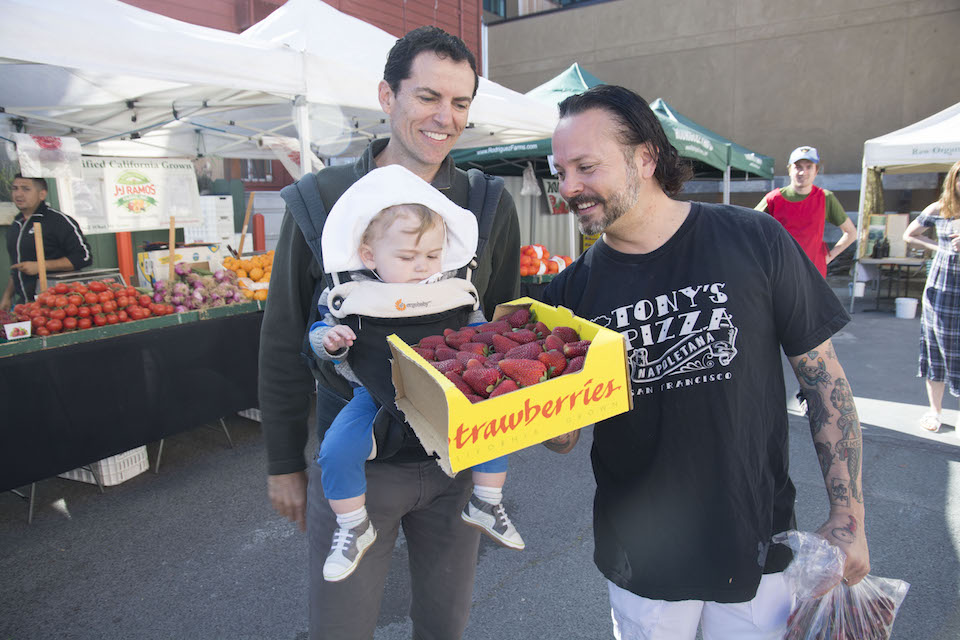 "Freshway Fish nearly sells out every single week, and customers can't stop raving about their smoked salmon," said Sauter, adding that Rodriguez Farms' "candy-like strawberries" were a hit with kids and adults.
Both Sauter and Ferris said the market's fish and bread vendors fill a gap in area businesses, since so many chefs come by to buy ingredients and supplies for their restaurants.
To get the neighborhood more engaged, Sauter and Ferris said they'll incorporate events into the market like live music, raffles and art activities for families with children.