The San Francisco Arts Commission yesterday revealed a 25-foot-tall artwork on the waterfront that offers visitors a view of Haifa, Israel, 7,344 miles away.
The piece, titled "Point of View," is comprised of two sculptures that resemble lighthouses — one installed at the Port of San Francisco, and an identical tower in Haifa, Israel's busiest port. In both locations, viewers can peer into a periscope-like screen to see a live feed of life in the other location.
"In addition to the values of compassion and inclusion that we share, San Francisco and Haifa are now connected by this remarkable work of art that allows visitors to travel through space and experience the views for which each city is known," Mayor Mark Farrell told KQED News.
The Port, @sfac, @MarkFarrellSF and @IsraelinSF unveiled "Point of View", a towering "lighthouse" with a customized periscope showing live views of #SF and our #sisterport Haifa, Israel. The sculpture will be at Pier 27 thru May 31, 2019. #sfport #art #haifaport pic.twitter.com/TReiV4y86X

— SF Port (@SFPort) May 31, 2018
The San Francisco-Haifa Sister City Committee commissioned designer Salon Paz in collaboration with local artist Mathew Passmore to create the installation after local officials traveled to Haifa in 2016 with late Mayor Edwin Lee, according to The Jewish News of Northern California. 
The installation, which is dedicated to Lee, aims to celebrate "the vibrancy of the cities' art and technology sectors." San Francisco and Haifa created their sister-city agreement in 1972.
Paz and Passmore joined city officials and Consul General of Israel Shlomi Kofman for the unveiling yesterday, made possible by funding from the Committee, SFAC, and the Koret Foundation.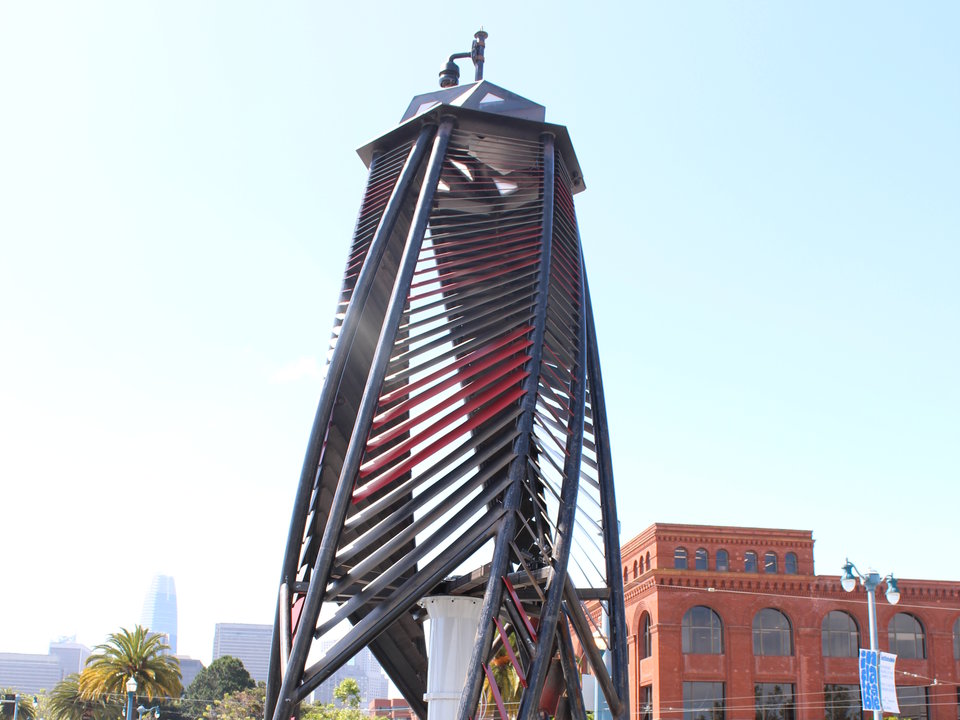 "It's a great project, combining art and imagination, vision and technology," said Kofman at the event. "This is what brings the people of our two cities together. Let's celebrate that."
At the unveiling, Passmore showed attendees how the interactive sculpture operates. "The intent is to create a contemporary, and in this case a technological, connection between the people of Haifa and the people of San Francisco," he said, reported the Chronicle.
Point of View will remain until May 31, 2019 and is open for viewing daily, day or night. Haifa, a port city in the north of Israel, is ten hours ahead.