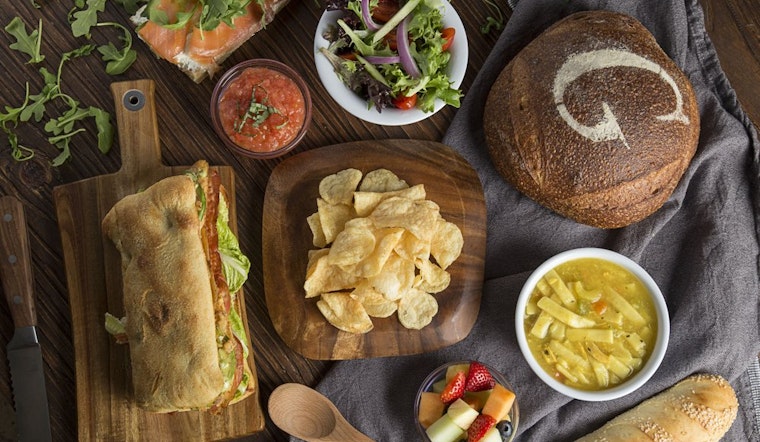 Published on July 20, 2018
Ready to hit up the newest businesses to open in Brickell? From a cycling gym to a karaoke bar, read on for a list of the newest hot spots to make their debut in this part of Miami.
Sweet Caroline
1111 S.W. First Ave., Suite 107
Sweet Caroline is a new cocktail bar and karaoke spot where you can grab a drink — from Moscow mules to manhattans — before hitting the stage.
The industrial decor of this bar invites a diverse clientele of city-dwellers to sing their favorites. It also features dancing and live comedy. Look out for regular two-for-one drink nights. 
Sweet Caroline has received a warm reception thus far with a current Yelp rating of five stars out of four reviews.
Yelper Ezell R., who reviewed it on June 6, wrote, "My favorite karaoke bar in Miami. It's new but it has great vibes. Love the energy and that everyone sings along. They have great customer service and are making it a neighborhood bar."
Soniya P. noted, "A new scene to check out in Brickell for sure, Sweet Caroline has a full bar and has karaoke. Their staff is absolutely fantastic and so welcoming."
Sweet Caroline is open from 7 p.m.–3 a.m. on Tuesday-Saturday. (It's closed on Monday and Sunday.)
Soulcycle - Miami
25 S.W. Ninth St., Suite G102
SoulCycle - Miami is a cycling studio at the Brickell Heights condominium complex. The chain offers 45-minute cycling classes of high-intensity cardio, muscle sculpting and strength training. Participants ride together in candlelit studios to pulsating music, per its website. 
The new SoulCycle has received one review on Yelp. 
Yelper Al L. wrote, "I have visited many different studios and I am glad that it is now in Brickell. It is a small studio compared to what I am used to in LA but the same great feel and vibe as the other ones."
SoulCycle - Miami is open from 9 a.m.–8:30 p.m. on Monday, 5:30 a.m.–8:30 p.m. on Tuesday and Thursday, 7:30 a.m.–8:30 p.m. on Wednesday, 6:30 a.m.–8:30 p.m. on Friday, and 9 a.m.–4 p.m. on weekends.
Granier Bakery
1064 Brickell Ave.
Granier Bakery is part of a South Florida mini-chain that serves sandwiches, soups and salads alongside the extensive bread and pastries menu. This new bakery and cafe is in the former spot of La Provence in the 1060 Brickell Condos tower.
For breakfast, offerings include scrambled eggs with bacon, a ham and cheese croissant, and oatmeal with fruit. Later in the day, try the roast beef Reuben with sauerkraut, Dijon mustard, Thousand Island dressing and Swiss cheese. Fresh juices and coffee are available to wash it down.
Yelpers are generally positive about Granier Bakery, which currently holds four stars out of six reviews on the site.
Lino V., who reviewed it on May 5, wrote, "They have a pretty good lunch deal that's a sandwich, a drink and a side for about $11. It's a pretty big portion also. I got their turkey and avocado sandwich, and it was really good."
Yelper Jamie S. wrote, "Best and most affordable breakfast spot in all of downtown Miami. Everything is made fresh on site, and it's very fancy."
Granier Bakery is open from 7 a.m.–8 p.m. on weekdays, 7 a.m.–6 p.m. on Saturday, and 7 a.m.–5 p.m. on Sunday.
TKO Sushi - A Modern Experience
41 S.E. Fifth St.
TKO Sushi - A Modern Experience is a sushi bar that shares space with the sandwich shop NY Eats.
The sushi rolls include the TKO Rainbow (chef's choice cut of the day, cucumber wrap, spring onion, wasabi, and creamy truffle and ginger aioli) and the Golden Baby (spicy hamachi, spring onion, jalapeño tempura flakes, avocado, macadamia nuts and tobiko). Poke bowls are available featuring tuna, salmon or hamachi. Citrus edamame and seaweed salad are among the starters.   
TKO Sushi - A Modern Experience's current Yelp rating of 4.5 stars out of 18 reviews indicates positive feedback from diners. 
Yelper Alex K., who reviewed the eatery on July 7, wrote, "This place meets or exceeds my value scale for good eating, which in order of relevance: food quality, service, price and ambiance. The fish is fresh and the roll combinations are delicious."
TKO Sushi - A Modern Experience is open from 11 a.m.–10 p.m. on Sunday-Thursday and 11 a.m.–midnight on Friday and Saturday.
Sushiato
26 S.W. Eighth St.
Sushiato is a sushi bar across the street from Brickell City Centre that combines traditional Japanese fare with Latin and tropical flavors.
The list of sushi rolls includes the Ceviche Roll made with fried calamari, shrimp and salmon tempura, steamed shrimp, avocado and ceviche sauce, and the Merengue Roll of eel, salmon, cream cheese and masago with fried sweet plantain and eel sauce.
It's not all sushi, however. There are steamed buns, miso soup, grilled meats with teriyaki sauce, and yakisoba and fried rice bowls. 
Yelpers are excited about Sushiato, which currently holds 4.5 stars out of 20 reviews on the site.
Victoria A. noted, "I would definitely recommend to get more appetizers than rolls, but everything was great. Plates are beautiful and extremely good. Do not forget to order the Nutella dessert!"
Yelper Suad Y. wrote, "Definitely one of the best sushi places in Miami. Its freshness is hard to find anywhere else. An authentic Japanese hidden gem."
Sushiato is open from 11:30 a.m.–10 p.m. on Monday-Thursday, 11:30 a.m.–11:30 p.m. on Friday, 12:30 p.m.–11:30 p.m. on Saturday, and 1–9 p.m. on Sunday.